About this Event
The Canadian Government has recently put forward a Startup Visa Program (since 2018) that allows persons interested in starting/investing in Tech Startups to immigrate with their families to Canada. Canada has always been a top destination for immigrants, especially from Hong Kong which currently has the largest Canadian community of about 300,000 nationals. Given Hong Kong's geopolitical changes over the last year, there has been an admission increase of 75% of new permanent residents from Hong Kong to Canada in January and February 2020 compared to 2019.
In this webinar, we'll introduce the Startup Visa Program, what is required for you to immigrate with your family over to Canada, debunk the myths of living/working in Canada as well as introduce our Tech Startups looking for Start-up co-founders. We have also invited the CEO of VANTEC - an angel/VC investment community to share about the tech startup community in Canada!
Spots are limited! First come first served!
您如何在六個月之內與您的家人移民到加拿大?
如何投資於加拿大的投資技術創業公司?
加拿大政府最近提出了一項啟動簽證計劃(自2018年起),該計劃允許有興趣啟動/投資技術創業公司的人與家人一起移民加拿大。加拿大一直是移民目的地首選之一,而且香港目前擁有最大的加拿大社區,約有30萬人。鑑於香港過去一年的地緣政治變化,與2019年相比,2020年1月和2月從香港到加拿大的新永久居民的接納人數增加了75%。
在此網絡研討會中,我們將會介紹啟動簽證計劃,內容包括您與家人移民到加拿大所需的條件,在加拿大生活和工作的情況,並向您介紹尋求啟動合作夥伴關係的技術創業公司創始人。我們還邀請了VANTEC的首席執行官-天使/風險投資領域的投資者,與您分享加拿大的技術創業社區!
Details
This event will be in Cantonese, unless otherwise specified in the agenda below. The event is from 9:00am to 10:00am (HKT) with some overtime for Q&A.
Registration is now closed.
Please check your inbox or spam folder for the Zoom information for the event access.
If you are registered and have not received the access information, please connect with us via Contact Us section listed below.
Agenda
9:00 am: Introduction
9:05 am: Startup Visa Program
9:20 am: Living in Canada
9:30 am: Angels/VC Community in Canada (in English)
9:45 am: Tech Startup Projects
10:00 am: Q & A (~15 mins)
Speakers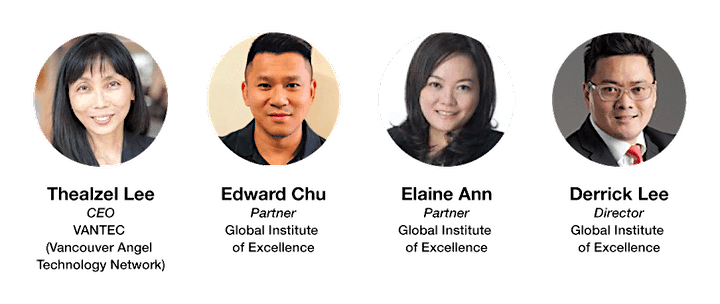 Thealzel Lee, CEO of VANTEC
Ms. Lee manages angel groups for the local startup community of entrepreneurs and angel investors: Vancouver Angel Technology Network (VANTEC) and the Vancouver chapter of the Keiretsu Forum (Northwest Region). She has served on committees with the National Angel Capital Organization (Canada) and the Angel Capital Association (U.S.). She is a founder of two angel seed funds: Nelsa Investment (VCC) Inc. and VANTEC Entrepreneurs Fund (VCC) Inc., dba "eFund" and a co-founding director of TiMIA Capital Corp.
Her work on the boards of non-profit organizations and public and private companies focus on developing achievable strategies and aligning operational frameworks for successful implementation.
Edward Chu, Partner, Global Institute of Excellence
Mr. Edward Chu is an entrepreneur, IT-Specialist and investment advisor. He started his first startup company in 1998 and was in the investment advisory industry for more than 12 years.
Edward started his own tech startup company, right after he graduated from University. The company operated the 2nd largest contactless RFID card in Hong Kong at that time. Edward lead several innovative projects including the world first facial recognition Microsoft Vista login system, Three-Factors Airline Check In System, and Real-time High-Performance Suspect-Recognition Surveillance System for China Custom and casinos in Macau. In 2008 Mr. Edward Chu changed his career path to the investment industry. He is the full licensed financial advisor in HKSFC for more than 12 years.
Edward Chu migrated to Canada with his family in 2019 and started his angel investing business in Vancouver, B,C. Edward Chu is a member of NACO and Vantec.
Elaine Ann, Partner, Global Institute of Excellence
Ms. Ann is the Founder and Director of Kaizor Innovation. a strategic innovation consultancy helping companies strategize, research, and define innovative products and services. Her clients include: Google, Airbnb, BMW, Intel, Motorola, Siemens etc.
She has more than 20+ years of experience in design innovation/user experience and have worked in New York and Silicon Valley for 12 years. Ms. Ann has trained over 1000 Tech Startups in various incubators/accelerators such as: Google EYE Program (Empowering Young Entrepreneurs Program), MIT Innovation Node, The Cage (Lane Crawford Joyce Group), BluePrint (Swire), Eureka Nova (New World Development), Infiniti LAB, CoCoon, Cyberport Expert Network, Startup Weekend and various universities on Customer Discovery/Validation, UX and Design Thinking. Her current business offers a CXO Advisory (time-shared Chief Xperience Officer) role to help accelerate Tech Startups to product-market fit to gain user-traction and revenue for founders and investors alike.
Derrick Lee, Director, Global Institute of Excellence
Mr. Lee brings over 20 years of experience working in government and multi-national corporations from Canada, Hong Kong and the United States. He has held various executive and advisory positions with the Government of British Columbia Trade & Investment Office, Canadian Chamber of Commerce, Consulate General of Canada, Treasury Board Secretariat, Transport Canada, Invest Hong Kong, U.S. State of California Trade & Investment Office, and TD Financial Group.
He is a seasoned professional with industry certifications including Fellow Certified Management Accountant, Certified Management Consultant, Fellow Certified Risk Planner and Fellow Member of the Hong Kong Institute of Directors. Mr. Lee holds a Bachelor's degree in International Business (Athabasca University), a Master's degree in International and Public Affairs (University of Hong Kong), and has completed the Senior Executive Leadership Program (Stanford University).
Contact Us
Whatsapp messaging: (852) 6543-9239
WeChat messaging: GIEHongKong
Email: admin@gie.com.hk
Supporting Organizations