Description
For purchase of ticket, please kindly move to Accupass the new page.
In case of any enquiries, please contact hello@whub.io
By agreeing to buy a ticket on Eventbrite, buyers agree that WHub is not liable to refund on the difference in price due to transaction fee.
Connect with the world-class startups, influencers, stakeholders and learn about innovative solutions that are changing the future of the world we live in.
Startup Impact Summit is one of the core events of StartMeUpHK Festival 2019, taking place on 25th January at Hong Kong Convention and Exhibition Centre.
Startup Impact Summit is focused on impact, created by regional and international startups, driven by successful cases of co-innovation projects between startups and corporates while leveraging the strength of connecting the ecosystems.
Conference agenda: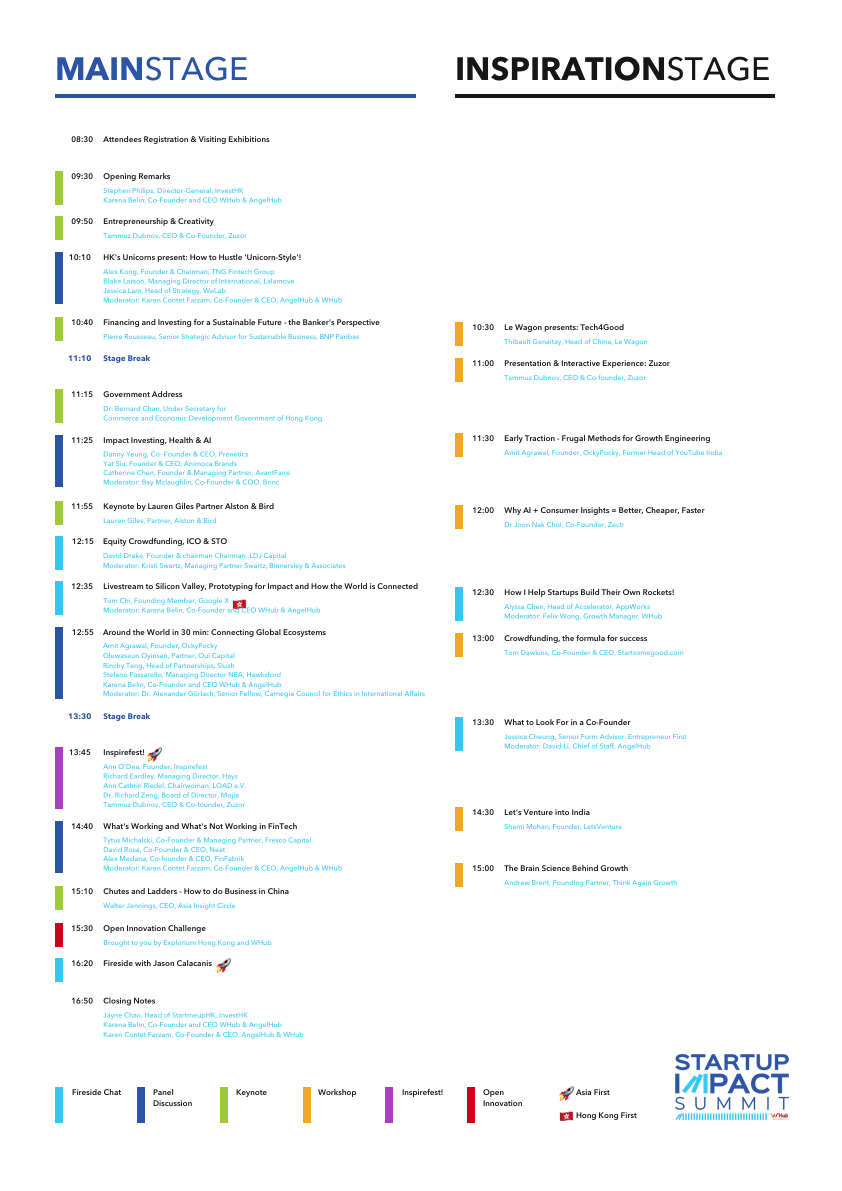 Conference tracks:
Main stage will feature 30 world class speakers throughout the entire day. Attendees will have chance to listen and learn from the renowned leaders, key influencers and community builders sharing their success stories and insights on the most trending topics.
Startup Village will receive over 100 startups from all over the world showcasing their products and services. Attendees will see their latest innovations and connect to entrepreneurs from diverse industries and countries.
Open Innovation Challenge will foster collaboration between corporates, entrepreneurs and ecosystem players in Hong Kong, boost experience-sharing between all key stakeholders and enable companies to gain competitive advantage in shortening time-to-market and product life cycles thought technologies.
The Service Marketplace will bring together companies who build and/or offer important services to help startups to grow and succeed. The dedicated area will feature a roster of engaging speakers from different industries (legal, fintech, accounting.) who will deliver informative and engaging sessions aimed at sharing advice and tips with startup founders & entrepreneurs.
[For companies who wished to exhibit in the marketplace, please fill in the form]
Six interdisciplinary workshops run by Zegal will equip the startup founders with fundraising skills, the know-how in marketing and accounting to accelerate their growth and to help them achieve their goals faster reaching financial sustainability.
WHub's signature Job Fair will connect talented job seekers with the best HK-based tech startups. This event will bring together undergraduates, graduate students, and seasoned professionals to one space, exclusively for startups.
Ticket types and prices: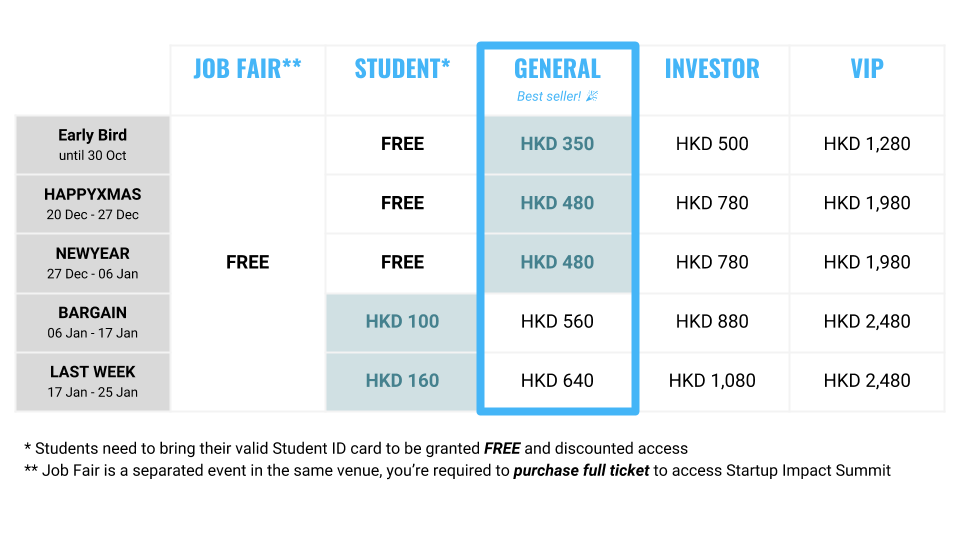 Important:
For sponsoring package, speaking slots, and visibility, please contact diane@whub.io
Delegation package, please contact community@whub.io for your dedicated package
Media pass, please contact marketing@whub.io