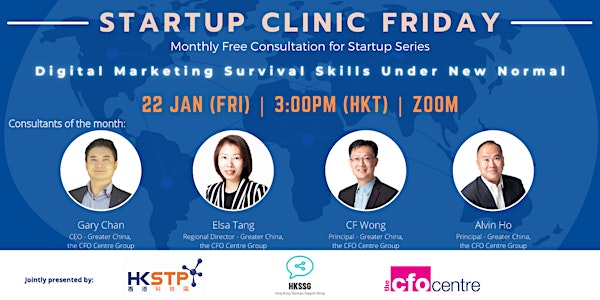 Startup Clinic Friday - Digital Marketing Survival Skills under New Normal
The monthly Startup Clinic Friday is brought to you by HKSTP, the CFO Centre and Hong Kong Startup Support Group.
About this event
HKSTP proudly organise the monthly Startup Clinic Friday with The CFO Centre and Hong Kong Startup Support Group (HKSSG) to provide free consultation support to our start-up community.
Founded in 2001, The CFO Centre Group is a global organization that support ambitious SMEs and startups with the very highest calibre Chief Finance Officers. Their team of 20 CFOs between Hong Kong and Shanghai, supported by 600 others around the world have, have been able to distill that combined experience and pass it onto companies around the world to overcome business challenges and to achieve their long term objectives.
The second event comes on 22 January, bringing unprecedented free-consultation with professional CFOs in town in a 1-hour session to raise any question for advices in relation to their businesses, including:
- Fund raising strategy
- Defining of business strategy and formation of business model
- Market penetration strategy
- Any other operational issue, including finance, human resources, legal, etc.
The second Startup Clinic Friday will be held on 22 January 2021 from 3:00pm to 5:00pm through zoom. Here are the members from the CFO Centre that will be available for this upcoming session:
Gary Chan
https://www.cfocentre.com.hk/our-team/gary-chan-director-greater-china/
Elsa Tang
https://www.cfocentre.com.hk/our-team/elsa-tang-principal-greater-china/
CF Wong
https://www.cfocentre.com.hk/our-team/cf-wong-principal-greater-china/
Alvin Ho
https://www.cfocentre.com.hk/our-team/alvin-ho-principal-greater-china/