初級設計師如何跟持份者(Stakeholders)合作可更得心應手?
About this event
Hope everyone had a good start to the year of ox 🐮🤩 ! We are seeing the UX community growing bigger year by year. As many of you may have just transitioned into this field. How do junior designers build the skill of stakeholder management? Speaking with colleagues with no design background or get their buy in? Join our next event on the 27th Feb for top tips from Ada, Gene, Oscar, Peter and Tim!
Remember to prepare some questions to join the discussion with the speakers 💬💬💬
Speakers :
Ada Yuen (CoolGranite Ltd)
Managing director, Senior Design Research Consultant, Founder
Peter Lau (Sun Life)
AVP, Agency Digital Transformation
Tim Chan (HSBC)
Product Design Lead
Oscar Venhuis (EQ Lab)
CEO/ Co-founder
Gene Soo (MTR Coperation Ltd)
Head of Ecosystem
Language : English
Zoom link : Will be emailed to registered attendees before the event
IxDA Hong Kong 祝大家新年快樂及🐮🤩牛年有個好的開始!
隨著用戶體驗行業的在香港發展多元化、普及化,人們漸漸關注用戶體驗的重要性; 加上這幾年投身在UX的人愈來愈多,當中不乏剛轉行做UX的初級設計師。
作為初出茅廬的設計師,少不免要與不同的人合作; 但當中要如何掌握持份者(Stakeholders)的管理 ? 又如何說服沒有設計背景的同事,並獲得他們的認可?
我們這次邀請了Ada,Peter,Oscar ,Gene 和Tim 分享他們的經驗!
歡迎大家參加我們在2月27日的網上會議啦!記得準備問題同我哋講者一齊討論呀💬💬💬
講者:
Ada Yuen (CoolGranite Ltd)
Managing director, Senior Design Research Consultant, Founder
Peter Lau (Sun Life)
AVP, Agency Digital Transformation
Tim Chan (HSBC)
Product Design Lead
Oscar Venhuis (EQ Lab)
CEO/ Co-founder
Gene Soo (MTR Coperation Ltd)
Head of Ecosystem
語言:英文 + 中文
Zoom 連結 : 活動前會發電郵給參加者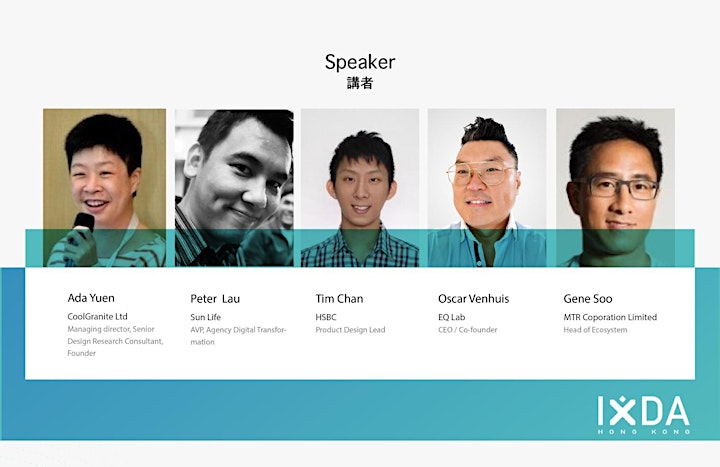 Organiser of 初級設計師如何跟持份者(Stakeholders)合作可更得心應手?
IxDAHK is the Hong Kong local chapter of IxDA Global established since 2006. Our focus is in promoting and serving the interests of an international community of design practitioners, managers, educators, students and anyone interested in the growing fields of:
Interaction Design
User Experience Design
Design Innovation
User-Centered Innovation
Design Thinking
Service Design
To find out more about Interaction Design Association, please visit http://www.ixdahk.com
To find out more about Interaction Design Association (Hong Kong Group), please visit our Socail Media Channel : 

FB: https://www.facebook.com/ixdahongkong
IG: https://www.instagram.com/ixda_hk/