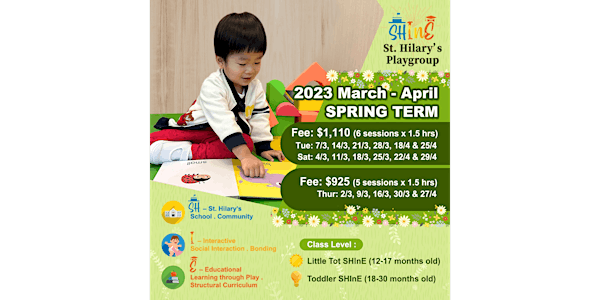 St. Hilary's Playgroup @Hung Hom: 2023 Mar-Apr (SAT) Spring Term
SHInE Program - St. Hilary's Playgroups (Spring Term @ Hung Hom Campus - Saturday)
Location
德萃幼稚園・幼兒園 51 Boundary Street kowloon, KOW Hong Kong
Refund Policy
Contact the organizer to request a refund.
About this event
Hung Hom Saturday Playgroup (6 Lessons for $1,110)
Date: 4/3, 11/3, 18/3, 25/3, 22/4 & 29/4
For those who successfully enrolled in our PN class, the payment made will be reimbursed in installments and deducted from the regular school fee. (Click HERE for more info about our PN Admissions)
Time Session Options-
- Toddler SHInE (18-30 mos):
9:00am - 10:30am
10:45am - 12:15pm
- Little Tot SHInE (12-17 mos):
9:00am - 10:30am
10:45am - 12:15pm
Details of our SHInE Program:
About the organizer
St. Hilary's Primary School (St. Hilary) aims at creating a learning environment that the students are able to cherish and enjoy learning and want to perform to the best of their abilities and talents. It has a comprehensive and cohesive system of education which develops students into persons who are confident, innovative, resourceful and brave in facing their responsibility in society and the challenges in future.