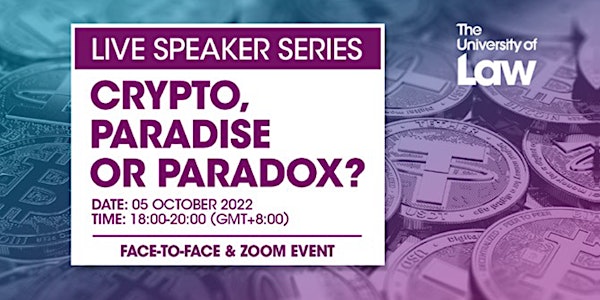 Speaker Series: Crypto, Paradise or Paradox?
立即登記 免費講者系列講座
About this event
[10月5日講者系列 Speaker Series 講座]
近年來,加密貨幣市場的規模不斷改變,在於法律、監管、實用和技術上亦變得困難。 在本次講座中,我們十分榮幸邀請到三位專家,他們將分享他們在應對該領域的挑戰和經驗,並討論加密貨幣市場的未來。專家們亦會分享加密貨幣市場上的糾紛及訴訟。講座最後會設有10分鐘的問答環節,可讓大家發問。立即登記參加講座,費用全免。
主題:法律及監管環境對加密貨幣市場的影響
日期:2022年10月5日(星期三)
時間:18:00-19:15 (GMT+8:00)
地點:Zoom(線上)
講師:Ms. Jennifer Wu (Senior Commercial and Tech Disputes Lawyer at Pinsent Masons), Mr. Thor Chan (CEO @ BGE LTD / CTO at HKE Holdings LTD) and Mr. Brent Sellors (Associate Director – Forensic Services at PwC)
語言:英語
登記:https://bit.ly/3exdm6E
The Crypto landscape has changed in the recent years and navigating the legal, regulatory, practical and technological landscape can be difficult. In this event, we will hear from our 3 panelists, who will share their experiences on steering through the challenges in this space and discuss the future of the Crypto world. The panel discussion will also touch upon cryptocurrency disputes in a range of forums including litigation and arbitration Cryptocurrencies and DeFi (decentralised finance) at times lead to litigation of high-value multidisciplinary disputes relating to financial services, company disputes, corporate insolvency and civil fraud. Free registration. Sign up now.
Topic: Crypto, Paradise or Paradox? – What does the Evolving Legal and Regulatory landscape Mean for the future of doing business in Crypto
Date: 5th Oct 2022 (Wednesday)
Time: 18:00-19:15 (GMT+8:00)
Venue: Zoom (Online)
Speakers: Ms. Jennifer Wu (Senior Commercial and Tech Disputes Lawyer at Pinsent Masons), Mr. Thor Chan (CEO @ BGE LTD / CTO at HKE Holdings LTD) and Mr. Brent Sellors (Associate Director – Forensic Services at PwC)
Medium: English
Registration: https://bit.ly/3exdm6E