Sparkle Your Life 尋找一個屬於自己的閃亮人生

Friday, 26 October 2018 from 18:00 to 20:00 (HKT)
Event Details
S p a r k l e    Y o u r    L i f e
尋 找 一 個 屬 於 自 己 的 閃 亮 人 生

  
你只
需預備「

一個開放的心」

,在「

一個輕鬆的分享平台」

,
投

入「

一場對話傾談」

,
在「

一連串的個人故事」中

發掘,
讓你

可以尋找到由自己建立的能力和價值,
並發展自己的生活和夢想,
最後用「一張相片」來鞏固和強化你在這場對話中的發現。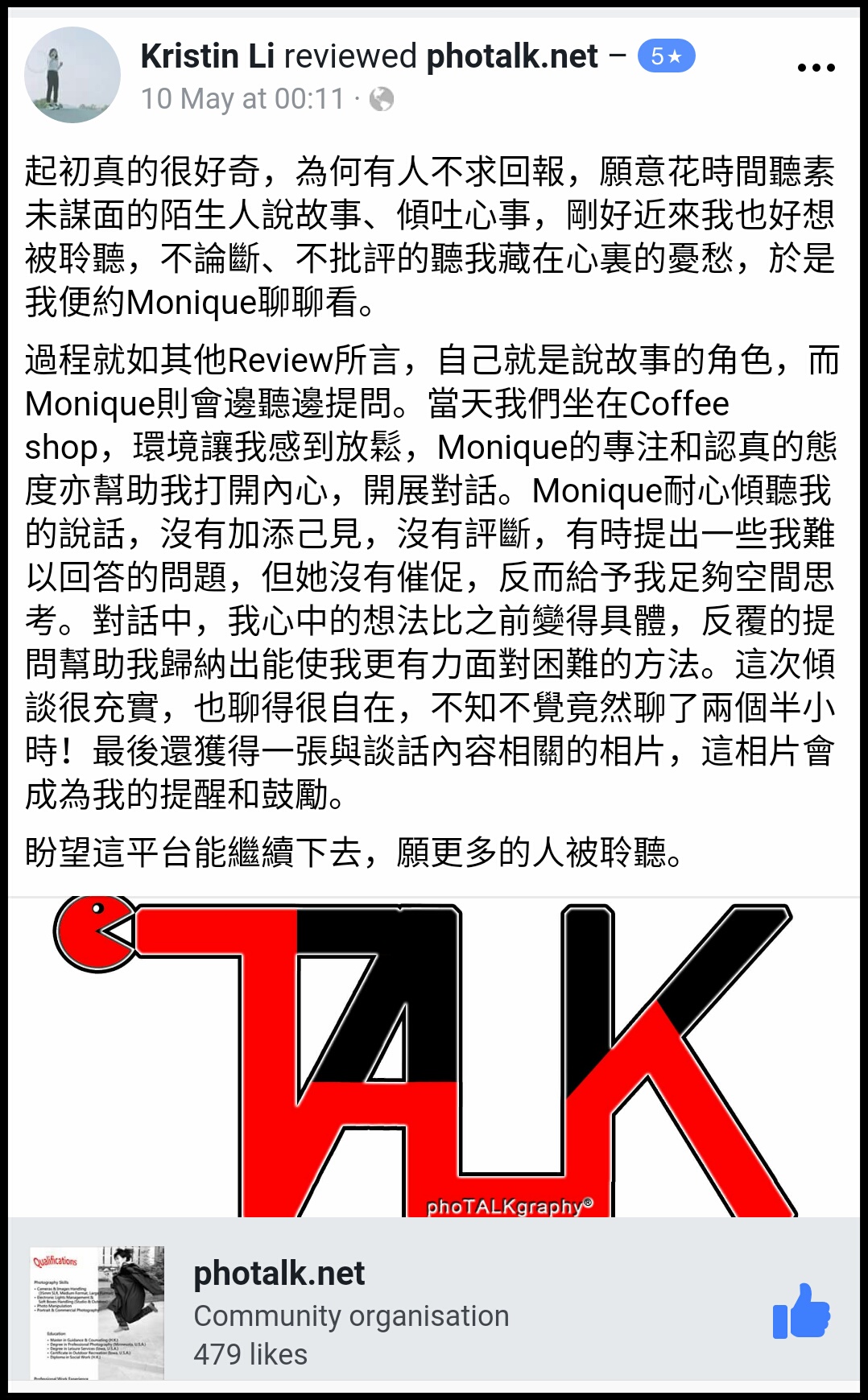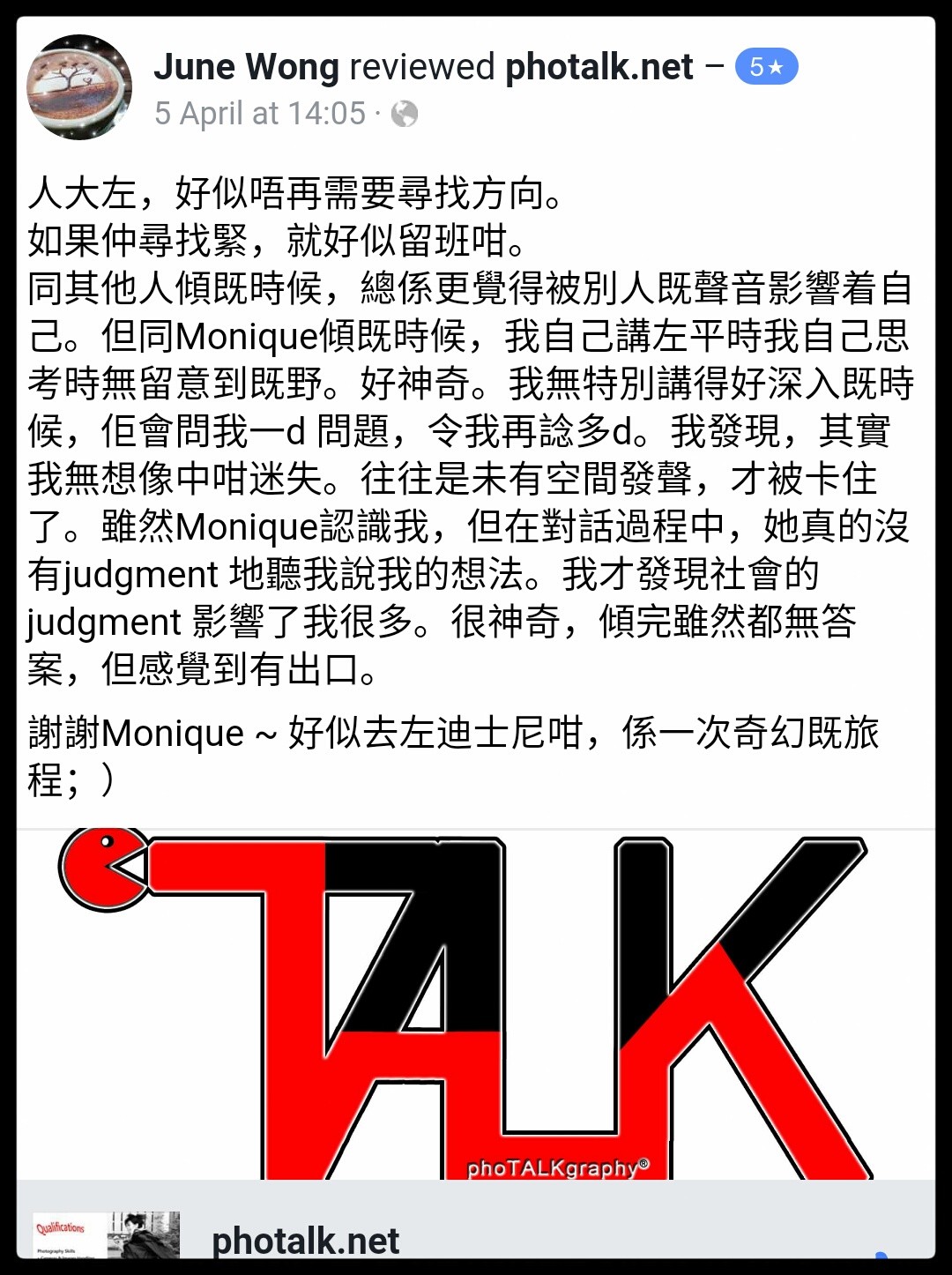 -----------------------------------------------------
-----------------------------------------------------
-----------------------------------------------------
可選日期:2018年7月15日 至 8

月31日

(

接

受

個

別

預

約

)
建議地點:油.尖.旺.沙田.荃灣 (Pacific Coffee 或 Starbucks) (或另議)
收費形式:Pay As You Feel (PAYF)
可

選

日期:2018年9月15日

 至 10

月31日

 (

接

受

個

別

預

約

)

 
建

議

地點:油.尖.旺.沙田.荃灣 (Pacific Coffee 或 Starbucks) 

 (

或

另

議

)
收費形式:Pay As You Feel (PAYF)
-----------------------------------------------------
-----------------------------------------------------
若各位知道身邊的朋友有興趣的話,請協助轉傳,
謝謝支持!
When & Where

各區
Pacific Coffee
Starbucks
油.尖.旺.荃灣.沙田, Hong Kong
Hong Kong SAR China

Friday, 26 October 2018 from 18:00 to 20:00 (HKT)
Add to my calendar
Organiser
phoTALKgraphy®

  
是 一 個 香 港 政 府 認 可 註 冊 團 體,始 創 人
Monique Hung
透 過 「敍 事 實 踐」

 

導 向 與 你 傾 談,一 起 走 到 你 的 人 生 島 遊 歷,從 無 限 的 生 活 故 事 中,你 會 尋 找 到 由 自 己 建 立 的 能 力 和 價

 值,並 探 索 自 己 的 生 活 和 夢 想,從 而 為 自 己 的 路 向 重 新 整 理、從 新 出 發。 
No one has the authority, or even is qualified to evaluate or determine who you are or what you are valued. Only through your own interpretation and presentation, you being the protagonist has the right to represent yourself personally and powerfully.
沒有人有能力,甚至沒有資格去評價斷定你是一個怎樣、或擁有甚麼價值的人。只有透過你自己的演譯及表述,才能有效地代表自己個人!
M.A. in Guidance and Counseling. Hong KongPolytechnicUniversity. 
香港理工大學諮商與輔導文學系碩士 
A.A.S. in Professional Photography Technology. Hennepin Technical College, USA.
美國亨內平技術學院專業攝影系學士 
B.A. in Leisure, Youth, and Human Services. University of Northern Iowa, USA. 
北愛荷華大學康樂休閒事務管理系學士 
Registered Social Worker (RSW)  香港註冊社工 
Member of Minnesota Professional Photographers Association. 
美國明尼蘇達專業攝影師協會會員