Description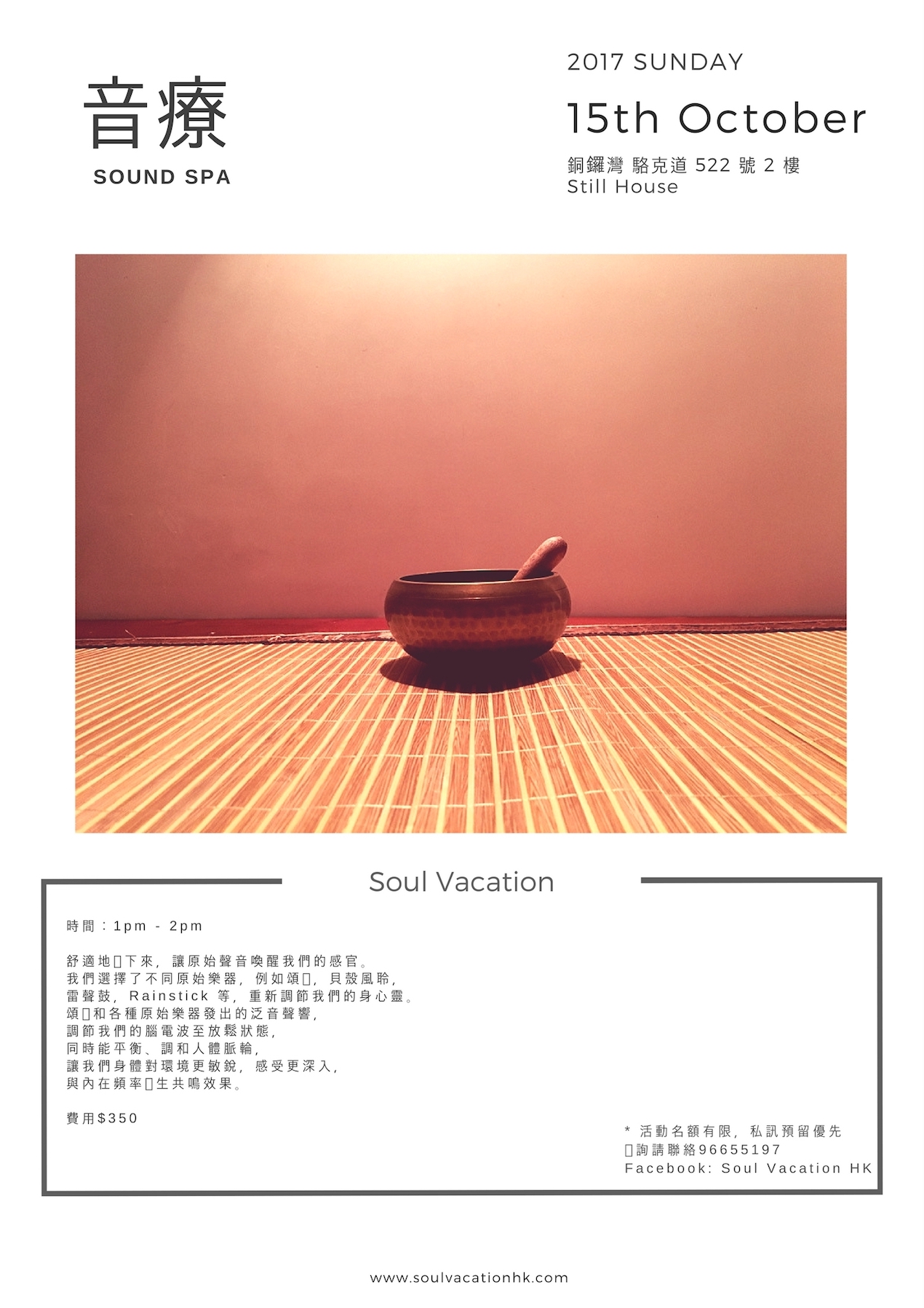 Check our Video!
Check our Facebook and pm for reservation!
https://www.facebook.com/soulvacationhk/
We carefully choose different Authentic and Primitive sound and instruments combination for you. We have Tibetan Singing Bowls, Special Chimes, Rainstick, Thunder Drum Tailor-made Binaural Beats (created by Kay) and you all lay down and immerse yourselves into a beautiful and relaxing tune. The specific vibrations entrain our brainwaves to a relaxing and conscious state of mind and tune ourselves to be in greater harmony.
我們選擇了不同原始樂器,例如頌缽,貝殼風聆,雷聲鼓,Rainstick 等,重新調節我們的身心靈。頌缽和各種原始樂器發出的泛音聲響,調節我們的腦電波至放鬆狀態,同時能平衡、調和人體脈輪,喚醒我們的感官,讓我們身體對環境更敏銳,感受更深入,與內在頻率產生共鳴效果。
Date: 15 Oct 2017 (Sun)
Time: 1-2 pm
1:00 - 1:10
Introduction about the Sound Spa and the Inner Improvement
講解聲療如何提高心靈質素
1:10 - 1:50
40 mins Lying Down for Deep Relaxation
40 mins 躺下體驗原始音頻
1:50 - 2:00
Sharing and Round up
分享和總結
Price: $350
*** Feel Free to play the instruments before or after the session
歡迎在活動開始前或結束後接試玩樂器