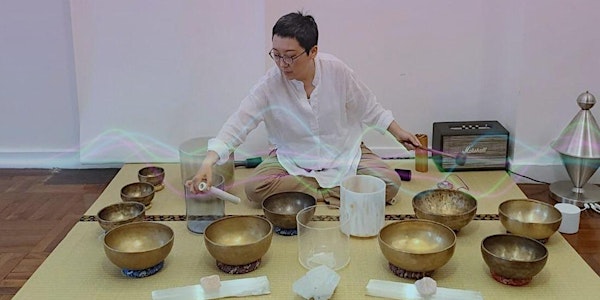 Somatic & Singing Bowl Meditation 60-Mins (In Person) | 60分鐘體感.頌缽冥想(面授課)
Singing Bowl Meditation PLUS with Anita 與 Anita 一起頌缽冥想
When and where
Location
iLiving HK 4/F, 31 Hollywood Road Central, Hong Kong, HKI Hong Kong
About this event
Somatic & Singing Bowl Meditation 60-Mins (In Person)
Relax, resource and reprogramme
Want to improve sleep and concentration?
Want to have more inner resources and a more resilient nervous system?
Want to improve emotional, mental and spiritual wellbeing?
Using Sound Frequency as Healing Resource
We are all literally made of sound. At the sub-atomic level everything is frequency.
Every Session is Different
The exact guided meditation each session comes through intuitively at the moment based on what is best for the group at the time and inspired by cosmic energies.
Date: 14 Aug 2021 (Saturday)
Time: 15:00-16:00 HKT
Venue: 4/F, 31 Hollywood Road, Central, Hong Kong
Price: HK$350.00
Co-organiser: Ms. Anita Cheung
Click HERE to register.
https://www.ilivingacademy.com/somatic-&-singing-bowl-meditation
60分鐘體感.頌缽冥想 (面授課)
頌缽沉穩凝鍊的震動頻率,都幫助著我們走入靈魂深處找到寧靜與力量,而敞開心胸去接受更多的發生與可能,讓愛的能量流動,進而發展出更多溫柔的祝福、進而循序漸進地深層清理生命課題根源、療癒身體內過去現在所積累的負面信念淤積能量。每次療程約長60分鐘。
日期:8月14日 (星期6)
時間:下午 15:00 至 16:00
語言:主要英文
地點:香港中環荷李活道31-33號4樓
費用:HK$350.00
協辦者:Ms. Anita Cheung
按此報名。
https://www.ilivingacademy.com/somatic-&-singing-bowl-meditation