Ask us anything (related to the hackathon)! We're happy to answer your questions in order to get you ready for Hack.Asia!
About this event
Hi everyone,
🙌 Welcome to the first of three Hack.Asia pre-events!
This pre-event will:
Give you an overall presentation of Hack.Asia and Startup Impact Summit
Provide you with a deeper understanding of the problem statements by the Business Units (Take a look at the 10 challenges on Hack.Asia)
Help you connect with other potential attendees and find teammates to hack one of these challenges :)
Give you an opportunity to start asking questions and getting ready to win (🏆 HKD50,000 cash prize, internship opportunities or Proof of Concept)
🎟️ Get you a free ticket to the largest online tech conference in Asia with more than 20,000 attendees, 200 speakers, 14 tracks ...! (SIS)
This event is free and open to everyone.
🕕 Agenda - online event via Zoom (HKT)
5:45 Be on time - Main Room
6:00 Introduction to Hack.Asia and Startup Impact Summit By Karena BELIN (30min) - Main Room
6:30 Introduction to HSBC's challenge ADD ON by Peter Dingle (15min) - Main Room
After this first Q&A session, either you will choose to stay on the main room to ask us anything about the Hackathon, or you can join one of the two rooms dedicated to the problem statements.
Room 1 if you are interested to hack the startups stream
Room 2 if you are interested to hack the students&Innovators stream.
7:00 Breakdown of the Challenges - Quick introduction about each challenge (45min) - Room 1 & 2
7:45 Q&A and Networking (20min) - Room 1& 2
Breakout room - information 🖇:
Room 1. Startups stream
Hactl presented by Jolina Zou and Toby Wong
Hong-Kong Land presented by Shirley Lam
Jardines International Motor presented by Amy Lau
Mandarin Oriental Hotel presented by Alexander Li
Room 2 . Students and Innovators stream:
Save the date: Hack.Asia will be held during the 6-8 July and will be fully online!
Come and join this first pre-event to know more about the prizes, the challenges and perhaps meet your future teammates :)
Make sure to book a spot for our next pre-event: Microsoft Azure! 🚀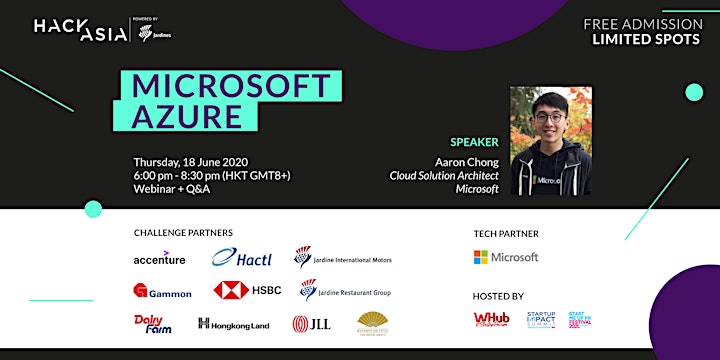 Organiser of Solve your problem! AMA | Hack.Asia - Hackathon
Hong Kong's Startup Community
WHub is the best place to discover and connect with Hong Kong startup ecosystem. 
WHub (whub.io) is Hong Kong's largest startup community platform, community builder and power connector. It showcases startups to accelerate their business through making meaningful connections to the resources they need and fosters the growth of the entire ecosystem.