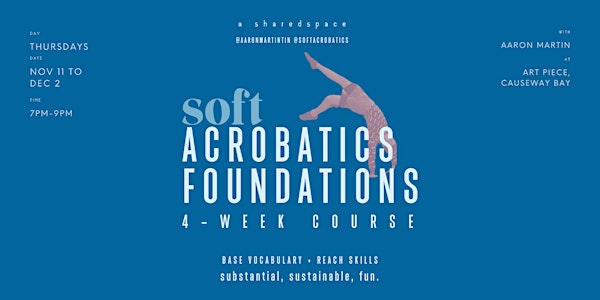 Soft Acrobatics Foundations (4-Week Course, Thursdays)
Soft acrobatics introduction and session breakdown, Session date/time, Further practice
When and where
Location
Art Piece Building 21-23/F 3 Matheson Street Causeway Bay (MTR exit A) Hong Kong, HKI Hong Kong
Refund Policy
Contact the organiser to request a refund.
About this event
This is a foundational level, 4-week Soft Acrobatics course, led by Aaron Martin. Sessions will run on Thurdays, Nov 11, 18, 25, and Dec 2, for 4 consecutive weeks.
If you are interested in enrolling in this course at a later date, we will run this course again on the following date in an 8-week format:
Thursdays Feb 10 - Mar 31, 2022
Fridays Feb 11 - April 1 2022
*Aside from the above dates, we will be rolling out pop ups and workshops. If you're interested in immersing, we highly recommended joining a course!
What is Soft Acrobatics?
Soft acrobatics is a non-competitive floor-based acrobatic skill practice, with a focus on soft and sustainable execution.
Inspiration is drawn from many different disciplines like Capoeira, Contemporary Dance, Martial Arts Tricking, Breakdance, Arm Balancing, and Parkour
Classes are usually split into 2 parts:
* flow work, which is the weaving together of basic patterns into unique flows and sequences
* skill work, which is the practice of more advanced acrobatic reach skills.
One person's skill work, can be part of another person's flow work.
Unlike other forms of acrobatic practice, soft acrobatics has a uniquely low entrance barrier and is easy to start with, because we take the beginner moves of other styles.
That means softacrobatics may require less strength and flexibility than a yoga class - no matter your level, there is always a sequence that you can turn into your own personal flow.
Why a course > a class
- STRUCTURE: Cultivating a structured, as opposed to random, learning culture.
- GROUP GROWTH: Learning with a dedicated group supports us in learning and growing.
- DEDICATION: Blocking out a specific day and time on a weekly basis, is a signal to the brain that we are here to learn and achieve.
- HOMEWORK: The space between sessions is not random, but potential for personal practice and development.
Who is this course for?

This course is for yogis, gym-goers, dancers, new teachers and for generally curious movers. We immerse in a substantial, fun, sustainable practice, paving the long term path for SKILL IMPROVEMENT.
Thursdays not the best day? We run the same course on Fridays. Our next Friday course dates are on Nov 12 to Dec 3.
Our learning goals:
From Week 1 to Week 4, we will take the time to break down the components of a few more challenging movements:
1. Momentum Shoulder roll
2. Floating cartwheel
3. Elbow lever
4. Macaco + Butterfly Kick
Why? Because the ability to execute difficult skills opens ones up to the possibility of more complex movement patterns and flows.
ONE/BASE VOCABULARY
Developing base vocabulary to flow with. This is akin to a typical vinyasa flow in yoga - downward dog, plank, chaturanga (low push up), upward dog - but much less linear, and therefore opening up more possibilities for movement variation. Think rolls, spins, sweeps, and all-fours transitions.
TWO/REACH SKILLS
Developing 3-4 reach skills with good technique. We want to really own these movements, eventually be able to flow in and out of them with confidence and control, so that we can really move smoothly. Owning a movement requires developing the required strength, mobility, and coordination, and being able to successfully do it in most attempts (around 8-9 out of 10 times).
Our reach skills for this iteration of the soft acrobatics course are:
MOMENTUM SHOULDER ROLL
MACACO
 + BUTTERFLY KICK
FLOATING CARTWHEEL 
ELBOW LEVER

About Aaron Martin
Aaron is a Hong Kong-based movement teacher and performer. He is a self-taught parkour athlete and acrobat with an interest in teaching quality movement patterns to people of all walks of life.
Through his focus on teaching pedagogy and movement learning he draws from a multitude of disciplines and experiences to help his students find balance between strength, flexibility and coordination.
A call for collaboration
We have run various iterations of this course over the past 3 years in Hong Kong, and our teaching and organization is constantly improving. At this point, we are working on building a digital version of this course, to make it accessible to practitioners globally. If you're in Hong Kong and interested in enrolling in this course, we call for your collaboration by:
- FEEDBACK | Before and after the course, through your preferred format (call, email, short in-person meeting)
- ACTIVE PARTICIPATION | In a group WhatsApp chat, we encourage participants to share their training progress through video format
- PERMISSION TO DOCUMENT | We'd love to be able to document everyone's learning progress in class in photo and video form.
- TESTIMONIAL (Optional) | For those who are happy to, we'd love your help in filming a short video testimonial, so we find the others, and continue to teach wonderful students like yourself.
Talk to us directly if you are interested to help and you could get access to the beta version of the online course in early 2022.
Other offerings:
Aside from Soft Acrobatics short courses, we also offer courses to explore Handstands, and Strength+Flexibility. If you might be inteterested in exploring those courses first, OR concurrently with Soft Acrobatics, we encourage you to get in touch with us with all your questions. We will get you sorted :)
Questions? WhatsApp 66873701!