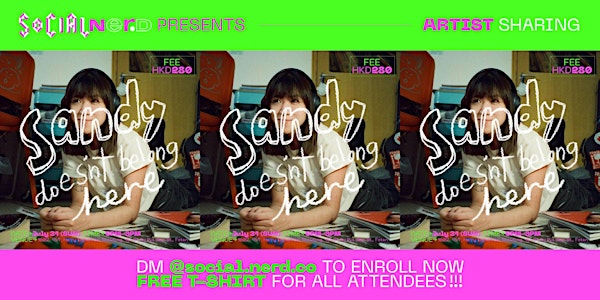 SOCIAL NERD PRESENTS - ARTIST SHARING 1: SANDY DOESN'T BELONG HERE
An anecdotal sharing by Sandy for young aspiring artists in Hong Kong. ENROLL NOW AND GET A FREE "Hi, How Are You" T-SHIRT!
When and where
Location
SOCIAL NERD 1602, 16/F, HARRY INDUSTRIAL BUILDING 49-51 AU PUI WAN ST. FOTAN, NT Hong Kong
About this event
ABOUT 'SANDY DOESN'T BELONG HERE' SHARING
Clock in, clock out. Artist Sandy leads a double life as an artist and an illustrator/ graphic designer, on the one hand creating works that are out-of-this-world (aliens!) and, on the other, grinding in the unforgiving rat race that is Hong Kong's work life.
The down-to-earth life supports the luxury of having your head in the clouds. Hear her story navigating the artist's life as your regular, next-door neighbour.
ENQUIRY: www.instagram.com/social.nerd.co (@SOCIAL.NERD.CO)
ABOUT SANDY (@SANDYPLAYIG)
Hi, I'm Sandy Wang
Directed by the curiosity of human interactions with the surroundings, her subjects investigate an extensive range of ideas through studies of objects, situations, and emotions.
Sandy Wang 王梓妃 2016 年畢業於倫敦中央 聖馬丁藝術設計學院,主修平面設計,翌年開始 以"Farts for Art"名義創作跨媒體視覺藝術, 擅於觀察日常中人、物與環境的關係,以平易近 人、率性隨意的手法創作藝術,作品經常流露出 其幽默怪誕的念頭。 Farts for Art 曾出版過多本 獨立插畫小誌,並在香港、台灣、日本、英國及 星加坡等多個藝術書展中展出。近期更開始參與 更大型的創作,早前大館的多媒體展覽「日安時 刻」的視覺設計與插畫正由 Sandy 操刀。
ABOUT SOCIAL NERD (@SOCIAL.NERD.CO)
SOCIAL NERD is a new entity founded by the team behind perks (@perks.production), a pins and souvenir production brand that works extensively with artists from Hong Kong and beyond. The oxymoron SOCIAL NERD encapsulates their role in the community: help artists be seen, heard, and experienced through events and exhibitions, beyond their artifacts and products.
SOCIAL NERD sees its role as a facilitator fostering a culture of mutual appreciation and support among artists. They are an inclusive and collaborative group unrestricted by genre or medium. SOCIAL NERD's mission is to create synergies that echo across the city.