「第二期恒基社創學堂」簡介會 'Social Innovation Classroom' Info Session in Term 2

Thursday, 12 January 2017 from 19:30 to 21:00 (HKT)
Event Details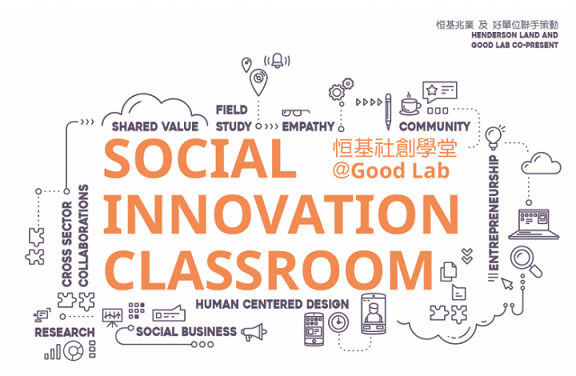 恒基社會創新學堂: 社區設計新方案

此社會創新學堂由Good Lab團隊設計,為期6週,是香港首個全方位社創青年領袖培育課程,為學員提供知識、方法和人際網絡,讓年青人有獨特的社區認知、創新體驗及培訓,為社會創新的生態系統培育更多青年領袖。

在這 6 個星期裡,學員有機會學習世界各地的社會創新案例,親身進入社區了解本地議題,與伙伴一起思考有效的解決方法,設計符合具體情況的模型。 課程安排在平日晚上及週末,學員需要完成小組功課,建立社會創新項目的模型設計。
『本課程提供了一種改變思考的工具,以全新的角度,構成好的主意,更能掌握落實社會企業的理念。』
『本課程教授如何構想實用的方案,省略了不切實際的部份,達致符合社會真正的需要的方法。』
『本課程提供了一個舒適的學習環境和氣氛,讓我們真正體會關於社區的需要。』
『本課程的導師教會了我一些具體的社會創新概念,設計思維的技技巧,商業意識和建立網絡的步驟。』
有興趣了解更多上屆的學堂情況,可在blog.goodlab.hk上閱讀課程導師的分享。
參加這個課程,你可以學到:

社會創新的國際案例

設計思維、建立模型、收集意見

拓展社會創新及社企的人際網絡

了解社區及特定議題的需要
本課程專為:

剛畢業且立志改變社區的年輕人

渴求化挑戰為機遇的專業人士

期望拓展社創網絡的創新者

關心社區和積極變革的公民
本課程一年舉辦 4 次,下屆將會在2017年2月10日進行,連續6個星期六,課程全費資助,名額有限,請立即報名!

恒基社會創新學堂簡介會詳情:
日期/2017年1月12日(星期四) 
時間/7:30 PM - 9:00 PM
地點/Good Lab好單位(西九龍通州街500號星匯居L1) 地圖
語言/廣東話為主,輔以英文
費用/全免(本課程收取$1,000按金,學員完成80%的工作坊及最後的創新項目後,按金將會予以退還)
如有查詢,請電郵至si-classroom@goodlab.hk或致電 3996 1933。
---
Henderson Social Innovation Classroom @ the Good Lab
Henderson Social Innovation Classroom @ the Good Lab is a 6-week interactive learning program that will provide the knowledge, tools and connections for you to become a social innovator in your work and community.  Designed for the busy professional, the course will take place in the evening and the weekends and involve course work between sessions with your fellow classmates. Over the six weeks, you'll be inspired by social innovation around the world, get to know more about the social issues in Hong Kong first hand and then work to develop prototypes that can improve them.
Here are some of the reflections from our previous class :
"The course provided me some kind of tools and helped me to construct idea with new perspective and common interest that I never thought of it before, now I have confident to explore and even build a social enterprise someday."
"The course taught how to design solution and think more practically, instead of some unrealistic plan that do not match the need of the target group, I now know how to start from constructive idea that achieve my goal."

"The course provided a comfortable learning environment and atmosphere, so that we could explore more about about Social Innovation."
"The instructors helped me to walk through abstract concepts on Social Innovation, design thinking skill; innovative business sense and find ways to build my network in the industry."
Visit our blog to find more about Kelvin's sharing about the SI Classroom http://wp.me/p5RY4A-C1
Join this exciting courses if you want to:
Learn the methodology of design thinking and idea prototyping

Meet with well-known social entrepreneurs and innovators

Understand social innovation from the ground up

Create an idea that can improve the community
This course is designed for:
Recent graduates who have the interest to be a changemaker in the community

Young professionals who are looking to transform challenges into opportunities

Social innovators who want to build meaningful connections in a growing network

Citizens who care about their community and want to create a positive change in it
This course will run 4 times a year, with the next cohort starting on 10 February, 2017. The schedule of the coming course is as follow:

The information session for this exciting program:
Date / 12 Jan 2017 (Thurs)
Time / 7:30 PM - 9:00 PM
Venue / Good Lab (L1, The Sparkle, 500 Tung Chau Street, West Kowloon) Map
Language /Mainly in Cantonese with some supplementary English
Fee / Free of Charge (Deposit of $1,000 is required and it will be refunded if you attend over 80% of all workshops and complete the prototyping of your social innovation)
For further enquiries, please email us at si-classroom@goodlab.hk or call 3996 1933.
Do you have questions about 「第二期恒基社創學堂」簡介會 'Social Innovation Classroom' Info Session in Term 2?
Contact Good Lab 好單位
When & Where

Good Lab 好單位
L1, The Sparkle, 500 Tung Chau St.
Cheung Sha Wan, Kowloon 0000
Hong Kong SAR China

Thursday, 12 January 2017 from 19:30 to 21:00 (HKT)
Add to my calendar
Organiser
Good Lab 好單位 是香港首個社會創新基地。
在Good Lab的共用工作空間 ,我們為創革者建立社群,透過學習、分享和社會實驗,推動創新意念的實踐。

在Good Lab社會創新學院,我們 致力向民商官學各界推動社會創新教育和發展,培育跨界領袖,一起為社會問題共創解決方案。

我們由香港7個社會創新平台共同發起,包括:對話體驗、香港社會創業論壇、創不同協作、社企民間高峰會、香港社會創投基金、仁人學社及言論自由行。

-----

The Good Lab is Hong Kong's first Social Innovation hub. 

We build a community of changemakers at our co-working spaces by providing learning programmes and experimentation opportunities for the development of innovative ideas.

We ignite interest and encourage tri-sector collaboration to solve complex social and environmental problems through our Social Innovation Academy.

We are founded by 7 key players in the Hong Kong social innovation ecosystem: Dialogue Experience, Hong Kong Social Entrepreneurship Forum, Make A Difference Institute, Social Enterprise Summit, Social Ventures Hong Kong, Education for Good and Solutions On Wheels.