About this Event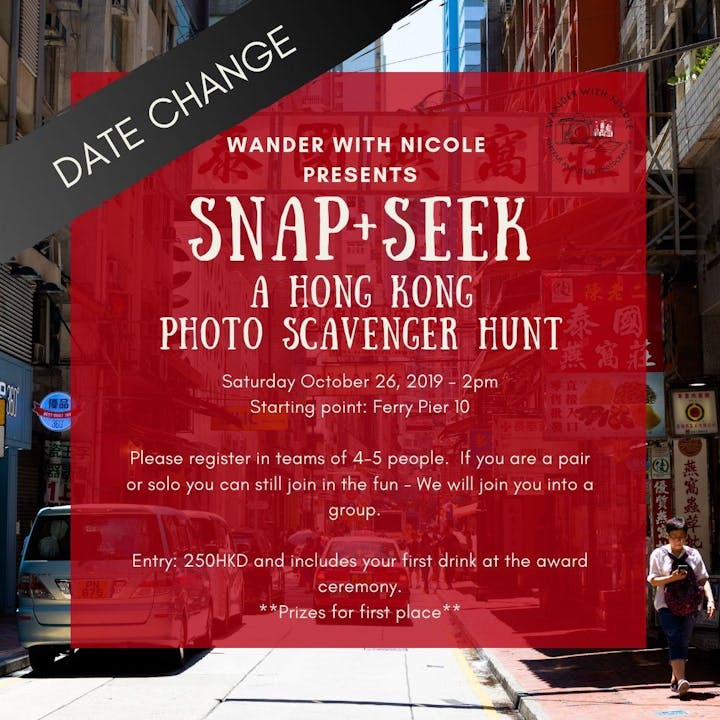 Come celebrate Wander with Nicole turning 1!
Lets celebrate by exploring where it all began, on the streets of Hong Kong.
Date: Oct 26
Time: 2-5pm
Starting Point: Central Pier 10
1st Edition: Central & Western District
Our exciting Hong Kong Photo Scavenger Hunt, Snap & Seek is guaranteed to bring out the competitive side in you. Using just your mobile phone and working together in teams of 4-5 people you will hunt for photo ops in the most unlikely spaces.
Prizes for the highest team score & most creative photo!
Cost: 250HKD Per Person; inclusive of the challenge and post challenge nibbles and celebratory drink.
Sign up in teams of 4 or 5 OR join solo and be matched up in a group.
**Each team member needs their own ticket**
*Limited number of tickets available*
Please note this event finishes in a different location then it starts. Location will be within walking distance to an MTR station in the Central/Sheung Wan area.
If you have any other questions please email info@wanderwithnicole.com
Once sale is completed, no exchange of tickets will be made. No refunds will be made except pursuant to event cancellation and at the Organiser's discretion.
Entry to the event will be refused if tickets purchased from Wander With Nicole cannot be presented in any form.
The Organiser reserves the right, without refund or compensation, to refuse admission/evict any person(s) whose conduct is disorderly or inappropriate.
The Organiser may use the ticket holder's image or likeness in any publicity material or website for future events.
The Organiser may postpone, cancel, interrupt or stop the event due to adverse weather, dangerous situations, or any other causes beyond reasonable control.
The Ticket Holder voluntarily assumes all risks and danger incidental to the event whether occurring prior to, during or subsequent to the actual event, including any death, personal injury, loss, damage, or liability.