oin this Open Mic for Notion skill sharing, you could: A. show us your favorite Notion page B. share your Top3 Notion tips and tricks
About this event
There are a lot of productivity apps on the market. But Notion is one of the most popular and flexible tools. It's an all-in-one productivity solution and it perfectly balanced capability and simplicity in an interface that valued form as much as function.
Notion is incredibly flexible. Everyone can customize pages and figure out hidden tips and tricks based on various purpose and usage.
Are you proud of your Notion page or willing to share your Notion tricks? Now, the stage is for you!
Join this Open Mic for Notion skill sharing, you could:
A. show us your favorite Notion page
B. share your Top3 Notion tips and tricks
⏰ Friday 2021/10/22 19:30 -21:00
💁🏻‍♀️ English
💰 FREE entry
📍 9F, 129 Yan'an West Road, Shanghai 上海市延安西路129号华侨大厦9楼
🚀About Le Wagon China 🚀
Le Wagon China (www.lewagon.cn) is a top ranked coding school for startups, creative people and tech entrepreneurs.Our Web Development and Data Science bootcamps are designed for individuals who want to change their career, become freelancer, or launch their own venture!
Our next bootcamps will start:
🚶‍♂️ November 28th for our 24-week part-time Data Science programs
🏃‍♀️ March 5th for our 9-week full-time Web Development and Data Science programs
Applications are already open!
Checkout enrollment details, curriculum, Career Week support and more 👉 www.lewagon.cn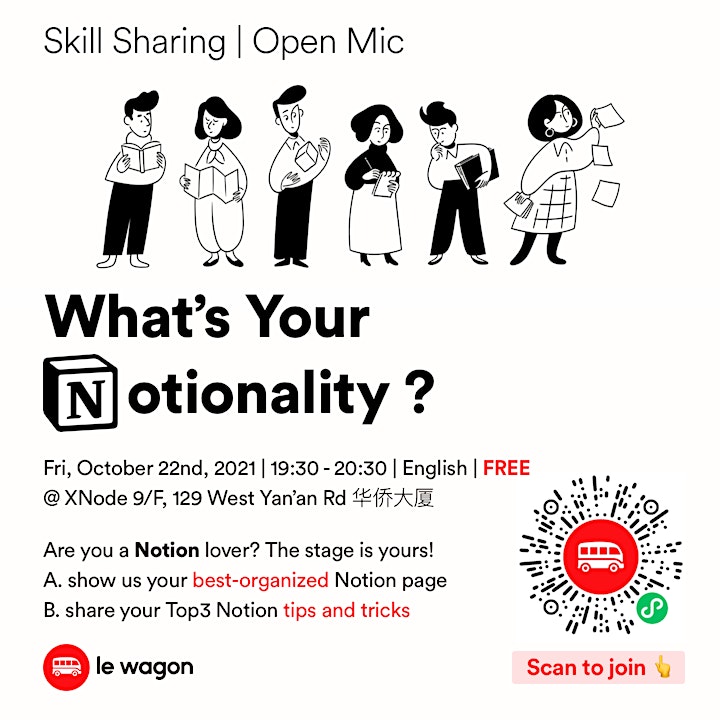 Organizer of Skill Sharing | What's Your Notion-ality?
Le Wagon is a world leading coding bootcamp, now celebrating over 7,000+ alumni on 5 continents and 38+cities, including Shanghai, Shenzhen, Chengdu, London, Berlin...Founded in Paris, France in 2013, Le Wagon has quickly become the No.1 rated coding bootcamp around the World.
Through immersive coding bootcamps, Le Wagon teaches you the skills and entrepreneurial mindset you need to thrive - now and in the future. Our cutting-edge curriculum and world-class teachers give students all the skills and tools needed to kick-start their tech career, land a job as software developers or product managers, data professionals, or launch their own startup.
Le Wagon是⼀家全球领先的编程训练营,现已在全球五⼤洲和超过38个城市开设分校,包括上海、深圳、成都、伦敦、柏林...拥有超过7000多名校友。Le Wagon编程训练营于2013年创⽴于法国,并迅速成长为全球排名第一的编程训练营。
Le Wagon教授学员现在和将来蓬勃发展所需的技能和企业家思维。我们开发前沿的课程和配备世界⼀流的导师,并为学员进⼊科技行业提供其所需的技能和⼯具。学员有机会成为软件开发人员、产品经理,数据专家,或从0到1开始创业。