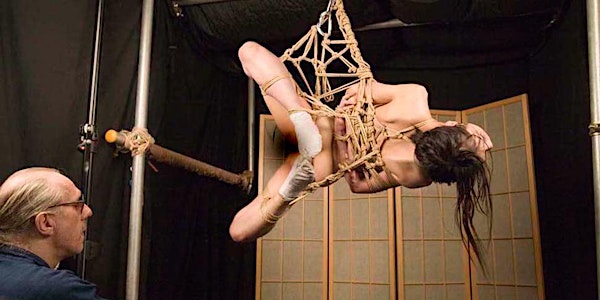 Side Suspension / Yokozuri / 横吊り
In this workshop/demonstration we will focus the side suspension (yokozuri / 横吊り). See photo.
Refund Policy
Contact the organizer to request a refund.
About this event
Learn from Osada Steve as he unveils the secrets of Osada-ryu side suspension (yokozuri, 横吊り).
This is an LGBTQA+, BDSM, BLM, pro-equality, and pro-carbon neutrality event.
The Osada-ryu side suspension (yokozuri / 横吊り) can be based on a three-rope takatekote with the hands in the back (三本縄後手高手小手, sanbon-nawa gote takatekote aka 3TK) or with the hands in the front (三本縄前手高手小手, sanbon-nawa maete takatekote aka front 3TK) or, alternatively, based on the Osada-ryu nijubishinawa (二重菱縄, double-diamond aka double-rhombus) harness.
In this workshop, we opt for the front 3TK as the base for the suspension. There will be a total of four suspension lines. The yokozuri / 横吊り suspension offers a multitude of poses as well as transitions for the rigger to work on.
Prior to lift-off Osada Steve will get you acquainted with the concepts of the shibari-style bread-and-butter box tie (3TK). This is one of the most important kinbaku building blocks containing 72+ individual steps plus more than a dozen urawaza (裏技, hidden techniques) and the secrets of proper rope tension. If you master the takatekote you will elevate your rigging to the next level.
Format: demonstration & Q&A
Experience level: intermediate to advanced
The tutorial part will be filmed and later made available free of charge to all participants.
You can watch previous workshops and other instructional material on shibari-dojo.com.
Licensed Osada-ryu instructor Harukumo of the Harukumo Juku (dojo) in Zürich will be moderating the event. He will be providing commentary and answering questions in the chat while Osada Steve is tying.
From 4:30pm TOKYO time (before the official start at 5pm) Harukumo will conduct an interview with Shibari Bremen of the Bremen dojo.
The event will be joined by two other licensed Osada-ryu instructors: Vinciens of the Vienna dojo, and Ropeknight of the Königswinter dojo.
At the end of the event, there will be a Q&A session where participants can ask questions directly to Osada Steve and his model.
The video links will be sent to the email address provided when booking. Please make sure your return email is correct. Please make sure to check your spam folder too.
Please download the Zoom Video platform ahead of time (https://zoom.us/download) and be ready for the meeting before the beginning of the event.
For any queries please contact tickets@kinbaku.com.
Thank you so very much and we are looking forward to be seeing you at the workshop.
Osada Steve