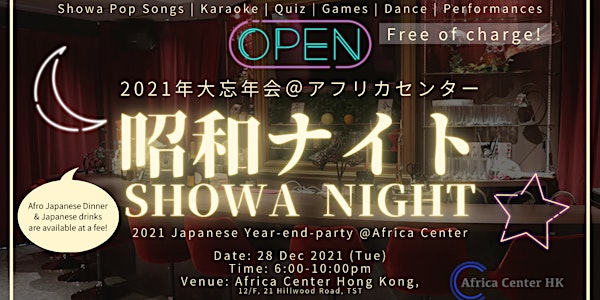 Showa Night 昭和ナイト | Year-end -party @Africa Center
Come join our 忘年会 (Year-end-party), have fun and get ready for the new year! Showa Pop Songs , Karaoke ,Quiz, Games,Performances,Dance
When and where
Location
Africa Center Hong Kong Africa Center Hong Kong, 12/F, 21 Hillwood Road, TST, Hong Kong Hong Kong, KOW Hong Kong
Refund Policy
Contact the organiser to request a refund.
About this event
2021 is almost at the end... In Japan, it's a season for "Bonenkai (忘年会)"! A Bonenkai is a party which is held before the end of year to forget all of the bad times that happened during year. This year, the Africa Center Hong Kong will organize a Showa-themed Bonenkai with Japanese games, karaoke, quiz, and music performances by Japanese group. Afro Japanese cuisine, Japanese drinks are available at a fee. Come join our Bonenkai, have fun and get ready for the new year! All are welcome!
12月28日限り、アフリカセンターがスナックアフリカに!?
今年もコロナ禍で日本への帰国が難しいですね。アフリカセンターでは、何か香港にいる日本人の皆様と楽しく年越しの準備ができないかということで、忘年会のこのシーズンに「昭和ナイト」を開催致します!
このイベントには、アフリカセンターのミッションの一つであるConnecting Communities(コミュニティを繋ぐ)に基づき、在香港日本人コミュニティーと、アフリカンコミュニティを繋ぐ場を設けたいという思いも、込められています。
アフリカンと日本のフュージョン料理のディナー、さらには昭和歌謡の歌パフォーマンスや、ベリーダンス・マジック・バンドパフォーマンス、カラオケ、全員参加型ゲームなど、コンテンツ盛り沢山です。ぜひ、年末のこの時期に、楽しみながら交流を深めましょう。