About this event
Join us from 7:30 pm on Saturday, August 7 at Mercedes me Shenzhen in the MixC World for Summer 2021 Business Professionals Networking Mixer! This event is tailored to career-minded professionals, industry leaders, entrepreneurs, and investors from all industries.
8月7日,周六晚7点半起
在位于潮流地标万象天地的Mercedes me
我们将为您盛大呈现:
海归&金融人士&科技&互联网&企业家
盛夏商务交流盛典 - 深圳站
本次活动将汇聚来自各个领域的
行业精英、业界领袖、企业家、投资人等
与新朋友们举杯共酌,惬意欢聚
享受充满活力的社交酒会!
购票链接 Ticket Link: https://yoopay.cn/event/92995565
It is a great chance to extend your social circle with the city's finest professionals, connect with like-minded individuals, exchange resources and information, and build relationships for future opportunities and collaborations. A wonderful evening and more surprises to be expected!
不要错过这个不可多得的机会
结识业界优质人群,链接行业资源
拓展高层次人脉,共商合作交流
共同畅聊行业内的挑战与机遇
为职场和个人发展开启更广阔的空间
We will also have beautiful live jazz band music, and various snacks. Come enjoy the night with great vibes and fantastic people!
现场还将有爵士乐队高水准演出助兴
邀您一同聆听这座城市的律动
还可品尝精致小食
参与互动抽奖,赢取惊喜礼品
这场绝对不可错过的品质社交酒会
我们期待您的莅临!
We are expecting 100-200 guests to join us!
预计将有100-200位朋友加入我们!
Dress Code: Business Casual
着装建议:商务优雅
WHEN
7:30 PM to 11:30 PM
Saturday, August 7, 2021
8月7日,周六
7点半至11点半
WHERE
Mercedes me
深圳市南山区深南大道9668号
万象天地LG层 C101店铺(华润置地大厦C座)
C101 LG, The MixC World, 9688 Shennan Avenue, Nanshan District, Shenzhen
ATTENDEES 参与人群
Professionals from all industries in Shenzhen are expected to attend this event, includes:
深圳来自各行业的高质量人群将加入我们
参与者所在行业包括:
Professionals in Finance, Consulting, Investment Legal, Banking, PE/VC, etc.
金融、咨询、法律、创投行业人士
Art/Fashion/Media/Luxury Professionals
艺术、时尚、媒体、奢侈品行业人士
Tech, Medical, Education Professionals
以及科技、医药、教育行业人士
Executives, Entrepreneurs, Business Owners
和公司中高管、创业者、企业家等
RUNDOWN 活动流程
From 19:30
Arrival & Check-in
登记入场
Free Talks & Network
自由交流
20:45 - 21:00
Opening speech by the host
主持人开场致辞
Icebreakers
破冰互动环节
Lucky Draw & Prizes
抽奖和精美礼品
21:00 - Midnight
Live Jazz Music
现场精彩爵士表演
Mix & Mingle
整晚交流互动
请期待未知的碰撞和惊喜
Free-Flow Snack Options
小食畅吃
Spicy Nuts / Potato Wedges / Mini Poppers / Lord Of The Onion Rings / Tuna Sandwich / Lemon Tart
香辣坚果 / 薯角 / 鸡米花 / 洋葱圈
金枪鱼三明治 / 柠檬塔
在活动现场,我们会建立当晚专属VIP微信群,并邀请所有参加活动的朋友加入。活动结束后,大家可继续在群内分享信息,资源互换,共同构建高质量的交流社群!
During the event, we will set up a dedicated VIP WeChat group for all the guests. After the event, guests can continuously share and exchange recourses and build long-lasting connections in the group!
RSVP Options:
Ticket includes one complimentary drink, free-flow snacks, live jazz band music, and participation in a lucky draw
门票费用包括一杯酒水、小食畅吃、观赏爵士乐队演出,以及参加抽奖
Presale
预售价
RMB 118 /person 每位118元
*Sign up with 3+ guests
*三位及以上报名
RMB 138 /person 每位138元
*Sign up with 2 guests
*两位报名
Ticket 单人门票价格
RMB 148 /person 每位148元
*预售截止时间:8月7日周六晚7点半
*Presale ends at 7:30 pm, Aug.7
At Door
现场门票
RMB 170 /person 每位170元
TICKET LINK 购票链接: https://yoopay.cn/event/92995565
Please add WeChat if you have any further questions
or want to follow more upcoming events
如有任何疑问,及获知更多活动和详情
请扫码添加以下微信
(ID: shfun_official)
WeChat Official Account 微信公众号:
Shenzhen Social 深圳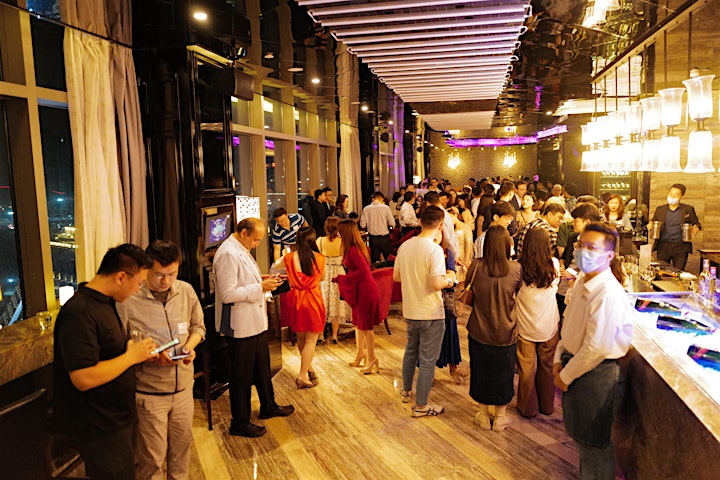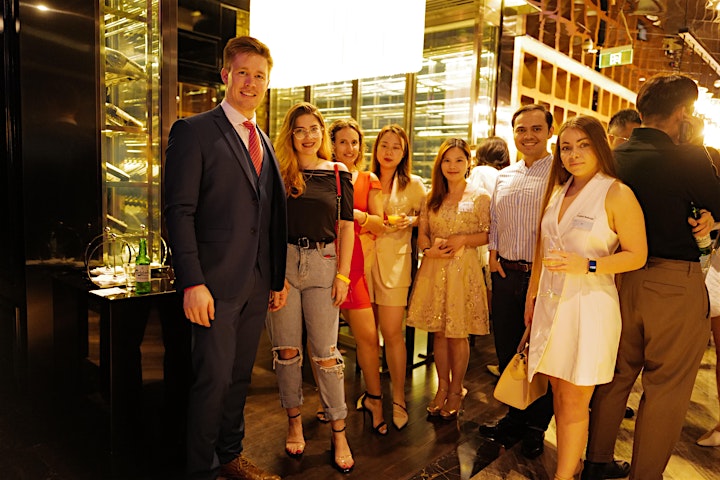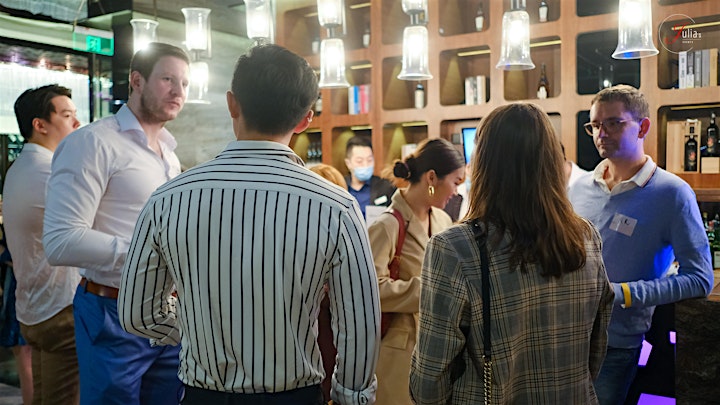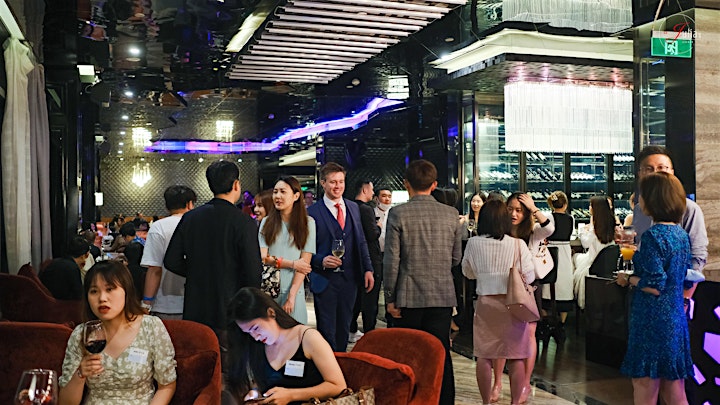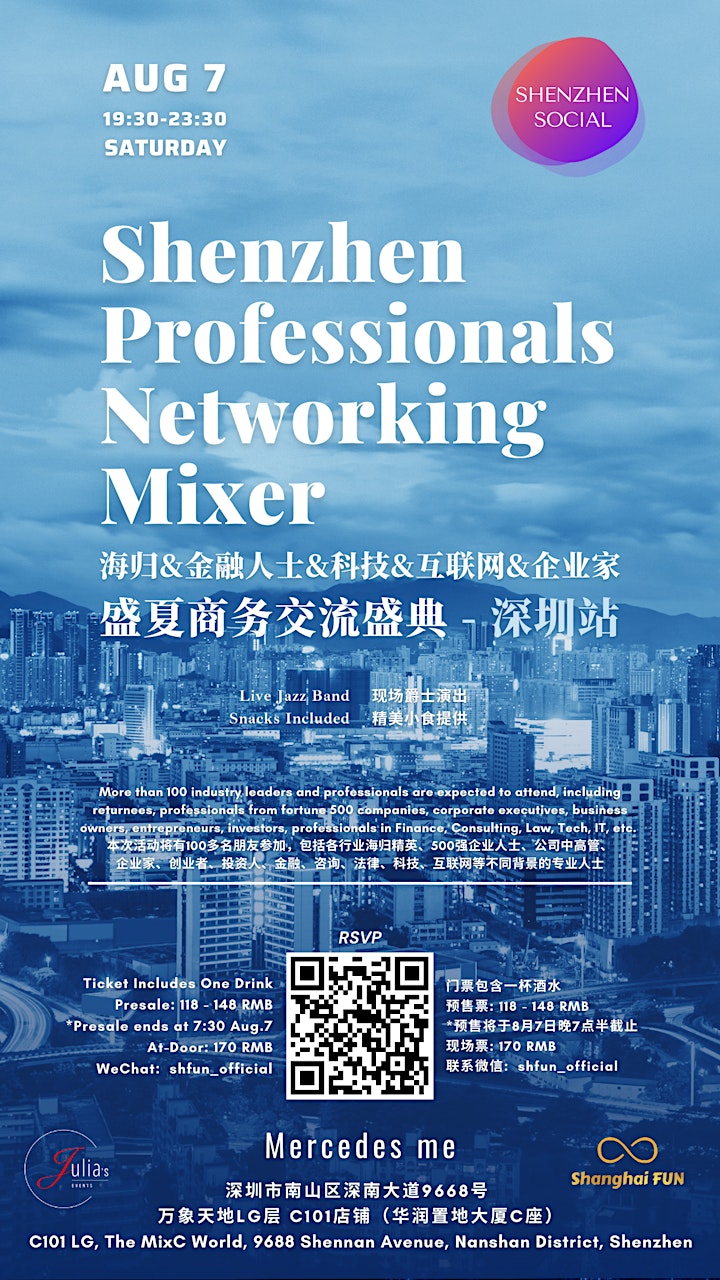 Organizer of Shenzhen Professionals Networking Mixer 海归&金融人士&科技&互联网&企业家盛夏商务交流盛典 - 深圳站
About Shanghai FUN
We organise parties, networking events, brunch/dinner meetup and after work drink events in Shanghai. 
Join us to make new friends, expand your social circle and take part in fun events! 
Our events attract an international crowd of professionals looking to socialise, network and meet like-minded people.
Invite your friends to follow us and spread the word!
活动组织方
Shanghai FUN立足魔都,每周不定期的组织派对及类型多样的社交活动,参与人群为外国人、海归,及具有国际背景的人士,所选活动场地均为城中品质潮流场所。
联系微信 Contact WeChat: shfun_official
微信公众号 Wechat Official Account: ShanghaiFUN上海