SEN and learner diversity in Hong Kong - A professional development webinar for Educators
About this event
Speaker: Ms Laura Ho, Research Associate of Faculty of Education, The Chinese University of Hong Kong
About the speaker: Ms Laura Ho is a long-time educator and an experienced teacher who has taught in special schools for 20 years. She is specialized in Adapted Physical Activities (APA).
About this webinar: We all think and act in different ways. Do you believe that all students are capable of learning and can make progress in their learning although they may differ in various ways, including their prior learning experiences, abilities and disabilities, cultural backgrounds, learning interest and preferences? Understanding learner diversity is essential to all of us. It is our role as teachers to embrace learner diversity and learn strategies to support diverse needs but also build on strengths. Let's explore the strategies on supporting SEN, gifted, non-Chinese speaking students and newly-arrived children in HK schools.
This event is hosted by Chatteris in collaboration with Nord Anglia University (Asia).
Please go to https://chatteris.org.hk/chatteris-and-nord-anglia-webinars/ to learn more about it or check out a list of other upcoming webinars.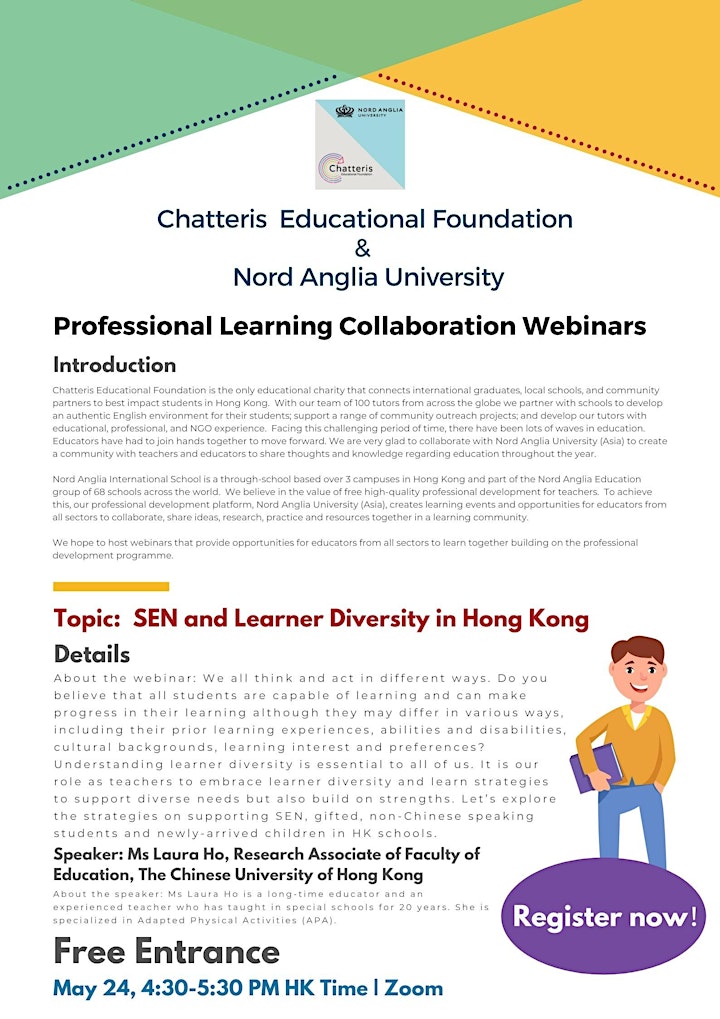 Organiser of SEN and Learner Diversity in Hong Kong