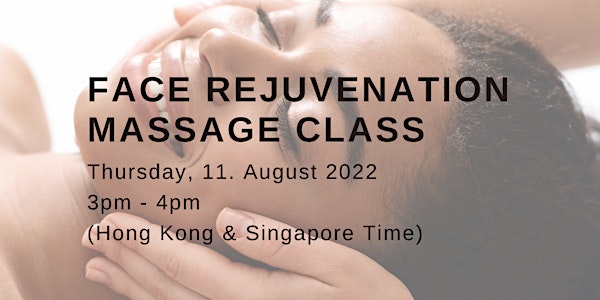 Self-Care Face Rejuvenation Massage Workshop
This class is designed to guide you to simple & effective face massage techniques combined Facial Reflexology & Ayurveda .
About this event
Presented by the city's most experienced Facial Reflexologist, Mariko Hiyama.
This is an ideal class if ...
I believe in "Natural Methods" for looking youthful & well-being
I want to improve my overall energy
I want to learn basics of facial reflexology & face lifting for myself
I want to help my loved ones with face massage
Equipped with almost 10-year experiences Mariko will guide you Natural Face Rejuvenation Massage Techniques.
In this Online class, you will learn following topics:
Basic Idea of Face, Reflexology and Ayurveda
Simple Face Rejuvenation Massage Techniques
Beyond Face Massage - What else can we do to improve our natural beauty?
This class includes:
Class Recording
PDF Hand-Out
15m Follow-Up with Mariko (appointment required)
Please pay attention to the starting time as it is set in Hong Kong & Singapore Time Zone.
Thursday, 11. August 2022
3pm - 4pm
Central Europe: -6 hours
India: -2.5hrs
Japan: +1hr
Check your time zone from here: https://www.timeanddate.com/worldclock/converter.html
ABOUT Your Teacher
Mariko Hiyama is an experienced Facial Reflexologist and a trainer of Facial Reflex Therapy and Japanese Face Lifting (Lone Sorensen Method).
She combines various Reflex Therapy Methods taught by her teacher, Lone Sorensen, in order to help improve clients' health & emotional conditions. Her works have been widely recognised by the world's top healing centres/resorts as well as individual clients from across continents.
Mariko is also an advanced Qi Gong practitioner and a teacher accredited by Natural Energy Academy - Master Joe Lok.
She also has a deep interest in Indian Traditional Medicine System - Ayurveda. She has been working with a renown Ayurveda Medicine doctor in Kerala, India in order to enhance each person's own healing mechanisms.
Private Treatment Sessions are available upon request.
Watch Mariko's Short Clips on Instagram:
If you have any questions or wish to get in touch with the organiser, please contact via Whatsapp +852 6391 3566 (Hong Kong) / hello@maitriasia.com