Selected Short Films of Fresh Wave & IFVA Screenings + Talks

Sunday, July 26, 2015 from 2:00 PM to 6:00 PM (Singapore Standard Time Singapore Time)
Event Details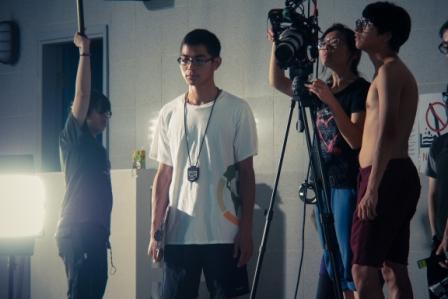 This three-and-a-half-hour marathon screening features some outstanding short films from the Hong Kong Fresh Wave Short Film Competition and the ifva Festival, with special feature, selected short films by Adam WONG.
After screening, director(s) of each film will share with audience the behind-the-scene stories and the journey of pursuing their dreams. Catch the rising stars of Hong Kong cinema, and experience young life once again. 
Moderator for the Sharing:
Mr William Phuan
Managing Director and co-founder of The Select Centre, Singapore
花椒八角咖啡豆 The Secret Taste
Director: WONG Sau-ping Adam
2012 | colour | 12'32" | Cantonese | Chi & Eng subtitles
17th ifva greenlab project, commissioned by Employees Retraining Board (ERB)
In May 2011, Ming Chow, at her 27 years old, having studied the barista certificate course for only two months, defeated many experienced baristas from the locals and the overseas at the Grand Barista Championship, Hong Kong region. What made Ming Chow's coffee hit the cord of the jury who were international coffee experts.
The story dated back form 10 years ago. When Ming Chow was still a school girl, she was helping her father to run the family's grocery store in the market. While the father was hoping her to inherit the business, Ming was all day long figuring out how to get her future away from the fishy smell of the market...
風車 Pinwheel
Director: WONG Sau-ping Adam
2009 | Colour | 27'27" | Cantonese | Eng subtitles
In the film, son of Gill Mohindepaul Sing is lost in the crowd, can the pinwheel in his father's hand lead his way back…?
尋找 "Totoru" | Searching for "Totoru" 
Director: LO Chui-wa, SUEN Wai-man
2014 | colour | 28'12" | Cantonese | Chi & Eng Subtitles
Fresh Wave 2014 Finalist
A beautiful creation with vibrant colours and cartoons goes on a journey to meet good friends, look for dreams and sweet memories. The 3 friends, Kiki, Sun and Bun have been friends since they were kids and they all love artist Mr Miyazaki's works. Their situations and friendship change as they grow up and encounter various issues in real life. One day, the "Totoru" in a painting on Kiki's studio wall suddenly disappears. This missing case brings the 3 young guys together again and they set out to look for the imaginative character. Are they going to be successful in finding "Totoru"?
一首渡洋的歌 Someday, We'll Know 
Director: CHONG Yuen-ping Edith
2014| colour | 30'22" | Cantonese | Chi & Eng Subtitles
Fresh Wave 2014 Finalist

The swimming team is deflated after its captain, Tin Heng, passed away tragically. However, a reserve of the team, Gei Yuen, works his way up in hope to represent his captain in competitions and to boost the team's morale. His mind may be focused on Tin Heng whom he idolises, but he cast his watchful and silent infatuated glances on Tsz Suen, Tin Heng's girlfriend and member of the girls' swimming team, who remains aloof and even apparently nonchalant about her boyfriend's death. Gei Yuen originally thinks Tsz Suen is dismissing her emotions to mask her sadness. However, he finds out that she is harbouring a secret...
牆後的他 Voice Behind 
Director: YU Chun-yip, Yestin
2014 | colour | 17'03" | Cantonese | Chi & Eng Subtitles
Fresh Wave 2014 Finalist

It says, "Better is a neighbour nearby than a brother far away." This is probably true for many who live alone, and Joyce is one of them. Two strangers, Anson and Joyce move into neighbouring units with non-sound proof thin walls in an old tenement building. Finding each other noisy and annoying, they eventually have chat with and encourage each other through the thin wall. A refreshing story about youthful dreams and the difficulties.
沒有芭蕾舞的日子 The Days Without Ballet
Director: CHU Tsz-yui
2014 | Colour | 11'44" | Cantonese | Chi & Eng subtitles 
IFVA 2015 Special Mention
This is my second documentary, which records the feelings and thoughts of an 18-year-old girl who can no longer dance ballet.
Don't just dream, Do
Director: Gurung George, Kandal Satish, Bishwokarma Bipin, Gurung Subin
2013 | Colour | 12'38" | English | Chi & Eng subtitles
"All About US" 2013/14 Student Creative Film Showcase

Two brothers are deeply passionate towards singing and free-running. However, in reality, they are far less talented than they have thought. One day they suddenly wake up with the abilities they have always bluffed about, but they later face a huge disappointment…


發育.不良? Healthy. Not? 
Director: Judy CHU
Colour | 17'25" | Cantonese | Eng subtitles 
IFVA 2015 Awards - Open Category Finalist
A visually impaired couple has given birth to a daughter with normal eyesight. Is "she" their fruit of love, or a self-produced "white cane".
松節油之味 Saveur Terebenthine
Director: LAW Man-lok, KONG Khong-chang
Colour | 14'30" | Cantonese | Chi & Eng subtitles
IFVA 2015 Awards – Animation Category Finalist

Saveur Térébenthine is a love story about the relationships and distances concerning fact, truth and ideal.
Fresh Wave
Started by the Hong Kong Arts Development Council in 2005, Fresh Wave aims to inspire young local filmmakers, provide them with a platform to create, showcase their works and encourage cinematic cultural exchanges.
ifva
Organised by the Hong Kong Arts Centre, ifva is a platform that actively promotes and encourages creative talents making short films, videos, animation and media arts.
-----------------------------------------------------------------------------------------------------------------
NOTE: SPACE IS ON A FIRST-COME, FIRST-SERVED BASIS. Registration is recommended to secure your space.
Those who can't register successfully can still try to come on Sat 25 July as walk-in in case there's no show, walk-in seats is on first come first serve basis.
Join us NOW!
When & Where

Auditorium, 10 Square @ Orchard Central
181 Orchard Rd
Singapore
Singapore

Sunday, July 26, 2015 from 2:00 PM to 6:00 PM (Singapore Standard Time Singapore Time)
Add to my calendar
Organizer
藝穗會會址是一幢歷史建築物,建於1890年,坐落在香港最繁盛的中區。藝穗會於1984年進駐這座具有新古典風格的建築,將之改造及經營成開放藝術平台,提供創新及實驗性演出場地、化文交流及本地及海外網絡。2001年,藝穗會獲香港特區政府頒發文物古蹟保護獎,並於2009年宣佈為一級歷史建築。經歷超過30年的發展,藝穗會一直在演變,唯藉提供展覽及表演設施,協助本地及海外藝術家起步和發展的使命,始終不變。
The Hong Kong Fringe Club is housed in an old 1980s colonial building in the heart of Hong Kong's Central district. For over 30 years since it was founded in 1984, the Fringe Club has become renowned as a vibrant contemporary arts space for innovation, experimentation, cultural exchange, and networking, not only within but also outside of Hong Kong. In 2001, the Fringe Club won the HKSAR Government's first-ever Hong Kong Heritage Award, and its premises was declared Grade-1 heritage in 2009. As the Fringe Club continues to evolve to meet future challendges, its mission to support emergent artsts in their professional development remains unchanged. 
地址:中環下亞厘畢道2號 Lower Albert Road Central Hong Kong 
電話Tel: (852) 2521 7251
傳真Fax: (852) 2868 4415