Description
Secret Walls X Hong Kong: The World's Premier Live Art Battle.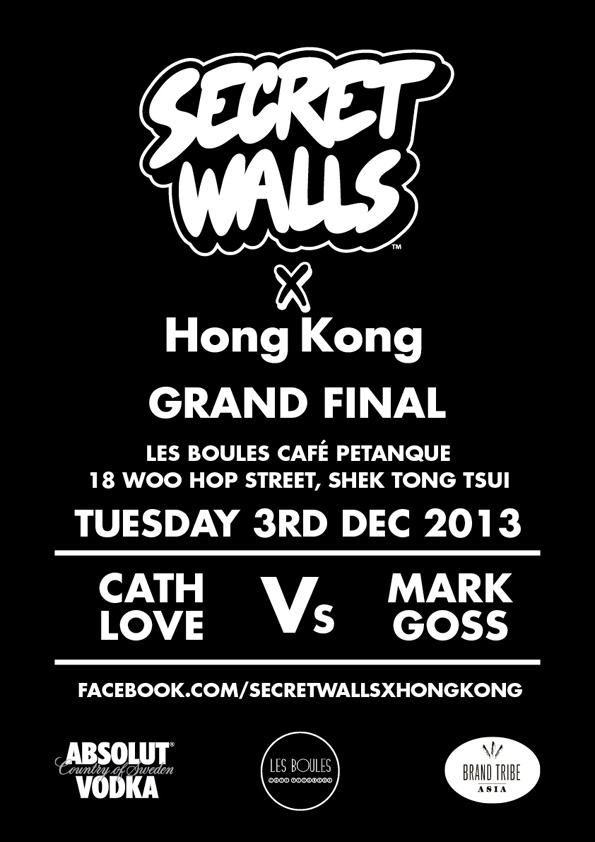 GRAND FINAL
See two of Hong Kong's best artists battle it out to be the first winner of a Secret Walls battle in Hong Kong.
Doors open at 7pm
Battle starts at 8:30pm sharp
RULES AND REGULATIONS FOR THE COMPETITION
• 90 minutes on the battle clock
• Only black SW special markers and black acrylic paint can be used as battle weapons
• No pencils / sketches should be on stage or used as reference
• Each artist has to stay within the allocated space, if they creep over then there will be a 1 point deduction
• Battles are judged by 2 nominated and neutral guest judges + crowd vote (3 point system) (using a decibel reader)
• Hosted on giant white walls
Organiser of Secret Walls X Hong Kong Series 1 GRAND FINAL
Secret Walls is the World's premier live art battle. Working in a similar way to Fight Club, Secret Walls battles are set up and promoted through word of mouth & social media.
Battles take place between 2 individuals, or 2 teams of artists.
Secret Walls began back in 2006 in a small bar in East London, it was small, and intimate yet had the potential to be so much more. Years of hard work, dedication and a strong following has meant Secret Walls has pushed the boundaries and raised the bar for artists and promoters alike on an international stage.
Boasting experience in major cities including NYC, London, Lisbon, Berlin, Tokyo, Copenhagen, Dublin, Amsterdam- Hong Kong is the latest edition to the list with Series 1 launching in August 2013.
Secret Walls offers young and aspiring artists a creative platform – allowing them a chance to showcase their work on a global scale, gaining the recognition they deserve.