Description
October 20-21, 2017 Friday to Saturday
9:30 - 17:30
@The Annex, Unit 6, 2/F, Nan Fung Place, 173 Des Voeux Road Central, Central, Hong Kong
2-Day Leadership Program
Ideal for Business Leaders, Entrepreneurs, Executives and Professionals
Mind Reset partners with Search Inside Yourself Leadership Institute (SIYLI), bringing to Hong Kong the world-renowned 2-day leadership program incubated at Google.
SIYLI bridges age-old practices of mind training with modern neuroscience and technology. The program is designed to unravel our innermost potential and build the core emotional intelligence skills needed for effective leadership.
On top of the universal SIY curriculum, Mind Reset has arranged a strong line up of local speakers and mindfulness practitioners to share their experiences and passion in effecting positive social changes.
Each participant of the program will get a complimentary copy of "Joy on Demand: The Art of Discovering the Happiness Within", the second book by Chade-Meng Tan, the co-founder and chairman of SIYLI, following on the success of his New York Times bestseller "Search Inside Yourself".
The Curriculum - Mindfulness & Emotional Intelligence for Leaders, Supported by Science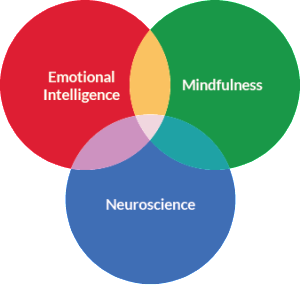 SIYLI has implemented their programs in dozens of organizations across industries and around the world using highly practical and scientifically proven methods of mental conditioning and attention training that improve overall emotional intelligence and wellbeing, resilience, creativity, communication, productivity and personal and organizational leadership.
The 2-day Program Includes Sessions On:
MINDFULNESS: The science of being present
SELF-AWARENESS: Develop a high-resolution awareness of your thoughts, emotions, and habits
SELF-MANAGEMENT: Skillfully manage your impulses and reactions
MOTIVATION: Align your values and work
EMPATHY: Understand others' feelings and experiences
LEADERSHIP: Lead with Compassion
Program Outline: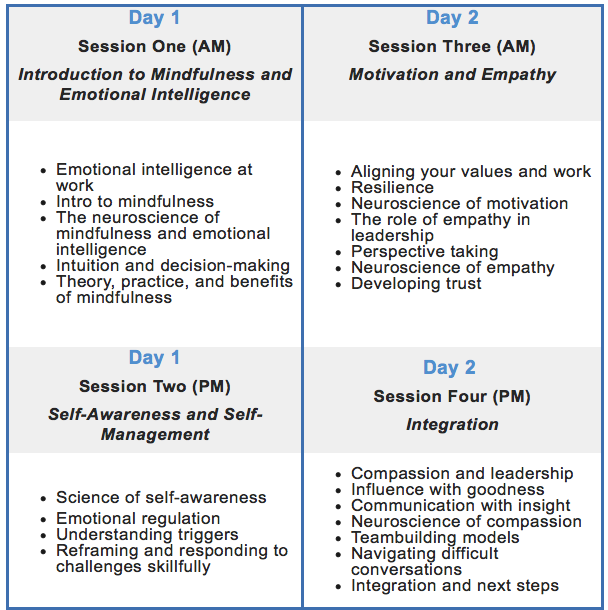 Healthy vegetarian lunch and drinks will be served.
For more information about Search Inside Yourself, please visit www.siyli.org.
---
SIYLI Instructors:
Marc Lesser is the founder and CEO of ZBA Associates LLC, a company that provides executive coaching, consulting and keynote-speaking services to businesses and nonprofits. Clients include Google, Twitter, the City of San Francisco, Stanford and Global Fund for Women. He facilitates retreats for CEOs, business leaders and management teams and has co-led Company Time retreats for business leaders for the last decade.
Marc is the co-founder of SIYLI. He is the former director of Tassajara Zen Mountain Center and was a resident of the San Francisco Zen Center for 10 years. He received his MBA from New York University and studied psychology as an undergraduate at Rutgers University. He is a long-term member of Social Venture Network.
Kelly Werner is committed to helping people flourish. From psychotherapy and executive coaching to workshops and retreats, she guides people to reside in their inner home and actualize their potential. She created Tell Me…, a game of connection and self-discovery. Her Ph.D. from Berkeley and research at Stanford inform her pursuits.
Local Speakers:
David Yeung is the founder of Mind Reset and the board member of SIYLI. A social entrepreneur, he co-founded Green Monday, a global movement maker on sustainability and a plant-based diet. David has published a number of best-selling books on applied Buddhism and Zen philosophy, and is a regular columnist in various local publications. He was selected as the "Hong Kong Ten Outstanding Young Persons" and "China's 100 Most Creative People in Business" by Fast Company.
Michelle Sun is the CEO and co-founder of First Code Academy, an education startup that teaches coding to kids from 4 and above. She is passionate about women entrepreneurship and empowerment, and cofounded a community Women Who Code (Hong Kong chapter). Michelle used to hold various technical roles in high growth startups in Silicon Valley. Born and raised in Hong Kong, she graduated from the University of Chicago and began her career at Goldman Sachs as an equity analyst.
Peggy Chan is the founder and executive chef of Grassroots Pantry, a restaurant, cafe and workshop space through which she is able to share her passion for plant-based food and mission in creating a kinder and more compassionate world. Born in Hong Kong and raised in Montreal, she earned a degree in the culinary arts from Le Cordon Bleu Ottawa. Her cooking approach is technique-driven, while exploring the versatility of texture and depth of flavour in vegetables and legumes.
Walter Ngai is a former media veteran and commenced the pathway of spiritual search in 2004 since enrolled into the Master of Buddhist Studies course at HKU. From African orphanages, holy places in India, to convents in the Himalayas, he left his impression on the road. Actively devoting into Buddhist spiritual education, Ngai pursues his Postgraduate doctoral public health studies with Faculty of Medicine at CUHK. He strives to keep the Dharma closer to our daily life in today's disturbed world, and help people to pursue a sober, free life.
Supporting Organization:
Time Auction (https://timeauction.org) is a platform connecting you with inspiring mentors while encouraging volunteerism. Since 2014, over 10,000 volunteer hours were raised featuring Anson Chan (former Chief Secretary of Hong Kong), Allan Zeman (Founder of Lan Kwai Fong Group), Ray Chan (Founder of 9GAG) and many more.
---
Enquiry:
Please email to tiffany.cheung@greenmonday.org.
Remarks:
1. Early bird tickets are available on a first-come-first-served basis before Tuesday, 26 September 2017 (HKT).
2. Payment for any types of ticket is non-refundable. If you are unable to attend, a substitute delegate is welcome at no extra charge. Please email to tiffany.cheung@greenmonday.org at least one week before the event.
3. All required registration informatiton must be authentic and complete. Full and voluntary attendance on both days (20-21 October 2017) is expected.

4. There is a four-week practice following the 2-day program, wherein participants receive an email each week with additional resources and recommended practices. Then at the end of the 4 weeks there is a webinar with one of the instructors to answer questions and set the way forward.