About this Event
**We do not accept walk-ins at this event, please ensure that you have purchased ticket ahead of time.
Do you know about the United Nations Sustainable Development Goals (UN SDGs)? If yes, we talk about the SDGs, but what can we actually do about them and how do we do it? With so many issues in our world today from viral outbreaks to forest fires to various equality issues – it seems so big and complicated. What can I do? Are we doing enough? How can we empower actions in our community for a more sustainable future?
Expect to learn more about the UN SDGs and to come away feeling energized about how we can make a change in this world. The whole experience takes 2.5 hours, including playing and reflection, plus some extra time for networking, so we can get right down to idea formulation.
What Is The 2030 SDGs Game?
Designed in Japan by Imacocollabo company in 2016, the 2030 SDGs Game is a multiplayer, card-based game that simulates taking the "real world" into the year 2030. by having participants working together and in groups to explore how the world can achieve the United Nations Sustainable Development Goals (UN SDGs).
The Game has become a powerful and impactful social phenomenon in Japan and the 2030 SDGs Game is played in corporate, governmental, educational, and community settings, and has now been played on 5 continents by more than 100,000 people, including at the United Nations Headquarters in New York in April 2019.
**The game will be hosted in English and facilitated by Carol Yeung, her founding team facilitators. Carol is the Founder of iNNOVGoals and the first Certified 2030 SDGs Game Facilitator in Hong Kong.
Who should attend
EVERYONE! The more diverse the game participants are, the more representative of the society it is. Even if have no prior knowledge of the SDGs you can play this game. The game has been played by senior management of leading global companies, government officials, secondary school students, activists and everyone in between.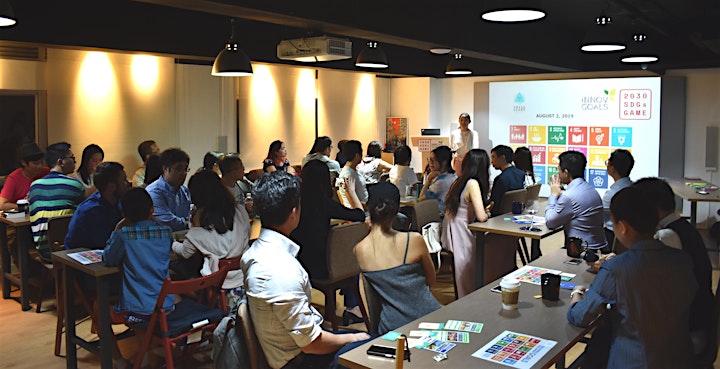 About The Host
Carol Yeung , Founder & Managing Director, iNNOVGoals (Hong Kong), Certified 2030 SDGs Game Facilitator
Carol is the Founder & Managing Director of iNNOVGoals Limited – a company in Hong Kong dedicated in providing educational training and consulting to businesses, schools and community organizations with particular focus on sustainability and the United Nations Sustainable Development Goals.
About Garage Academy
Garage Academy is Garage Society's knowledge-sharing platform with a mission to nurture the leaders of the new generation workforce through a wide curation of classes, workshops and community events rooted in innovation and emerging technologies.
Join our digital community Garage Commons now to connect with fellow entrepreneurial minds, build your personal & professional skill set, and innovate & grow your business!