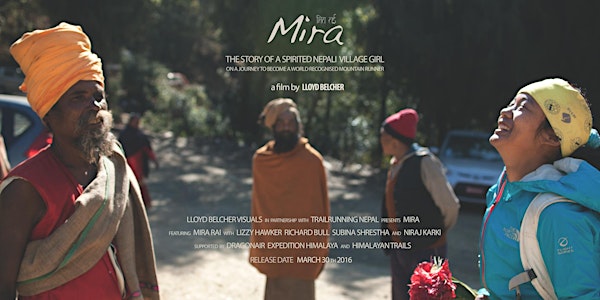 Screening of "Mira"
When and where
Location
The Vine Centre 29 Burrows Street Wanchai Hong Kong
Refund Policy
Contact the organiser to request a refund.
Description
We are delighted to host a special screening of "Mira", a delightful and inspirational short film about a Nepali village girl who discovered she was a mountain runner. This film is special to many Hong Kongers, for many of us met or raced with Mira here on her journey to trail running success, and know what a wonderful person she is as well.
"a complex story presented simply and elegantly, and it'll make you an impossibly dedicated fan of Mira Rai." – IRunFar

"MIRA is a film for all, runner or not, it's just great story telling!" – Ian Corless, Talk Ultra
"If you love a good story, adventure, epic landscapes and trail running wrapped in a great tale about an inspirational human being, worth watching this one" – Trail Runner Magazine
Details
An action packed evening will feature "Mira" with dual English-Chinese subtitles and will also be the much awaited Hong Kong Chinese premiere!
We will then have film maker Lloyd Belcher to speak the trials and tribulations of "Mira", before live connecting with the star herself, Mira Rai in Italy, to answer your questions.
Ticket prices are $90 standard and $60 concession (under 18, students with ID, pensioners) and are available here at Eventbrite.
Snacks and drinks will be available on the night for a small suggested donation, plus bring some extra cash for our charity raffle and mini expo including RaceBase, Raidlight, ActivePatch4U and more. Net proceeds from the event will be donated to the Nepal Fund for Mobile Cinemas & Girls Fund as well as Free to Run.
Note that "Mira" is classified as Category 1 so is suitable for all audiences and ages. Check out the film trailer here.
Please contact us at hello@gonerunning.hk or our shop at 8B, Trust Tower, 68 Johnston Road in Wanchai if you would like to purchase tickets offline.
Programme
6:15pm - Doors open
7:00pm - Screening of "Mira" (dual English / Chinese subtitles)
8:00pm - Interview with film maker Lloyd Belcher and live hook up with Mira Rai in Italy
9:00pm - Exit to lobby area for drinks and mini expo
9:45pm - Doors close

---
我們很高興能舉辦這場特別的"Mira" 一. 電影內容是介紹一位開朗勵志,土生土長的尼泊爾鄕村女孩 。被發掘出越野跑天賦,得到各方有心人幫助下,從而踏出尼泊爾,將其天賦發揮成為國際知名越野跑運動員。這部電影是特別呈獻給各位香港朋友,因為佷多香港朋友與Mira見過面,一齊比賽,甚至協助Mira踏上出色越野跑運動員的旅程。
"電影將整個複習故事以精簡優雅模式演繹,欣賞過後您自動成為Mira迷。 " – IRunFar
" MIRA是電影的靈魂所在,無論肉容關於跑步與否,故事仍非常吸引!" - Ian Corless, Talk Ultra
"如果你喜歡動人故事,Mira電影夾雜著冒險和優雅景觀,將這位令人鼓舞的越野跑運動員故事放影在您眼前。非常值得欣賞"- Trail Runner Magazine
活動資料
當日"Mira"會以雙語(中文及英文)字幕播放,也將是期待已久的香港中國首映!
電影製作人,Lloyd Belcher 會親身到會場與觀眾會面,分享拍片點滴及一些甜酸苦辡過程。然後大會安排與身在意大利的Mira視像會議,超時空對話。
門票價格為港幣90,18歲以下和學生(提供ID )為港幤60 ,門票現在可於Eventbrite售賣。會場提供小吃和飲料購買。
現場將安排慈善抽獎及迷你世博會,包括RaceBase , Raidlight , ActivePatch4U等等。所有款項淨額將捐贈與"尼泊爾電影院基金"及"女孩基金"及Free To Run。
程序
6:15pm - 開始入場
7:00pm - 播放電影
8:00pm - 訪問電影製作人及與Mira 視象對話
9:00pm - 飲料和小型博覽
9:45pm - 完