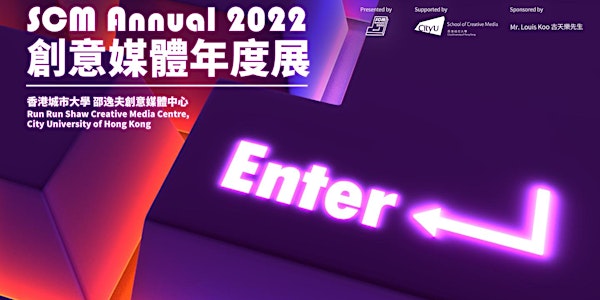 SCM Annual 2022 Animation & Film Preview Program 3 and 4
School of Creative Media invites you to the preview screening of SCM 2022 graduates' animation and film works on 15 and 16 October.
When and where
Location
Run Run Shaw Creative Media Centre 18 Tat Hong Avenue Kowloon Tong, KOW Hong Kong
About this event
Programme 3 (Approximately 1.5 hours)
1. Before I Leave 彌留之際
Ku Hau Yin 顧巧然
24'47" | Colour 彩色 | Cantonese with Chinese and English subtitles 粵語、設中英文字幕 | Fiction Film 劇情片
We all instinctively fear death. But if death is just an inevitable process, can we face it more calmly?Through ceremonies such as taking memorial photos, wearing shrouds, and putting on "dead makeup," relatives and friends contacted the protagonist's death in advance during the living funeral, reflected on the meaning of life and death, and re-examined the connection between everyone.
If death is doomed, it is better to remember it, say goodbye, and hope that death will be accompanied by a new life.
2. Wanting 懸案
Ku Hau Yin 顧巧然
30' | Colour 彩色 | Cantonese with Chinese and English subtitles 粵語、設中英文字幕 | Fiction Film 劇情片
A crime scene has been appearing in Pui-Lam's mind, unable to explain till meeting Chin-Fung occasionally. Two of them seem to be extremely different inside-out: one being used to cater to others, whereas one is bound by no traditional idea. But eventually, both of them are still being "trapped" by social constraints. Throughout the story, Pui-Lam is self-exploring while learning how to find the adequate balance between own-actual, own-ought and own-ideal. Most importantly, to understand and embrace herself.
3. Isolation, Neighbours, Books 隔籬開書舍
Jonathan Chan 陳望心
38'12" | Colour 彩色 | Cantonese with Chinese and English subtitles 粵語、設中英文字幕 | Documentary Film 紀錄片
In May, 2021, 21 year-old young man, Brian Siu (蕭晰) opened Neighbour Book (隔籬書舍) in Fanling and it's the sole bookstore in the district. What motivated him in starting this business at a young age? And through this year-long shooting, how does time and society impacted his attitude, passion and life? As one of his best friends, I documented the practical difficulties of maintaining Neighbour Book and also the personal struggle of Brian Siu in an intimate perspective. Isolation, Neighbours, Books is also a reflection of Hong Kong young people's confusion and despair towards the future.
Programme 4(Approximately 2 hours)
1. Pillar 浮柱
Chun Ka Lun, Alan 秦嘉麟
3'24" | Colour 彩色 | No Dialogue 無對白 | Animation 動畫
Pillar is an animation that mixes 2D and 3D together. All of the materials and footage are composed digitally. The character is drawn in 2D with rotoscoping real-life footage and the environment and the stilt house were made with Blender. I use the outline and toon shader to make the 3D model look 2D. Therefore the 2D and 3D will look more coherent.
A story about the main character who is the guard of his city. His job is to protect the place where he is living in. Until one day, the mysterious flyers struck their city with explosives. He was involved in the incidents and fell off his tower, he has never been the same since then. The story takes place in a fictional world, a world that is made of stilt houses and they are way up in the sky, so high that they can't even see the bottom of the stilt.
I made these animation shorts based on the objective to create a fictional world of the stilt houses. My inspiration is from Tai O, which is known for its shrimp paste and stilt house, the stilt house is raised on a stilt over water, but what if goes way above the water and everything else and becomes a city in the sky? And the whole story is built around this place.
2. Deform
Chan Pui Sze 陳佩詩
6'08" | Colour 彩色 | No Dialogue 無對白 | 2D Animation 動畫
The skin ablates from the flesh
and the threads of yours start creeping into that stainless roll
Rumbling sounds crash on that steel
and all the sudden
the waves soak where you belong
and you be gone
the whiteness floods the realm
the fragments would be found in the endless streams
Little by little
you are resembled
but the tangled red tighten you up
Dots by dots
you cast off from the rushing thoughts
detach from the gravitation
to the void
flutter amidst the foam
by the time the steel stops rolling
you transform
3. Alaoja Story
Yang Ren 楊仁
40'43" | Colour 彩色 | English with English subtitles 英語、設英文字幕 | Documentary Film 紀錄片
Louis Koo Creative Media Awards 古天樂創意媒體獎 2021/22
Alaoja Story explores the significance of preserving history and the beauty of a cultural exchange by deep diving the friendship and relations of the photographer(myself) and the craftsman(Kaarlo). The two men encountered, inspired each other and used their own way to preserve what they think is important in life. Through viewing Alaoja Story, the audience will have a deeper understanding of the importance of preserving local history and the beauty of cultural exchange.
4.When You Are Old 當你老了
Yang Ren 楊仁
30' | Colour 彩色 | Putonghua with Chinese and English subtitles 普通話、設中英文字幕 | Documentary Film 紀錄片
When You Are Old is a documentary film that explores the causes and consequences of life, choices and helplessness. In the threads of memories, we can see the tangles and textures of the last stage of life's mentality and goals.
5.See You In… 未來再見
Mok Ka Hei 莫嘉熙
37' | Colour 彩色 | Cantonese with Chinese and English subtitles 粵語、設中英文字幕 | Fiction Film 劇情片
Louis Koo Creative Media Awards 古天樂創意媒體獎 2021/22
Facing the demolition of their worlds, 24 year-old musician Jack roams his city for one final look as he prepares for their inevitable farewell, seeking an answer and meaning to his departure from this world.
IMPORTANT NOTES:
1. Free Admission on a first-come, first-served basis.
2. One reservation gets one E-ticket only, regardless of age. Using same email address for more than one reservation is not accepted.
3. Successful register will receive an email enclosed with a QR code from CityU's Electronic Visitor Registration System. Please present that QR code to the security guard at CMC entrance for your entry.
4. All persons attending Animation & Film Preview, except those exempted, are required to comply with the requirements under the Prevention and Control of Disease Ordinance (Cap.599) including: scan the "LeaveHomeSafe" QR code and provide valid Vaccine Pass before being allowed to enter the venue. Please arrive earlier to avoid delaying your participation as longer time is required for such registration.
5. The information you provided will be used for your entry to the performance and workshop. Please refer to the Personal Collection Statement on the webpage of CityU's Visitor Registration System: https://www.cityu.edu.hk/fmo/download/Personal%20Information%20Collection%20Statement_VRS.pdf
6. The Presenter reserves the right to amend the requirements and refuses any person from entering the venue.