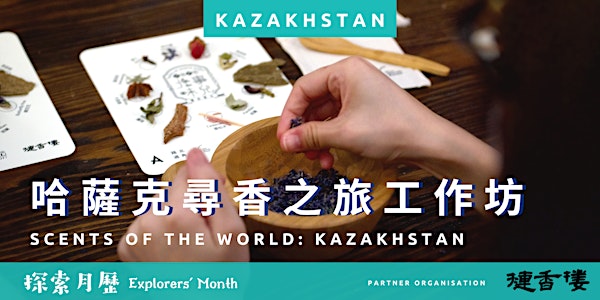 Scents of the world: Kazakhstan 哈薩克尋香之旅工作坊
一起踏上哈薩克尋香之旅,創作出屬於自己的香氣。Explore Kazakhstan through stories, authentic dialogues and by creating your own unique Kazakhstan fragrance.
When and where
Location
Kennedy Town Cheung Hing Industrial Building 3/F Kennedy Town, HKI Hong Kong
About this event
嗅覺獨特之處在於個人主觀感受和解讀。環境的氛圍和情感的投射,讓氣味總能勾起一絲或許已被遺忘的回憶。本月我們邀請到來自哈薩克的Moldir和摙香樓的Sharu舉辦香味工作坊。除了能和Moldir直接交流,了解哈薩克的傳統文化外,Sharu更會帶領大家踏上哈薩克尋香之旅,以不同哈薩克的香料創作出屬於自己獨一無二的香氣,以另一角度探索這個神秘的國度。
We often connect unique fragrance with the environment and people and a whiff of a familiar smell can bring back memories of that we want to revisit. This September, we have invited Moldir from Kazakhstan to collaborate with Sharu from Lin Heung House to hold a fragrance workshop. During the workshop, participants can not only understand the traditional Kazakh culture through our guests, but also have a chance to create your own unique Kazakh fragrance by using different woody or herbal ingredients. Join us and be ready to explore this mysterious country with your senses.
《探索哈薩克x香包製作體驗 Explore Kazakhstan x Sachet Making》
日期 Date:26/9/2021
時間 Time:1130-1300​
費用 Fee:HKD260* ​ (學生 Student HKD 200*, CODE: STUDENT [quota is limited])
語言 Language: 英語 English
地址 Address:堅尼地城祥興工業大廈3樓 3/F Cheung Hing Industrial Building, Kennedy Town (1 min walk from Exit A, Kennedy Town Station)
*價錢已包括導師和材料費。 Materials and instructor fee have been included in the fee.
#學生請於入場時出示學生證。Student must show to our staff a valid student ID upon arrival.
如有任何問題,歡迎Whatsapp聯絡我們:+852 5604 3139 if you have any enquiries.
聽住Moldir帶有當地俄文口音嘅英文講故仔,聞住唔同嘅花花草草,小編嗰陣真係覺得自己唔係香港㗎! #報咗名就期待下😽 

到時會4人一枱坐,聽住哈薩克音樂同故仔來一趟哈薩克模擬旅行🧳最後仲可以自調香包一個👃🏼
材料俄文版 #學埋俄文 
[ Полынь ] [ Укроп]
[ Гвоздика] [ Черный перец ]
[ Лавровый лист] [ Розмарин]
[ Кедр] [ Мята]
[ Кардамон] [ Корица]
[ Бадьян ] [ Лемонграсс]
_________________
Organisation Introduction:
We are Inter Cultural Education (ICE), a social enterprise aiming to educate people to appreciate and be able to accept the cultural diversity of the world. ICE has helped more than 30,000 people in Hong Kong to connect and understand the world better through cross-cultural dialogues.
In the past 10 years, ICE has worked with people from more than 85 countries from all walks of life to promote the solidarity of a local community with the international community. Due to the situation under COVID-19, we are offering a special online programme called Explorers' Month, to bring the world to the public without leaving the city through a series of events.
Follow our social media to learn more about world cultures: