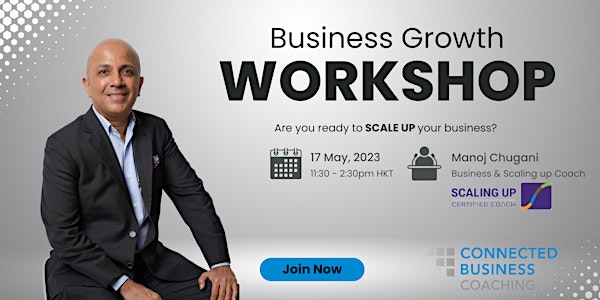 Scaling Up Business Growth Workshop
Learn to apply the proven Scaling Up methodology to Scale Up your business to the next level and beyond!
By Connected Business Coaching
Date and time
Tue, 16 May 2023 20:30 - 23:30 PDT
About this event
Scaling Up Business Growth Workshop empowers you to accelerate profitable growth using a time-tested and results-driven methodology. Through this exclusive learning experience, Scaling Up coaches have empowered more than 70,000 executives and their leadership teams with proven tools and strategies to scale up smarter and get back to business by advancing growth.
Join Scaling Up Coach Manoj Chugani to learn the proven framework and tools that can help you scale your business up.
WORK SMARTER, NOT JUST HARDER
• What: A Scaling Up event so you can get back to business and to business growth.
• Where: Online
• When: May 17, 2023 - 11:30 AM to 2:30 PM Hong Kong/Singapore Time
• Why: So you can learn the tools that will enable you to grow Smarter and Faster.
Are you ready to get back to business and Scale-Up your business?
ALIGN - Get faster results with less effort by developing organizational clarity and accountability.
ACCELERATE - Develop a strategic advantage over the competition. Position your brand as a market leader.
ADVANCE - Using a proven framework, Scaling Up Coaches have enabled companies to dominate their industries and make an even more significant difference in the world.
If you are a CEO, entrepreneur or member of the leadership team, this workshop is for you!
Those who attend this Scaling Up event will gain invaluable insight on how they can advance their business growth. Those who don't feel they received the value of money spent from this event will get their tickets refunded in their entirety. PERIOD.
• Detailed workbook with information and examples of the concepts presented
• One-Page strategic plan and other actionable tools to help grow your business.
• A private coaching session with a certified Scaling Up coach
• One FREE copy of the Scaling Up book
Manoj Chugani's passion is empowering leadership teams to realise their vision for a better world." Manoj is a Scaling Up Certified coach and has been coaching entrepreneurs since 2012. He works with CEOs, Founders and their leadership teams who have a big mission and are committed to Scaling Up their business, aligning their leadership team, and creating a culture of high performance and accountability.
Manoj has been an entrepreneur for over 26 years and has founded and led several businesses in Hong Kong and mainland China, Malaysia, Spain and France and has had dealt with small to very large businesses.
*REFUND POLICY*
We extend an unconditional guarantee: After attending the workshop, if you are not satisfied, you can pay the amount that you feel you have received as value and we will refund the rest. If you are exceedingly satisfied with your results, we appreciate personal referrals to other business owners and leaders you think can benefit from this workshop.