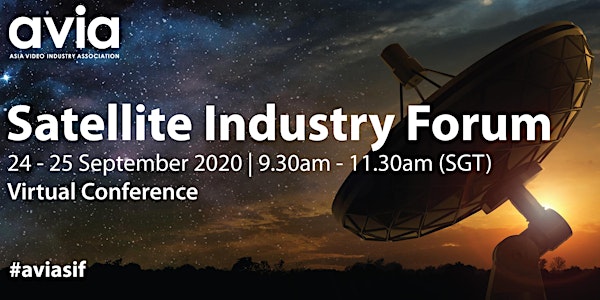 Satellite Industry Forum
Satellite Industry Forum
About this event
"Video in the Satellite World"
2019 has been quite a year for the satellite industry. From major acquisitions to key technological advancements and innovations, the last year has seen a bit of everything. With the global COVID-19 pandemic in 2020 that is making shockwaves through every industry in the world, it will have a significant impact on the satellite industry as well.
The consumer market for satellite services are unlikely to be cut during a time of stay-at-home orders. We have seen a spike in demand for streaming services in the second half of March when the pandemic kicked into high gear and more stringent lockdowns were put in place. It will be interesting to see how resilient the satellite industry is and how it well-poised it is in surmounting the challenges ahead and finding opportunities during the time of COVID-19 and the inevitable global recovery.
What's New for 2020?
Asia Pacific Leaders Roundtable: Satellite Trends with the impact of COVID-19
Weighing the Bear vs Bull Case for 5G
Outcomes from WRC-19: View on Asia
2020: A landmark year for 4K UHD?
Satellite Financing: What to watch for in 2021 and beyond
Driving Global Growth for the satellite industry in the next decade
All prices are in USD. If you would like to pay by bank transfer, please contact May Chin at may@avia.org
Check out the agenda HERE.
Further details, please visit our website.
Registration enquiries please contact: May Chin at may@avia.org
Disclaimer and Privacy Policy Statement:
By proceeding with the registration you are consenting to receive additional communications from AVIA. For further information on how we handle your personal data, including how to opt out from communications, visit our Privacy Policy.