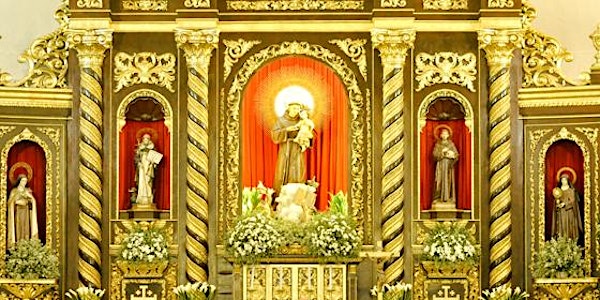 Santuario de San Antonio (SSAP) Mass Registration Feb 2022 onwards
Santuario de San Antonio Parish Mass Registration
When and where
Location
Santuario de San Antonio Parish McKinley Road, Forbes Park Makati, NCR 1220 Philippines
About this event
In compliance with IATF and Makati City regulations, only those 18-65 years old and those 65 years old & above who have been fully vaccinated* are allowed to attend physical Mass at this time.
Selected Masses are live streamed and recorded. This can be accessed through the Santuario de San Antonio Parish Youtube channel and Facebook page.
https://tinyurl.com/YoutubeSSAP
https://tinyurl.com/FacebookSSAP
Every First Friday, a vigil will follow after the 6pm Mass (6:30pm-8:00pm). Parishioners attending need not fill up another sign up for the Holy Hour.
Join SSAP COMMUNITY to get the latest announcements and updates
https://invite.viber.com/?g2=AQBGLb6d%2FnsN3kxTxeumKCIGdlSnhG3Fzd7QuQBNZGv51KHd8cybbRKWYv5hw6%2Fc on Viber
* An individual shall be considered as having been fully vaccinated for COVID-19:
i. ≥ 2 weeks after having received the second dose in a 2-dose series, or
ii. ≥ 2 weeks after having received a single-dose type of vaccine.
iii. Vaccines administered to the individual are included either in the Philippine Food and Drug Administration Emergency Use Authorization (EUA) List or through a Compassionate Special Permit (CSP).
* The movement of fully vaccinated senior citizens in areas under General Community Quarantine and Modified General Community Quarantine shall be allowed, subject to the presentation of a duly issued COVID-19 vaccination card.