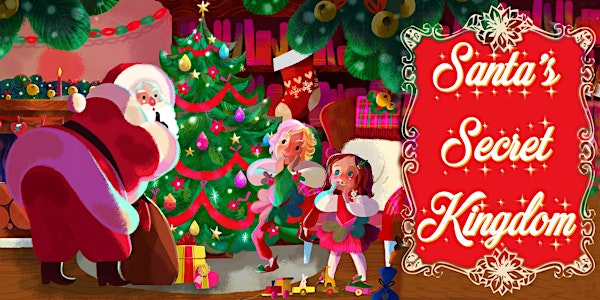 Santa's Secret Kingdom
When and where
Location
Top Secret Location Quarry Bay Hong Kong, Hong Kong Island Hong Kong
Description
Santa is inundated with work over in Lapland and the North Pole and so he has opened a branch right here in Hong Kong! But he needs help! The Elves are too hot because they're used to the cold and snow; Santa's Secret Kingdom is under threat of becoming understaffed! He's looking for families that are on the nice list to come and train how to be Elfers (Elf Helpers).
You see, to be an Elf you have to be born an Elf but you can learn to be an Elfer which means you'll be one of the first to be called if the Elves need extra hands! Do you think your family are up to the job, or should we say 'training'? Create everlasting magical Christmas memories in our very exciting, no glitter spared, tinsel wrapped, gingerbread scented, Elf saturated, fully interactive, Christmas adventure for all the family!
Event details:
Upon buying tickets to Santa's Secret Kingdom the parent/guardian will receive full details in email confirmation whilst the children will receive a personalised invitation and map, in the post (letter and map will be sent by email for parents to download and print for tickets purchased after December 7th, letters will not be provided for tickets purchased on the same day as the event), inviting them and their family to come and learn what it means to be an Elfer (an Elf Helper). During the magical one hour and 15 minute experience trainee Elfers will be transported into a multi-sensory world of wonder, exploring different parts of Santa's magical workshop and meeting a whole bunch of entertaining and fun characters. Elfers will get to keep their very own Elfer uniform, they'll get a passbook to collect stamps and tick off what they've learnt along the way, they'll get creative in the kitchen and take away their tasty artwork, a special gift from the big man himself to complete their Elf look and a certificate upon graduating (signed and delivered by the very man himself!!) Even the adults might be in for a tasty treat – as long as they're on the nice list!
FAQs
Do I have to buy a ticket for adults as well as children?
Yes. This is an accompanied experience and everyone in your group must have a ticket. We are limited to 15 Elfers per group so we needed to take measures to ensure we did not exceed that amount. There must be at least one Big Elfer (adult) to every 3 Little Elfers (children).
Are there ID requirements or an age limit to enter the event?
No ID required. We suggest an age range of 3 - 10 years for Little Elfers but you know your Little Elfers best. If your 12 year old has a fantastic imagination and will enjoy the experience by all means bring them along. If your 4 year old is very nervous and could be easily scared by our enthusiastic Elves perhaps think twice. We will, of course, do our best to make sure all our Elfers have a fantabulous time!
What are my transport/parking options getting to the event?
There are plenty of options nearby Santa's Secret Kingdom in Quarry Bay. To maintain the secrecy of our location the address will be shared only with Big Elfers once training is confirmed, Little Elfers will receive their secret map in the post with their invitation. The tram, taxi and car parking is all available nearby, plus plenty of bus stops and MTR exits from Quarry Bay too. For those travelling by sleigh let us know and we'll let you know of the nearest parking options.
What can/can't I bring to the event?
Due to space restrictions pushchairs and prams cannot be brought with you on your journey. You must bring a smile, plenty of energy and a can-do attitude - yes, Big Elfers, that includes you too!
Where can I contact the organizer with any questions?
If you have any questions please don't hesitate to contact us by emailing
lizzi@glitterandgore.hk
Or using the social media links below!