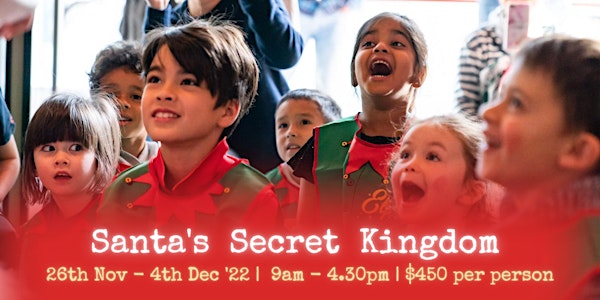 Santa's Secret Kingdom: The Factory
What happens to your letter after you send it to Santa? Come to Santa's Secret Factory and find out!
Date and time
Wed, 30 Nov 2022 16:00 - 17:00 HKT
Location
Santa's Secret Kingdom Sheung Wan, HKI Hong Kong
About this event
Ever wondered what actually happens after you post your letter to Santa?
Santa and the Elves are opening the HK based factory, in Sheung Wan, for a very special tour!
(For families on the Nice List ONLY! )
Come to Santa's Secret Kingdom Factory and join the journey! From receiving a letter to creating the wish, learning about what other things are made in the factory and Santa's special (rigorous) checklist for toy inspection. This will be Santa's Secret Kingdom like you've never seen it before!
Event details:
Upon buying tickets to Santa's Secret Kingdom Big People (adults) will receive full details in email confirmation. Little People (children) will receive a personalised invitation and map, in the post, inviting them and their family to come and meet Santa and the Elves at his Secret Kingdom. 
(Please note: Tickets purchased or swapped between 1st - 20th November will receive a PDF to print, bookings made after that may not receive a letter) 
During the magical one hour experience families will be transported into a multi-sensory world of wonder, meeting a whole bunch of entertaining and fun characters. You will journey through various parts of Santa's Secret Kingdom Factory and learn all the insider information about how things really work!
Be prepared for silly games, FUN activites, lots of laughter and plenty of magical moments. Little People will take home some special mementos of their experience, including their own tasty artwork! Even the Big People might be in for a special treat – as long as they're truly on the nice list!
Come and create everlasting magical Christmas memories in our very exciting, no glitter spared, tinsel wrapped, gingerbread scented, Elf saturated, fully interactive, Christmas experience for all the family!
Keep up to date with the latest information on our Facebook or Instagram pages @LaplandHK.
Comments from previous years include:
"My son...felt the magic of Christmas through the experience. He said it was the best day of his life!" Elena C.
"Truly the best Christmas experience in Hong Kong ever!", Cora F.
"The kids adored and loved the letter and map addressed to them. That was such a clever touch and had them so excited.", Jon S.
"Thank you for wonderful family time and a magical experience!" Irina A.
FAQs
Do I need a vaccine pass?
We will strictly adhere to government regulations related to Covid-19 , or changes to them. The new regulations in place from 30th September, regarding vaccine pass for children aged 5 and above, will be implemented at the venue and vaccine passes will be required accordingly.
Additionally you must have a blue code to enter, amber codes will not be allowed entrance to the venue.
What's the refund policy?
We are unable to offer refunds. Tickets are transferrable should you find another family willing to buy your tickets. In this case please contact us ASAP by email with the contact details of the new family. 
What if there are Government Restrictions, relating to COVID19, put into place meaning the event cannot go ahead?
If we cannot go ahead in-person, we will continue with an online experience. In this case you would receive a pack in the post so that you can join in the FUN as the experience moves along. It is important to us that the experience is as interactive as possible and we would maintain this as much as we could in an online experience too. This would not be a live experience, the link would be sent to you to watch at your leisure after the original event date.
Are there age restrictions?
We open our doors to anyone but recommend the experience for children 3 - 10 years old. Under 2's do not require a ticket.
What are my transportation/parking options?
The MTR is a 5 minute walk; buses, taxis and car parking are available too. Please contact us once your tickets are booked if you need more details. 
What can I bring into the event?
It is suggested that you bring as little as possible. Prams, pushchairs and buggies will not be allowed into the experience but there will be a safe place to leave them whilst you are inside the factory.
How can I contact the organiser with any questions?
Please feel free to email us with any questions or queries on hello@glitterandgore.hk and we'll get back to you ASAP.
Why do adults have to buy tickets too?
We have spent a lot of time on working out how to charge admission the most fairly and keep the ticket price as reasonable as possible. The most important thing about this experience is that it's an accompanied experience, it's meant for familes - a time for families to come together and experience the magic of Christmas together. In order to deliver a high quality, smooth running and magical experience we limit the amount of people we admit and therefore limit our ability to cover our costs. (On that note, the cost of putting this production together is HUGE, especially for a small company like us). If we were to charge for just the children we would simply have to double the ticket price for the child with one adult free per paying child. We think that by charging per person it remains more flexible for you to choose how many adults or children will join the experience.