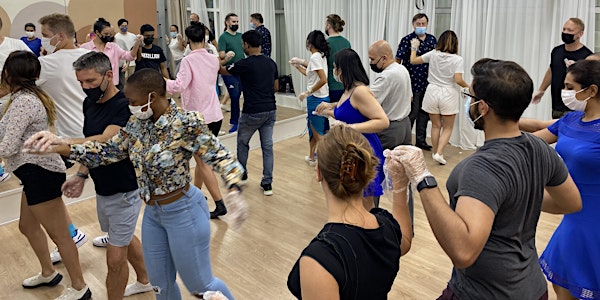 SALSA & BACHATA OCTOBER 4 WEEK CLASSES IN WANCHAI. DISCOUNTS AVAILABLE
October Salsa & Bachata Classes for Absolute Beginners, Improvers and Intermediate/Advance levels in Wanchai. Discounts Available
When and where
Location
Dance With Style 5th Floor, Room - 502, Wah Hing Commercial Building , 279-283 Lockhart Road Wanchai, HKI Hong Kong
Refund Policy
Contact the organizer to request a refund.
About this event
Too busy on the weekends? Then join our week night classes after work or weekend classes and learn to dance Salsa and Bachata at our OCTOBER 4 WEEK BACHATA & SALSA CLASSES at our dance studio in Wanchai for adults, couples, singles and teens.
Avail up to HKD 1000/- discount on PRE_PAYMENT! Those who sign up for our 4 Week Courses will also receive a 20% Off Dine-In/Takeaway Voucher from 27 Kebab House, a Turkish and Indian Restaurant in Wanchai on first come first basis till stocks last. Our classes are open to Adults, Couples, Singles and Teens.
You can choose to join our classes either from Tuesday night of 4TH OCTOBER or Sunday afternoon/early evenings of 2ND OCTOBER 2022 as per your convenience.
Our Classes are Available for ABSOLUTE BEGINNERS, IMPROVERS & INTERMEDIATE/ADVANCE levels.
MASK must be worn in class. GLOVES & HAND SANITISERS will be provided.
Don't have a partner? No problem at all as we rotate our students in class so that everybody gets to dance with each other. But if you do have a partner then you are most welcome to enrol him/her along with you to our classes. The more the merrier:-))
SCHEDULE
TUESDAY CLASSES: 4, 11, 18 & 25TH OCTOBER 2022
7:00 - 8:00PM: Salsa Improver Level
8:00-9:00PM: Salsa Absolute Beginners
9:00-10:00PM: Bachata Absolute Beginners
--------------------------------OR---------------------------------
SUNDAY CLASSES: 2, 9, 16 & 23RD OCTOBER 2022
3:00-400PM: Bachata Intermediate Level
4:00-5:00PM: Salsa Improver Level
5:00-6:00PM: Salsa Absolute Beginners
6:00-7:00PM: Bachata Absolute Beginners
2:00-3:00PM: Salsa Intermediate Level
We highly recommend that you enrol for BOTH - Our Salsa and Bachata Classes and learn simultaneously to become an complete latin dancer so that you will be able to dance both Salsa and Bachata in a social setting/Latin dance parties.
FOR ALL DETAILS relating to schedule, price options/discounts, payment options, registration procedure, venue address and direction etc.of our CLASSES please VISIT the below websites
Bachata Classes: https://dancewithstylehk.com/bachata-classes-hk/
Salsa Classes: https://dancewithstylehk.com/salsa-classes-hk/
Or WhatsApp us at +852 63896213
We also offer dance related TEAM BUILDING ACTIVITIES, WEDDING CHOREOGRAPHY CLASSES, ORGANISE PRIVATE PARTIES FOR YOUR SPECIAL OCCASION, CORPORATE DANCE CLASSES, PRIVATE 1ON1 AND PRIVATE GROUP DANCE CLASSES FOR COUPLES, SINGLES AND TEENS AS WELL AS PRIVATE 1ON1 AND PRIVATE GROUP CLASSES FOR KIDS.
Dance With Style will be clicking pictures and shooting videos for promotional purpose.