Sacred WOMBmanhood ~ Honoring Your Magic During Menstruation
About this event
A woman's magic, her body, her birthright, her life - it is designed and regulated in cycles. While a man follows a single cycle of circadian rhythm, a woman lives out her life with an extra cycle; that following the moon phases and her menstruation.
In modern understandings, a woman's cycle consists of the 4 phases - menstrual, follicular, ovulation and luteal - but this only brushes the surface of the tremendous power of our bodies. Each phase encompassing complex layers of changes in hormones, physical, emotional, mental, energetic, and spiritual elements. Each phase is a divine gift, and such can be seen in many ancient cultures all over the world, where women hold space for each other to bleed, consciously with higher awareness. They did this because they understood that during menstruation, a woman is more intone with the subtleties of mind-body-spirit connection and can access altered states of consciousness more easily, to receive inner guidance and wisdom of the Higher Self.
In modern times, we have lost touch with this power. Power that our ancestors had deep reverence for. In modern age, women curse their periods, conditioned from puberty to believe that menstruation is a time of the month that is shameful, dirty, painful, a chronic annoyance. However, our ancestors recognised that there was a direct correlation of menstrual blood's life giving properties, for the self, the community and the earth. This is ancient knowledge that still rings true today.
The essence of this workshop/retreat is to honour the Sacred Blood Mysteries again, during a time when feminine energy is needed more than ever to rebalance the disharmony of a deeply-rooted patriarchal society.
We will:
* Talk about the history and origins of Sacred Menstruation and Menstrual Divination.
* History of the Blood Mysteries that our mothers, grandmothers, great mothers had.
* Shame and Guilt conditioning of menstruation being seen as dirty - stigmatised taboo.
* Rituals to reclaim the the Divine Feminine Power of Menstruation.
* How to move through the different phases of a woman's cycle through meditation, sound, movement, dance.
* Writing and Reflection Exercises (Option)
* How to read your blood and the various methods
* Decoding your book's color - Discerning when physical imbalance are present
* A goddess embodiment movement session to help you reconnect to your womb and yoni.
* A guided meditative movement dance amplified by medicine songs that will take you on a powerful journey of self re-discovery, carrying you through all the phases of feminine energy.
* By tuning in to your body, you can tune into your True Wombanhood as a recalibration process and bring your essence back to wholeness.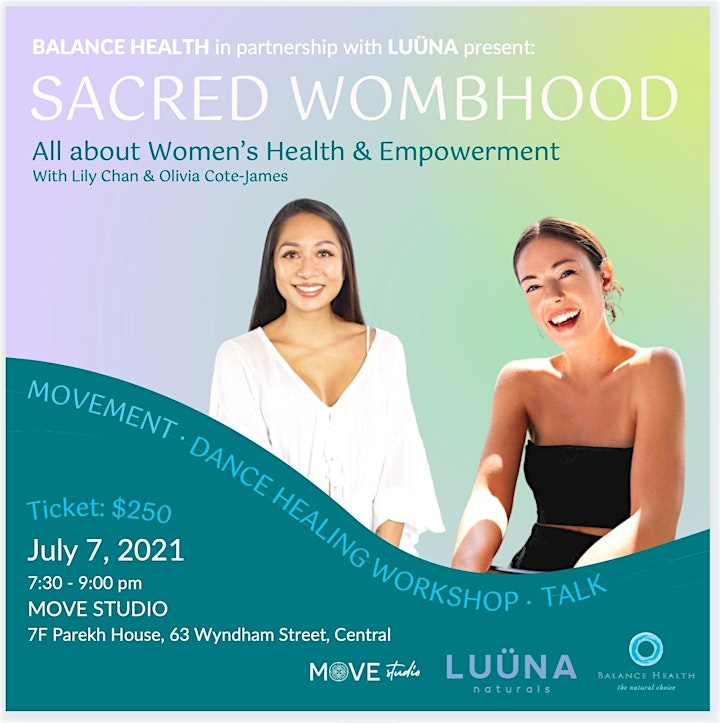 Organiser of Sacred WOMBmanhood ~ Honoring Your Magic During Menstruation
Balance Health is a natural health clinic offering an alternative to the conventional treatments, as no single system of medicine has the answers to every medical problem. As one of Hong Kong's earliest natural alternative clinics, Balance Health has supported thousands achieving health and well-being in body, mind, emotions and spirit.
By integrating the principles of conventional and complementary medicine our international team of therapists is able to take a broader view – lifestyle, nutrition, emotions, behaviour patterns, and beliefs. Health and wellness is more than simply the absence of pain. Balance Health offers alternative therapies to provide the body with the opportunity to heal naturally, making it stronger and less susceptible to illness and disease.
Whether you have health issues and want to facilitate your healing process or are just looking for a moment to escape your busy life: We connect you to practitioners to offer treatments tailored to your individual wishes and needs.