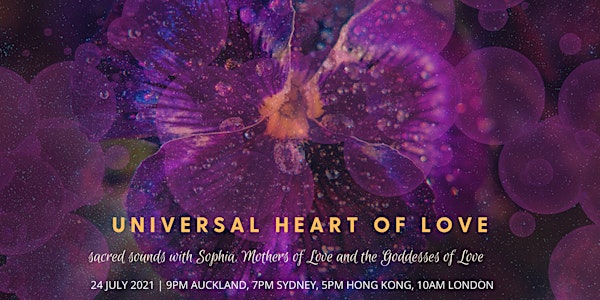 Sacred Sounds: Universal Heart of Love
Full moon sacred sounds transmissions with Divine Mother, Mothers of Love and the Goddesses of Love
About this event
Event Description
We invite you to a gathering "Universal Heart of Love" with the Divine Mother Sophia, the Mothers of Love and the Goddesses of Love on the 24th July, during the potent full moon. This is an online sacred sounds event facilitated by Yjemani Kaala Raphael who will be toning, sounding, singing and channeling the Divine Feminine transmissions of love from the Divine Mother, the Mothers of Love and the 12 Goddesses.
Participants will receive Codes of Love from the cosmic realm in the form of geometries, and frequencies through sacred sounds. These Codes of Love will enhance one's love quotient, love resonance and love field. Participants will receive the qualities of Love that is most needed to support one to have greater self-love, to be able to experience the world with more Love and ultimately to be able to share their Love with the world. For some participants, the quality of love that they need most may be faith, while for others it may be compassion, self-worth, standing in their sovereignty or other love qualities. Each beloved depending on their path, soul journey and monad group will be requiring different Codes of Love to support a deepening and opening of the flower of love within their heart.
Sacred sounds bypass the mind, the sounds and frequencies are received at subtle levels of one's heart and energetic being. Sacred sounds can be healing, but also very expansive in activating and accelerating one's ascension. These Codes of Love will harmonise all that is out of balance within, to come back into balance through love while enhancing one's ability to hold love in all situations. The Divine Feminine group consciousness that represent and support the Divine Mother will be creating a sacred portal around each participant during the transmission, this ensures one is most receptive at the time of the transmission. Participants may choose to join live or via the recording, the same benefits will be received in all circumstances.
In collaboration with Sophia, the Mothers and Love, and the Goddesses of Love, we look forward to an immersive evening of love with you.
With all our love,
Yjemani
***********************
Event Details
Date: 24th July 2021 (Saturday)
Time: 9pm Auckland, 7pm Sydney, 5pm Hong Kong, 10am UK (75 minutes)
Love Exchange: USD22
Registration: essential via eventbrite
Livestream: via zoom, details will be sent immediately after registration by eventbrite
Recording: request upon registration or email yjemani@cosmic-dance.net for the recording.
Notes: Please join 5 minutes earlier than the start time to prepare. You may wish to lie down during the event and use your headphones for better sound quality.
Event Page: https://www.cosmic-dance.net/blog/sacred-sounds-event-on-24july-sounds-of-love-during-the-full-moon