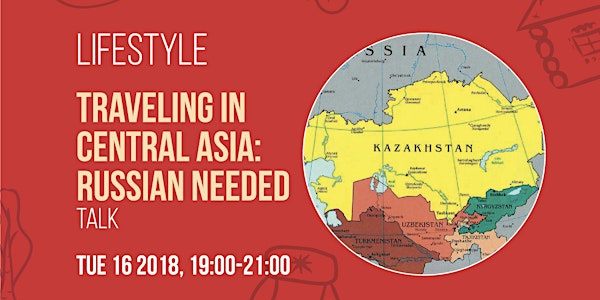 Russian Culture Festival: "Traveling in Central Asia: Russian needed" Talk
When and where
Location
HKU SPACE Po Leung Kuk Stanley Ho Community College 66 Leighton Rd, Causeway Bay HPCC Campus, Room 1106 Hong Kong Hong Kong
Description
Russian Autumn - Russian Culture Festival and
中亞協會(香港)
invite you to join the following:
TALK: "Traveling in Central Asia: Russian needed"
Learning Russian is not only useful in Russia, but also 15+ countries that had a common history with it and 5 of them located in Central Asia.
A co-founder of Central Asia Centre,
Saya Kyz
, will share her travel experience across Central Asia, basic details of the countries, people and culture. Also she is going to share some vocabulary they might be useful during your trip.
Talk is a part of the
Russian Culture Festival - Russian Autumn
program and is organized by
中亞協會(香港)
Central Asia Centre and supported by @HKU SPACE: European Languages Subject group
Date: 16 Oct, Tuesday at 7.00pm
Venue:
保良局 Po Leung Kuk
Stanley Ho Community College (HPSHCC) Campus, 66 Leighton Road, Causeway Bay, HK