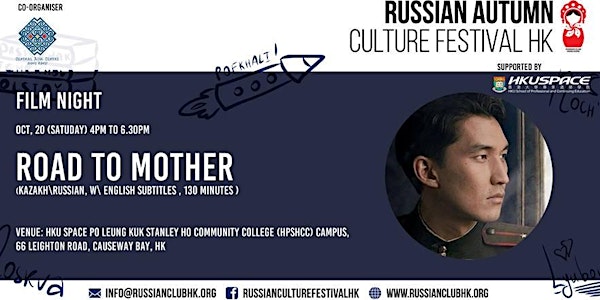 Russian Culture Festival: Film Night - Road to Mother
When and where
Location
HKU SPACE Po Leung Kuk Stanley Ho Community College 66 Leighton Road HPCC Campus, Room 904 Hong Kong Island Hong Kong
Description
Russian Culture Festival invites you to the Film Night : 'Road to Mother'
The Film Night is organized by
中亞協會 (香港)
Central Asia Centre, and supported by
Russian Club in Hong Kong
and HKU SPACE: European Languages Subject group.
Russian Culture Festival w
ith official support of Russian Consulate General in Hong Kong.
The film screening is supported by
Consulate General of the Republic of Kazakhstan to Hong Kong and Macao SARs
The Film Night will be held:
Oct, 20 (Saturday) 4pm to 6.30pm
(Kazakh\Russian, with English subtitles )
Venue: HKU SPACE Po Leung Kuk Stanley Ho Community College (HPSHCC) Campus, 66 Leighton Road, Causeway Bay, HK
Admission is free, however please reserve a seat in advance.
A Road to Mother is set during one of the most tragic periods in the history of the former USSR republic of Kazakhstan. Director, Akan Satayev tells a story of the power of a mother's love which endures challenges of the turbulent times.
The storyline covers a timespan from the 1930's to the present day with key elements of collectivization, war and postwar years for the Kazakh people. The director was inspired by the what his parents told him when he was a child. "According to Kazakhstan's tradition, all legends are passed from the older generation to younger generation orally" says Satayev. "It is the story of a of a lonely mother, who for twenty years, walked daily to the outskirts of the village at dawn and dusk in hopes of meeting her son returning from war. Of course, the great love of a mother for her child, and the boundless hope which underlies this story, had a deep impact on me."
Production companies: Kazakhfilm Studios, Sataifilm
Cast: Altynai Nogerbek, Aruzhan Jazilbekova, Adil Akhmetov, Berik Aitzhanov, Bolat Abdil'manov, Azamat Satybaldy, Erlan Karibaev, Andrei Dushechkin, Yerkebulan Dairov
Screenwriter: Timur Zhaksylykov
Producers: Svetlana Korotenko, Anna Chakirtova, Aliya Mendygozhina
Executive producer: Aliya Nazarbaeva
Director of photography: Khassan Kydyraliev
Production designers: Nazira Baibekova, Larisa Reshetova, Assel Shalabaeva Composers: Alim Zairov, Roman Vishnevskiy
Youtube trailer: https://www.youtube.com/watch?v=OGdkCxl9pRQ
Oscars: Kazakhstan Selects 'Road to Mother' for Foreign-Language Category: https://www.hollywoodreporter.com/news/road-mother-kazakhstan-selects-film-foreign-language-oscar-category-1042529
Hollywood Reporter Review: https://www.hollywoodreporter.com/review/road-mother-1063542
The film "The Road to Mother" directed by Akan Satayev and general producer Aliya Nazarbayeva won the main prize at the annual international film festival "Marco Polo" in Croatia. Kazakhstan is represented here for the first time. Despite this, the professionalism of domestic cinematographers was noted immediately.
More information: http://kazakh-tv.kz/en/view/cinema/page_187141_uspekh-filma-
Any use of the site materials is allowed only if there is a hyperlink to Kazakh-tv.kz.
ASTANA. KAZINFORM. Kazakhstan film "The Road to Mother" won the "Best Feature Film" award at the film festival in New York, Kazinform reports referring to the organizing committee of the film's creators.
All rights reserved. Use the active link to inform.kz https://www.inform.kz/en/fil-m-doroga-k-materi-zavoeval-nagradu-na-kinofestivale-v-n-yu-yorke_a3186458