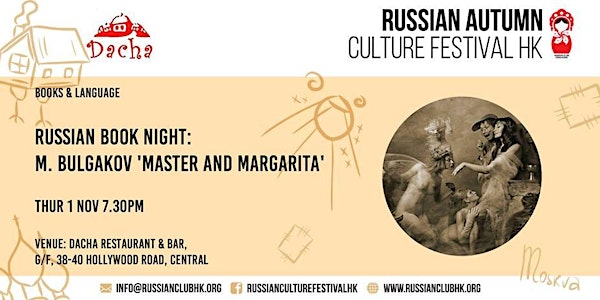 Russian Culture Festival: Book Night - M.Bulgakov and 'Master and Margarita...
Location
Dacha Restaurant & Bar
38-40 Hollywood Road
Hong Kong Island
Hong Kong
Description
Russian Culture Festival together with
Hong Kong Book Club
present the Russian Book Night:
Mikhail Bulgakov and 'Master and Margarita' (the talk in English)
The Master and Margarita («Ма́стер и Маргари́та») is a 1937 (not published until 1967) novel by Mikhail Bulgakov, woven around the premise of a visit by the Devil to the fervently atheistic Soviet Union. Many critics consider it to be one of the best novels of the 20th century, and the foremost of Soviet satires, directed against a suffocatingly bureaucratic social order.
Looking forward to meet you …аnd remember: 'manuscripts don't burn…!'
How to participate in the book night:
1) read the book in advance and join the discussion
2) no prior preparation required if you want to join the night as a listener
Participation fee: HKD 200 (incl.tea, snacks and cake. All other food and drinks can be served on additional order)
You will receive the payment details upon your RSVP.