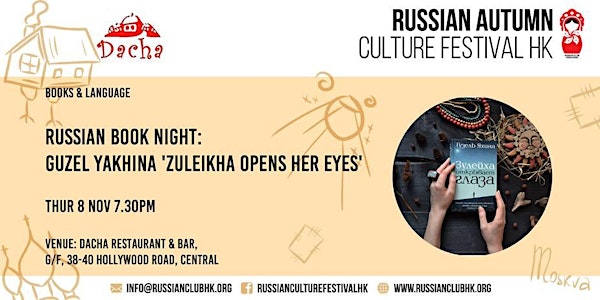 Russian Culture Festival: Book Night: Guzel Yakhina 'Zuleikha Opens Her Eye...
Location
Dacha Restaurant & Bar
38-40 Hollywood Road
Hong Kong Island
Hong Kong
Description
Russian Culture Festival together
Hong Kong Book Club
present the Russian Book Night:
Guzel Yakhina 'Zuleikha Opens Her Eyes' (the talk in Russian)
Guzel Yakhina is a Russian author and screenwriter. She is a winner of the Big Book literary prize and the Yasnaya Polyana Literary Award.
Her debut novel Zuleikha Opens Her Eyes appeared in the journal Siberian Fires.
Yakhina's debut novel 'Zuleikha Opens Her Eyes' is based on the experiences of her grandmother, a Tatar. In the 1930s, as part of dekulakization programme, the Soviets forcefully relocated many Tatars from the European part of Russia to Siberia. Yakhina's grandmother was among them. She was exiled at a young age and was able to return home only sixteen years later. The novel describes the experiences of Zuleikha, a peasant Tatar woman. Zuleikha was transported to Siberia and left in a remote location on Angara River with little means of survival. Zuleikha had to overcome the harsh conditions, build relationships with other exciles and forge her new identity and reasons for living.
How to participate in the book night:
3) read the book in advance and join the discussion
4) no prior preparation required if you want to join the night as a listener
RSVP to the ticket link. You will receive the payment details per email.
Participation fee: HKD 200 (incl.tea, snacks and cake. All other food and drinks can be served on additional order)
«Зулейха открывает глаза» — роман российской писательницы Гузели Яхиной о раскулачивании 30-х годов XX века.
Действие романа «Зулейха открывает глаза» начинается в 1930 году в далёкой татарской деревне. Зимой 1930-го у крестьянки Зулейхи убивают мужа, а её саму вместе с сотнями других переселенцев отправляют в вагоне-теплушке по каторжному маршруту в Сибирь.
We look forward to welcoming you there.