Description
Royal Orchid Wine presents: Grand Tasting 2019

Save the date for Royal Orchid Grand Tasting Event 2019! #Winetasting
With over 140 wines, Royal Orchid Wine have invited winery owners, winemakers and representatives for sharing their passion and experience within the wine industry throughout the event. We look forward to meeting you there!
Behold the uprising of Chinese wine by tasting the collection from our wholly-owned winery Chateau Mihope, a picturesque vineyard located at Helan Mountain, NingXia
Full access to a wide spectrum of wines from around the world and some highly sought after regions
Over 70 wines with 90+points to be tasted
A great opportunity to taste rare and perfect-score wines
Various Canapé and cheeses preprared by Conrad Hotel
Prestige opportunity to witness the new Rare & Fine Wine Collection -- Royal Orchid Collector's Club (珍品薈)
* Early bird special price HK$480 only
* Early bird GROUP special offer BUY 4 GET 1 FREE! (average price HK$384/person)
(on or before 30th Sept or while stocks last)
* Regular price HK$680
---
Thursday, October 17, 2019
@ 8/F, CONRAD Hotel, Pacific Place, 88 Queensway, Admiralty HONG KONG
5 P.M. TO 8:30 P.M: Tasting Session
With over 140 wines to be tasted from Portfolio selection and top-rated fine wine brands:
Participating wineries:
Argiano http://www.argiano.net/
Boizel http://www.boizel.com/en/
Bernard Magrez http://www.bernard-magrez.com/
Brigaldara https://www.brigaldara.it/
Carmen https://www.carmen.com/
Château de Montfaucon https://www.chateaumontfaucon.com/
Château de Saint Cosme https://www.saintcosme.com/
Ciu Ciu http://www.ciuciuvini.it/en/
Château Pesquie https://www.chateaupesquie.com/
Clos du Val https://www.closduval.com/
Domaine Remi Jobard
Forge Cellar https://www.forgecellars.com/
Finca Decero http://www.decero.com/
Gianni Brunelli https://www.giannibrunelli.it/en/gianni-brunelli/
Gianni Gagliardo https://gagliardo.it/home-2/
Kopke https://kopke1638.com/
La Manufacture http://lamanufacture-vins.fr/
Mollydooker https://www.mollydookerwines.com.au/
Morey Coffinet http://www.domainemoreycoffinet.com/
Pierre Vessigaud www.pierre-vessigaud.com
Rivetto http://rivetto.it/en/
Sherwood https://sherwood.co.nz/
Turkey Flat https://www.turkeyflat.com.au/
Vereinigte Hospitienhttp://weingut.vereinigtehospitien.de/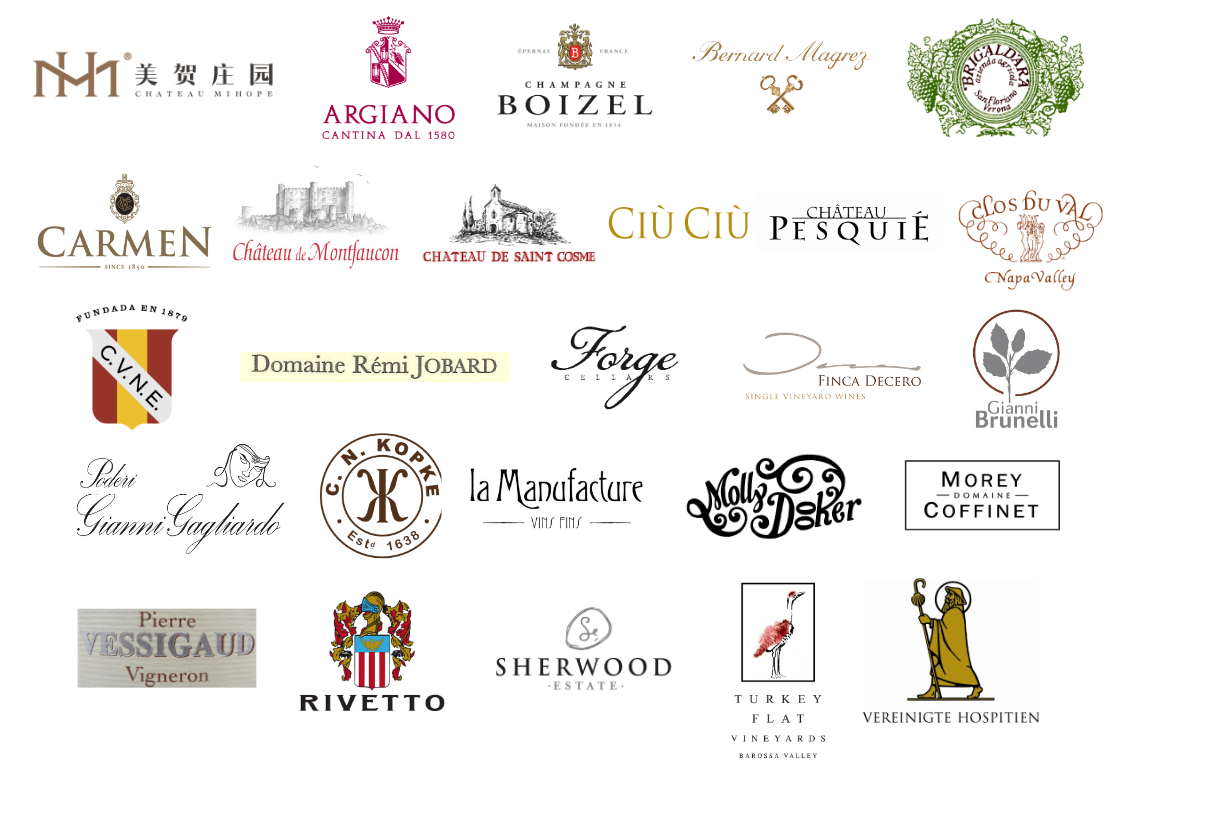 Château Guiraud https://www.chateauguiraud.com/
Château Ducru-Beaucaillou http://chateau-ducru-beaucaillou.com/
Château Cos D'Estournel https://www.estournel.com/en/
Ornellaia https://www.ornellaia.com/it/
Vérité https://www.veritewines.com/
Château Lassegue https://www.chateau-lassegue.com/
Seña https://www.sena.cl/
Vinedo Chadwick https://www.vinedochadwick.cl/

And more ......
6 P.M TO 7 P.M: Master Class Session B
MIHOPE VS. THE WORLD
Speaker: LOUIS LEE
Introduction: One of the raising stars in Ningxia region, Chateau Mihope will go head-to-head with the best wines coming from the important wine regions around the world.
8:30 P.M TO 10:30 P.M: GALA Dinner
An evening you wouldn't want to miss!
Join us for the GALA Dinner at Brasserie on the Eighth, enjoying a Five-course meal expertly paired with wines selected from the prestige wineries. Grab the opportunity to learn from the experts, winery owners and representatives who love to share their passion and knowledge face to face!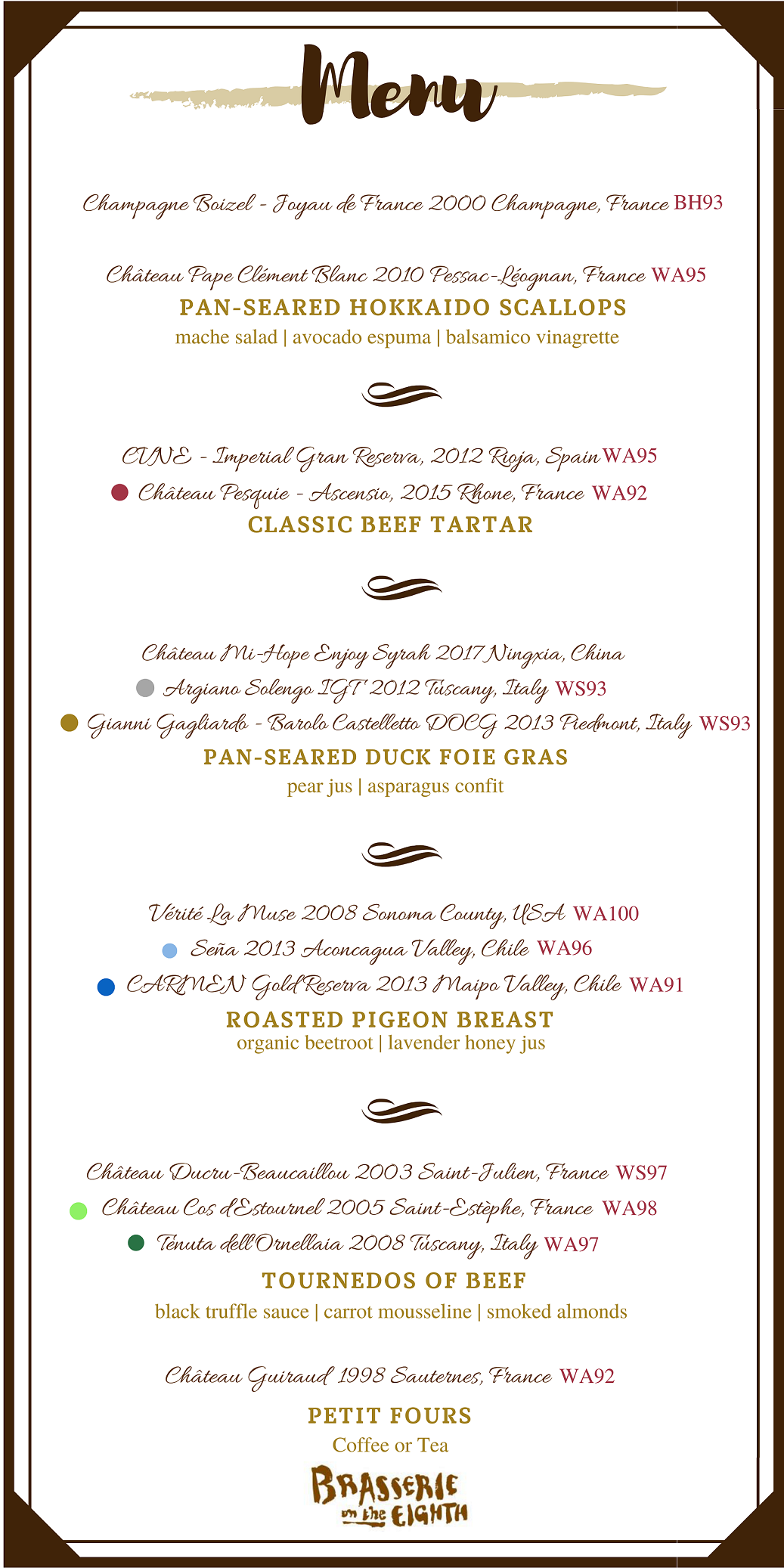 *GALA Dinner Price: HK$1580
*EARLY BIRD Tasting Ticket + GALA Dinner Exclusive special offer: HK$1980
(on or before 30th Sept or while stocks last)
*REGULAR Tasting Ticket + GALA Dinner offer: HK$2180
---
Check out more about the Grand Tasting event and winery detail through our FACEBOOK and WEBSITE!