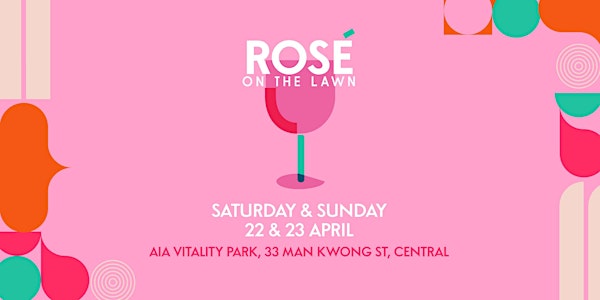 Rosé on the Lawn
Get ready to bask in the Hong Kong spring sunshine and sip on the finest rosé wines… 可以在風和日麗的春天陽光下在香港海旁品嚐精選rosé玫瑰葡萄酒...
By The Lawn Club - Zicket
Date and time
Sat, 22 Apr 2023 13:00 - Sun, 23 Apr 2023 22:00 HKT
Location
Hong Kong Observation Wheel & AIA Vitality Park 33 Man Kwong Street Central, HKI Hong Kong
Refund Policy
Contact the organiser to request a refund.
About this event
1 day 9 hours

Mobile eTicket
This alfresco experience promises to be the perfect picnic party - blending great wines, fun food and live entertainment.
Enjoy a curated selection of over 20 rosé wines from top wineries, expertly paired with a gourmet spread of light bites and sweet treats.
Sip, savour, and soak up the spring atmosphere as you lounge on the lawn and take in the scenic skyline.
這個露天體驗一定係最佳嘅戶外派對 - 可以品嚐優質的葡萄酒、多種配襯小食同埋現場娛樂表演。
享受精心挑選超過20款來自頂級酒莊的嘅玫瑰葡萄酒以及搭配精選小食同埋甜品。
拎住酒杯坐喺草地上、望住香港海旁嘅天際線; 聞一下、飲一口、食一啖、吹住海風...相信係最佳享受...
Event Format
Split into 4 sessions over 2 days, guests can enjoy a 4-hour curated experience, tickets are session specific and non-transferable.
活動形式
在兩日分成4節,每張門票可讓賓客享受4小時精心安排嘅體驗,每張門票只適用於指定時段以及不能轉讓或轉換。
Each ticket is session specific and includes 5 x Taster Tokens that you can redeem from our unrivalled selection of Rosé wines. Each Taster Token entitles you to a 50ml taster of a Rosé wine of your choice. Additional tasters and bottles are available for purchase from the Rosé Bar.
每張門票只適用於特定時段,包括5個品酒代幣,你可以從我們多款玫瑰葡萄酒中兌換。每個品酒代幣可以讓你品嚐到50毫升所選的玫瑰葡萄酒。你亦可以在Rosé Bar購買更多的試飲和枝裝玫瑰葡萄酒。
Gourmet Food
A tantalising array of food options is available for purchase from our F&B partners. Shady Acres will be providing sumptuous charcuterie and cheese boards. There will also be The Baker & Bottleman, serving up toasted sandwiches and baked treats. More details are to be announced soon so stay tuned.
食品
我哋嘅餐飲合作夥伴將提供一系列令人流口水嘅食物選擇。 Shady Acres將提供美味芝士冷肉拼盤、The Baker & Bottleman提供焗三文治及烘焙食品。密切留意更多資訊。
Venue
活動地點
All of this will take place at the Hong Kong Observation Wheel and AIA Vitality Park, a stunning waterfront venue with breathtaking views of the Victoria Harbour. Sit back, relax, and enjoy live music by talented local musicians as you soak in the laid-back atmosphere, surrounded by friends, family, and fellow wine lovers.
活動將在擁有無敵海景嘅香港摩天輪| AIA Vitality 公園舉行,可以睇到維多利亞港嘅景色。您可以同家人、朋友同埋葡萄酒愛好者坐喺草地,chill住聽由本地音樂人演奏的現場音樂,享受悠閒歡樂氣氛。
FAQS
常見問題
Am I allowed to bring my own food and drinks?
Please note that outside food and drink are not allowed at our event. We'll have plenty of delicious options for you to choose from, so come hungry!
我可以自己帶食物和飲品嗎?
請注意在活動中不能攜帶外來食物和飲品。我們會有很多美食選擇,所以記住要空肚嚟。
Is there an age limit?
In accordance with the law in Hong Kong, alcohol will not be sold or served to a minor under the age of 18. However, feel free to bring along the whole family and sip some of our zero alcohol rose and bask under the sun as long as children under 18 are accompanied by an adult.
有年齡限制嗎?
根據香港法例,不能將含酒精飲品售賣予18歲以下人士。但歡迎大家帶同未成年家人入場品嚐不含酒精的玫瑰葡萄酒。請確保18歲以下人士有成年人陪同。
What if it rains?
Our event is a rain or shine outdoor event. In the case that the event is unable to open due to inclement weather you will be notified in advance and your session will be rescheduled to a later date. Please note that it is at the absolute discretion of the event what does or does not constitute inclement weather. Please do not assume your session is cancelled as you will not be refunded unless the session is officially postponed or cancelled.
如果下雨如何安排?
我們的活動是一個風雨無阻的戶外活動。如果活動因惡劣天氣而無法舉行,我們將提前通知取消或改期。請注意,活動因惡劣天氣取消與否,大會將有最終決定權。如大會没有公佈活動已取消,請不要自行認為你所購買的門票時段已取消,因如大會未正式公佈,門票將不會得到退款。
Is there seating in the venue?
Some seating will be provided and guests are welcome to bring their own picnic mats or blankets to lounge on the grassy lawn.
會場設有座位嗎?
大會將提供一些座位,歡迎賓客自備野餐墊或毯子,在草地上放鬆。
What should I wear or bring to the event?
First of all, we highly encourage you to wear Pink! Join in the fun and look extra sharp with those bright Rosé colours. Other than that, feel free to bring with your own
Sunnies
Sunscreen
Board or card games
Picnic mats
Cameras to take as many photos as possible! Remember to tag us at @thelawnclubhk
我應該穿著或帶備什麼出席活動?
首先我們極度鼓勵賓客穿著粉紅色到場! 可以襯返啲靚靚粉紅玫瑰葡萄酒。除此之外,提提您帶以下物品
太陽眼鏡
防曬
啤牌或桌上遊戲
野餐墊
唔少得相機打咭,記住tag @thelawnclubhk
Can I bring my own own sunshade or umbrella?
Yes. Guests may bring their own sunshade or umbrella. Please note that sunshades and umbrellas must be kept at a low height so as not to block other guest's view of the stage. You may be asked to lower to take down your sunshade if it is obstructing other guests' views.
我可以自攜太陽擋或傘子嗎?
可以。賓客可以攜帶自己的太陽擋或傘子。請注意,太陽擋或傘子必須保持在較低的高度以免阻礙其他賓客的視線。如您阻礙了其他賓客的視線,您可能會被要求降低或除下傘子。
Is the event pet-friendly?
Only licensed and harnessed service-animals are permitted at the event.
活動是否寵物友善?
活動只可以攜同領有牌照的服務動物及牽上繩進入。
Who do I contact for time-sensitive changes or questions related to my existing reservation?
Please email our ticketing partner Zicket for any ticketing related changes on help@zicket.co
如果時間上有改動或與現有預訂有關的問題,我應該到哪裏查詢?
請電郵 help@zicket.co與我們的票務合作夥伴Zicket聯絡,以查詢與票務有關的事宜。