About this event
Join us after work on Friday, June 18th at a hidden rooftop garden, for a fantastic event:
Marketing, PR, Media, E-commerce & Advertising Rooftop Garden Industry Night
6月18日周五晚
我们邀请您来到位于泰康庭的
一处隐秘绿意花园露台餐厅
为您特别呈现:
市场/公关/媒体/电商/广告
洋房露台花园行业酒会
TICKET LINK 购票链接:https://yoopay.cn/event/45723001
We are introducing a new venue: Plump Garden by BISOU, located in the former french concession. Sheltered by pruned hanging gardens and lush edible herbs, The Plump Garden is a rustic, back-to-roots rooftop garden. It is an oasis of greenery, one that is truly coveted in this concrete jungle of a city.
本次活动的场地位于新开张的法式老洋房餐厅:Plump Garden by BISOU的四楼,一座极具自然质朴设计感、由悬空绿植和郁郁葱葱的香料组成的屋顶花园。在钢筋水泥的城市森林中,这是一片让你能够逃离喧嚣,返璞归真的都市绿洲。
This is a networking event for career-minded professionals in related industries. Mingle with new friends under the open sky whilst chefs busy themselves around the open kitchen and wood-fired grill. Enjoy the cozy moment surrounded by nature and lots of laughter!
这是一场特别为相关行业的伙伴们打造的充满趣味、易于社交、同时不失格调的专属派对。在露天的花园里,遇见志同道合的新朋友,享受这被自然包围的时刻,度过充满收获和欢笑的夜晚!
This event will offer the opportunity to meet like-minded peers in a friendly environment, share best practices, explore potential cooperation, and develop your careers.
Get connected and get inspired!
活动将汇聚魔都来自零售电商、美妆时尚、消费科技、广告营销、品牌媒体等各个领域的业界精英和行业领袖。在这里,分享行业经验,拓展业内人脉,对接合作资源,遇见未知与惊喜,碰撞出美妙的火花!
We are expecting 120-180 guests to join us!
预计将有120-180位朋友加入我们的行业盛会!
TICKETS 扫码购票
WHEN
7:30 PM to 11:30 PM
Friday, June 18
6月18日,周五
7点半至11点半
WHERE
Plump Garden by BISOU
4F, Taikang Terrace, 169 Jianguo Zhong Lu, Near Ruijin Er Lu, Huangpu District
建国中路169号泰康庭4楼,近瑞金二路
BISOU by Plump是泰康庭新开的一家法式休闲餐厅,带有老洋房的气息,餐厅位于两楼;菜品别具一格,传统法式的风味佳肴,例如牛肉塔塔,鹅肝冻和法式炖蔬菜,炭烤和牛腹肉...同时,BISOU还拥有独立的酒窖。四楼的露天花园餐厅,每周末提供特色早午餐,也非常适合举办私人聚会,享有绝佳的风景视野,可携带宠物。
BISOU is a casual French restaurant in Taikang Terrace that serves rustic French dishes and wine in a stylish space. Across from the restaurant is BISOU ROUGE, a grab-and-go wine bar.
The restaurant is led by chef/partner Rembrant "Rembi" Van Der Laan. Born and raised in Brittany, France, chef Rembi's background and influences are primarily French, peppered with Italian cuisine, and he carries with him the experience of working in Michelin-starred restaurants in France, including at the Eiffel Tower and at Alain Ducasse's 3-star Le Plaza Athénée.
His vision for Bisou is to be a casual space serving quality wines with approachable prices, and comfort French food. On the menu are rustic French dishes such as duck magret, foie gras torchon, baked halibut, and fresh pastas—comfort food that everyone can get behind.
ATTENDEES 参与人群
Professionals, Industry Leaders, Entrepreneurs and Business Owners from Marketing, PR, Media, E-commerce & Advertising Industries, including:
来自市场/公关/媒体/电商/广告行业的业界精英、中高层管理者、企业家、创业者等,包括行业和人群为:
Advertising/Marketing/PR/Media/Advertising
广告、市场、营销、公关、媒体
Art/Design/Creative/Digital/Communicatio
艺术、设计、创意、数字、文化、传播
Cosmetics/Fashion/Luxury/Beauty/Entertainment
美妆、时尚、奢侈品、文娱
FMCG/Retail/Tech/IT/Big data
快消、零售、互联网、大数据等
E-commerce/Live-Streaming/Influencer
电商、直播、博主、KOL、KOC
Anyone interested in related topics is also welcome to participate in this event!
也欢迎对相关话题感兴趣的朋友一同参与本次活动
SIGN UP 活动报名
RSVP Options:
Includes 1 complimentary drink
and participation in a lucky draw
报名方法:门票费用包括1杯酒或饮料及参加抽奖
Early Bird Ticket 早鸟票
Sign up before 11 pm, Jun.14
6月14日周一晚11点前报名
Ticket 单人门票价格
RMB 100/person 每位100元
Presale Ticket 预售票
组队票(2人及以上报名)
Group Ticket (Sign up with 2+ people)
RMB 118/person 每位118元
Ticket 单人门票价格
RMB 128/person 每位128元
Sign up before 7:30 pm, Jun.18
6月18日周五晚7点半前结束预售
At Door 现场门票
RMB 150/person 每位150元
TICKET LINK 购票链接:https://yoopay.cn/event/45723001
WeChat Official Account
公众号:ShanghaiFUN上海
Contact WeChat: shfun_official
Email: erin_tang@126.com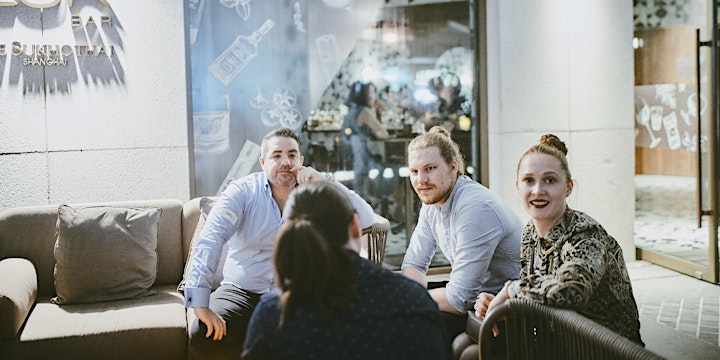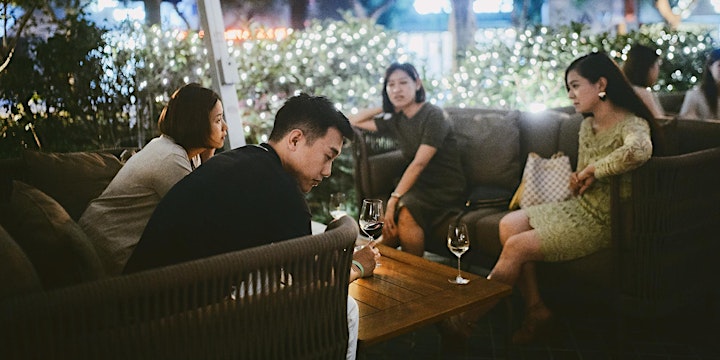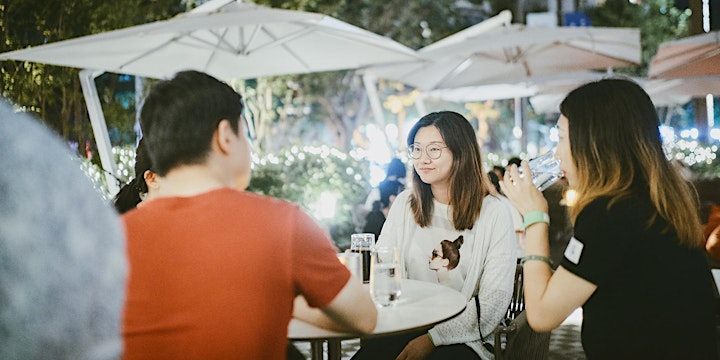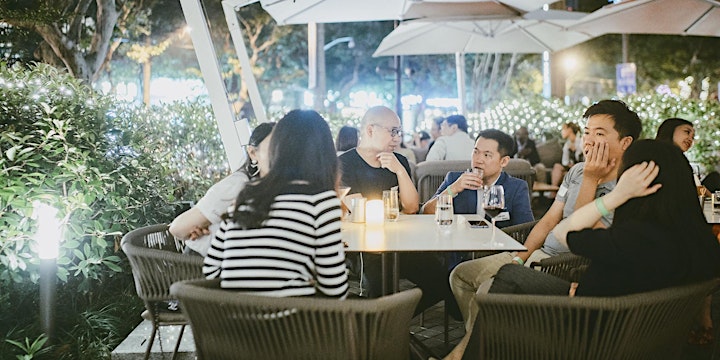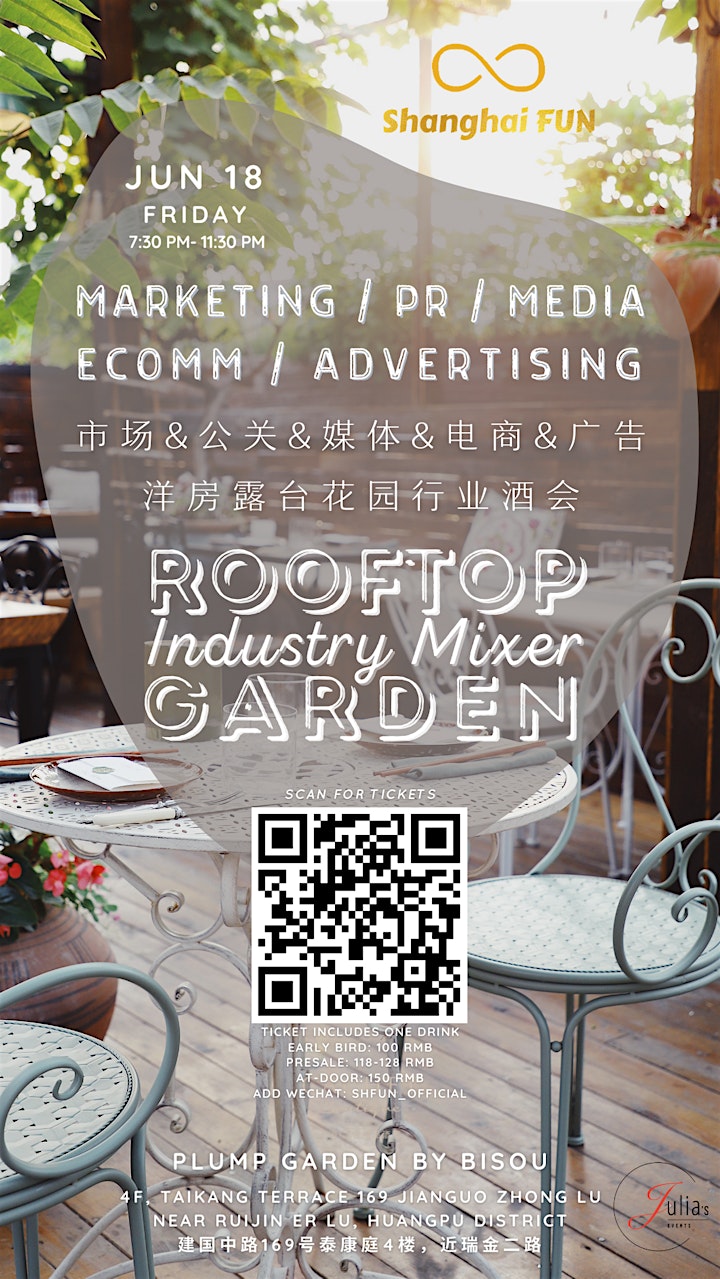 Organizer of Rooftop Garden Mixer for Marketing/PR/Media/Ecomm 市场&公关&媒体&电商&广告洋房露台花园行业酒会
About Shanghai FUN
We organise parties, networking events, brunch/dinner meetup and after work drink events in Shanghai. 
Join us to make new friends, expand your social circle and take part in fun events! 
Our events attract an international crowd of professionals looking to socialise, network and meet like-minded people.
Invite your friends to follow us and spread the word!
活动组织方
Shanghai FUN立足魔都,每周不定期的组织派对及类型多样的社交活动,参与人群为外国人、海归,及具有国际背景的人士,所选活动场地均为城中品质潮流场所。
联系微信 Contact WeChat: shfun_official
微信公众号 Wechat Official Account: ShanghaiFUN上海