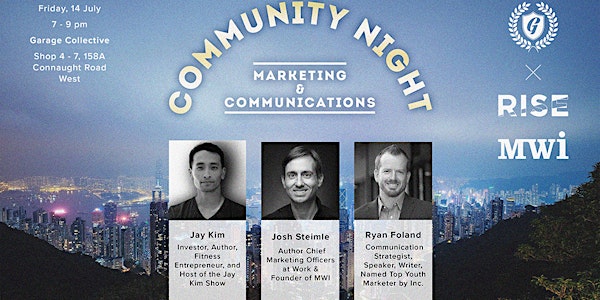 RISE Community Night - Marketing & Communications
Date and time
Fri, 14 Jul 2017 19:00 - 21:00 HKT
Location
Garage Collective Shops 4 - 7, 158a Connaught Road West Sai Ying Pun Hong Kong, Hong Kong Island Hong Kong
Description
Join us at Garage Society during RISE Week as we welcome key communities from the conference each evening to continue curating collisions amongst attendees and local entrepeneurs.
To round out the week we'll be welcoming Ryan Foland, Managing Partner at InfluenceTree.com, Josh Steimle, Author of Chief Marketing Officers at Work and Jay Kim, Host of the Jay Kim Show to share their marketing, communication and personal branding insights and experience
Come along and connect with key thought leaders in the field and finish out your RISE week in style.
Agenda
7.00pm - Registration
7.00pm - 7.30pm - Talk 1
7.30pm - 8.00pm - Talk 2
8.00pm - 8.30pm - Talk 3
8.30pm - 9.00pm - Q&A/Networking
Speakers
1. Ryan Foland, Communication Strategist, Speaker, Writer, Named Top Youth Marketer by Inc.
Ryan Foland is a master communicator and was named a Top Youth Marketer by Inc Magazine and recognized by Entrepreneur Magazine as a Top Personal Branding Expert. He coaches leaders worldwide on the art of simplifying spoken and written messaging for greater impact. Ryan works for the Office of the Vice Provost at UC Irvine and is Managing Partner at InfluenceTree.com. Ryan also writes for Influencive and has appeared in publications like Entrepreneur, HuffPost, Fortune, and more. An entertaining speaker and emcee, he serves as a public speaking mentor for a variety of thought leaders. Learn more at www.RyanFoland.com
2. Josh Steimle, Author Chief Marketing Officers at Work
Josh Steimle is a speaker, writer, and entrepreneur. He has written over 200 articles for publications like Time, Forbes, Inc, Mashable, TechCrunch, and Entrepreneur, and is the author of Chief Marketing Officers at Work, which contains 29 interviews with CMOs from organizations like GE, the Harvard Business School, Spotify, Target, and PayPal and was recognized in Success Magazine as one of the 5 Best Business Books of 2016. Josh is the CEO of MWI, a digital marketing firm he founded in 1999 with offices in Hong Kong, Singapore, China, and the U.S. Josh has presented to business groups, industry associations, and at events like TEDx, ClickZ Live, Echelon, Ad:Tech, CommunicAsia, Social Media Week, and the Content Marketing Conference. Entrepreneur Magazine put Josh on their 50 Inspirational Entrepreneurs to Watch in 2017 list, Forbes recognized him as one of 25 Marketing Influencers To Watch In 2017, Josh was ranked #7 on Richtopia's list of Top 100 Most Influential CMOs, and data from social media research firm Leadtail ranked Josh #11 on their list of People Most Mentioned and Retweeted by CMOs.
33. Ashley Galina Dudarenok, Founder, ChoZan & Alarice *
*replacing Jay Kim who unfortunately has lost his voice this week at RISE
Ashley lived in China for 5 years before moving to Hong Kong in 2010. She worked as a marketing and PR manager with specialties in Chinese social media, opinion leader marketing and creative campaigns.
In 2011 Ashley established Alarice International (www.alarice.com.hk), a marketing agency with a focus on Chinese social media. In 2013 she co-founded the Russian Business Club in Hong Kong (www.rusbc.com.hk) and in 2015 started aJournal (www.ajournal.com.hk).
Ashley often shares her knowledge and experience in articles in the SCMP, China Daily, Hong Kong Economic Times, WenWeiPo, MingPao Daily, Jumpstart Magazine, Do Marketing, Macau Business Daily and others. Moreover, Ashley is a frequent speaker at WeChat Expo, General Assembly, The APAC HR Forum,The Italian Chamber of Commerce, Paperclip Startup Campus, The Executive Group and others.
Ashley loves to travel with her husband, do Muay Thai, play tennis and swim. She also loves Shakespeare, live theater, comedies, watercolor painting and she has recently rediscovered Doctor Who.
Ashley speaks, reads and writes Mandarin, English, Russian and German.
Watch my vlog on
YouTube
Join my newsletter at
AshleyTalks.com
About the organiser
At Garage Academy, we help bring ideas and opportunities together through inspiring events. Our talks, workshops and webinars are designed to spark curiosity, shine a light on inspirational stories, and catalyze change.
Want to host an event with us? Drop us an email at hk.academy@thegaragesociety.com