About this Event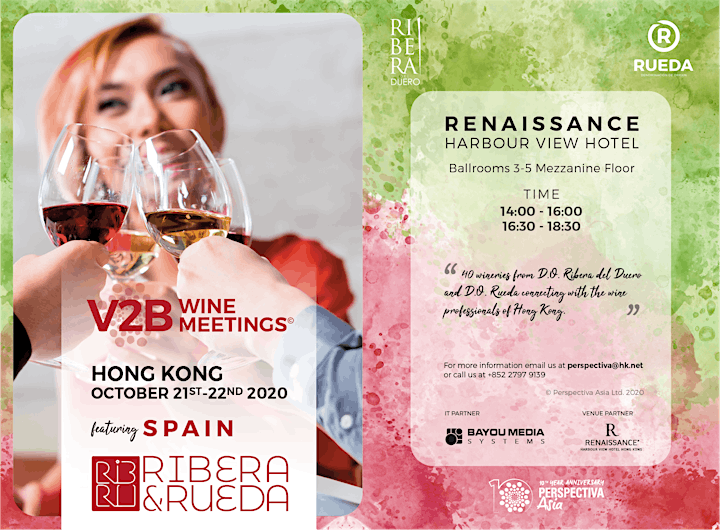 RiberaRueda China誠邀您參加「這樣就好」巡迴展虛擬商務V2B葡萄酒會議©2020, 帶來由杜埃羅河岸和盧埃達產區最受世界各地追捧的⾼分精品葡萄酒。 此次會議將採⽤視頻會議模式, 聚集⻄班牙RiberaRueda的葡萄酒名莊以及本⼟酒 商,讓品酒和交流皆能同時無距離進⾏。我們旨在提供⼀個原創,獨特和安全的商業 環境,以及實地的品酒體驗。虛擬商務V2B葡萄酒會議©2020會議將於香港舉辦為期 兩天的會議,帶來⻄班牙頂級產區共40家葡萄酒名莊。
We are delighted to invite you to join our RiberaRueda 'Just Be' Roadshow Virtual 2 Business V2B Wine Meetings© event featuring wines from D.O.Ribera del Duero and D.O.Rueda, Spain, presented by Perspectiva Asia Ltd..
With the assistance of technology, we bring wineries from RiberaRueda in Spain and local professionals together to explore business opportunities. Providing an original, unique, and safe business environment, as well as an effective wine tasting experience, V2B Wine Meetings in Hong Kong will be held over two days with 40 wineries from these leading wine regions.
香港 | 10⽉21⽇-22⽇
香港萬麗海景酒店
會議室 3-5 (Mezzanine Floor)
時間:14:00-16:00; 16:30-18:30
【活動僅開放給酒業人士】
HONG KONG | OCTOBER 21ST-22ND
Renaissance Hong Kong Harbour View Hotel
Ballroom 3-5 (Mezzanine Floor)
Time:14:00-16:00; 16:30-18:30
【Industry Professionals Only】
Spaces are limited, hurry up and sign up now!
For more information email us at perspectiva@hk.net or call us at +852 2797 9139