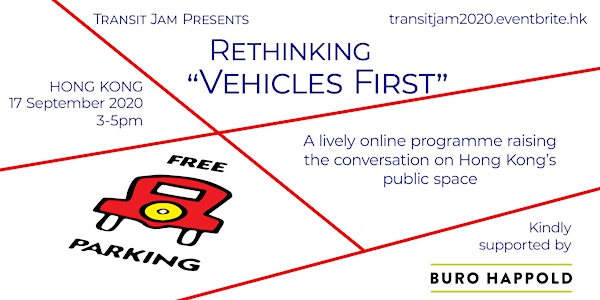 RETHINKING "VEHICLES FIRST"
RETHINKING "VEHICLES FIRST"
About this event
+++Latest programme here+++
+++ Speaker list and bios here+++
Rethinking "Vehicles First" - challenging car culture
Mobility is a globally trending topic in a post-pandemic world. Cities around the world are addressing new transport models, closing public space (roads) to vehicles and making hard changes to keep people safe.
But in Hong Kong, there's been no such conversation. Private vehicle ownership has grown 45% in the last decade, causing congestion, pollution and rampant illegal parking. Against impressive action from mayors around the world, Hong Kong still lacks a coherent sustainable transport policy.
Hong Kong's "Third Wave" means Transit Jam's inaugural annual conference will now move to a remote location, open to all around the world online. We've shortened the event to 2 hours, and focussed on the biggest issue in sustainable transport right now: public space.
A sustainable, safe future for Hong Kong's transport system must tackle the issue of private cars, space and land use. We'll examine alternative modes of transport, based around a people-first planning lens: this event will draw out the reasons "Vehicles First" has been allowed to proliferate, and discuss new approaches to the challenges ahead.
This event is run by Transit Jam and kindly supported by Buro Happold.
TRANSIT JAM 2020: RETHINKING "VEHICLES FIRST"
THURSDAY 17 SEPTEMBER, 2020 | 3-5:15pm
3:00:00 PM Introduction
James Ockenden, Editor, Transit Jam
3:02:00 PM Public space, private control
Only in Hong Kong is "public space" so dominated by private control - how do activists and citizens wrestle back their own space?
Reimagining public space Peter Dampier, Marketing and Relationships Director - Asia Pacific, Buro Happold Engineering
MTR isochromes Oren Tatcher, Principal, OTC Planning & Design
Private control of public space Moderated by James Ockenden; Peter Dampier; Oren Tatcher
3:23:00 PM Parking: every space is sacred
With only 1.2 legal parking spaces per car (and 1 of those its 'home space'), parking is in short-supply in Hong Kong. Join the "parking guru" to hear how Hong Kong could claw its way out of the illegal parking mess we've created for ourselves
Pre-recorded interview Pricing kerbside parking Donald Shoup, Distinguished Research Professor of Urban Planning, University of California, Los Angeles
Open discussion on Professor Shoup's video Views and comments on "parking in Hong Kong" Moderated by Waltraut Ritter, Knowledge Dialogues
3:39:00 PM Space in the "sharing economy"
Siloed thinking limits innovation in transport - how do we develop space and transport in a holistic way? New data concepts and fresh ways of thinking about public space can open up different approaches in lobbying for sustainable transport
Introduction: Concepts of Space Marina Huynh, Director, Infrastructure Advisory, EY
The Inter-modal Transport Data Sharing Programme and HKU Data Trust Terence Graham, Inter-modal Transport Data Sharing Programme, TRP and Andrew Pickford, Associate Partner, Transaction Advisory Services, EY
Multi-modal approaches to bus transport XU Zizhen, PhD candidate; and Dr. Shauhrat Chopra, Assistant Professor, School of Energy & Environment, City University of Hong Kong
Fresh looks at "active" space and supporting healthy ageing Dr Sun Yi, Assistant Professor, Dept of Building & Real Estate, Hong Kong Polytechnic University
Chat & Q&A Moderated by Marina Huynh
4:09:00 PM 4 MINUTE BREAK
++ we will play a mini feature exposing the black market illegal parking on Cameron Lane in TST
4:13:00 PM Modes of transport: six wheels good
Public transport still holds the majority of trips in Hong Kong - how can it continue to do so, sustainably and in competition with the climate and private vehicles?
New paradigms in bus transport and EVs Paul Bromley, Managing Director, Phoenix Business Consulting
Brief intro to fireside chat Alok Jain, Managing Director, Trans-Consult
Fireside chat Moderated by James Ockenden; Paul Bromley, Alok Jain
Open Q&A to panel All participants
4:32:00 PM Modes of transport: two legs (or wheels) bad?
Cycling is discouraged by the government - and many transport planners agree. Can cycling make a comeback? How can cycle trips and last-mile bike solutions transform our crowded polluted streets? Is it too late for bikes?
How the government killed the shared bike business Martin Turner, Chairman, Hong Kong Cycling Alliance
Urban cycling infrastructure Justin Yim, Street Reset
Last-mile on two wheels - an experience from the UK TBA
Talking space, for bikes and people Martin Turner, Oren Tatcher, Justin Yim, Sun Yi
Q&A
5:04:00 PM Wrap-up and conclusions
Wrap up by James and Waltraut James Ockenden & Waltraut Ritter
Grand Q&A and networking (business card lightning round)
Registration: transitjam2020.eventbrite.hk
Enquiries: James Ockenden, +852 9410 4988, james@transitjam.com; Waltraut Ritter conference@transitjam.com