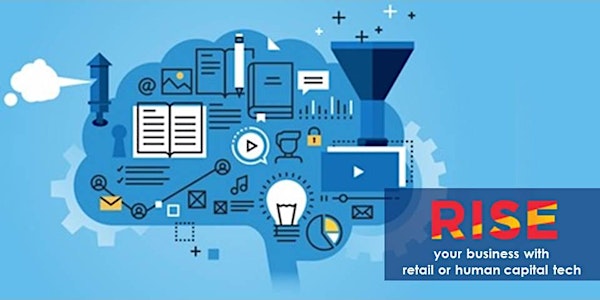 Retail Tech: The Next Generation of Business Accelerators
When and where
Location
CoCoon 3/F, Citicorp Centre 18 Whitfield Road Tin Hau, Hong Kong Island Hong Kong
Description
Join us at this event to learn about the latest retail technologies from POS, payments and platforms to O2O, logistics, HR tech and KOLs.
Special note to start-ups: if you have a product, please sign up for a booth.
Event Highlight:
Get an insider's perspective of the startup scene in retail tech in Hong Kong and while connecting with entrepreneurs and fellow investors.
Agenda:
6:00 Startup Fair
7:10 Fireside chat: RISE your business: Brick and Mortar, E-Commerce, Social-Commerce Evolution
8:00 Q&A
8:15 Startup demo
8:30 Networking
Startup Fair:
In this startup fair, each entrepreneur will have a booth and easy roll to present their business. If you would like to showcase your startup or find out more, please sign up and choose "Register for a booth". Limited spots available.
Fireside Chat speaker:
Ken Law, Founder, MotherApp
Ken founded Mother App, which applies agile innovation methodologies and game-changing technologies to craft the digital solutions that our clients and their customers love.
Bosco Leung, Senior Corporate Strategy Manager at MTR Corporation Limited
Bosco leads the development of innovation processes at MTR. He has worked on both Hong Kong projects such as mobile service provision and international projects in Stockholm such as the iSafety app to streamline and digitalize the Safety, Quality & Environmental incidents reporting. Bosco is interested in developing a community of innovators in MTR & exploring collaboration models between corporate & startups.
Theodore Ma, Managing Director at MaBelle, Co-founder at CoCoon & Managing Partner at CoCoon Ignite Ventures
Theodore has been growing the MaBelle brand globally bringing products to consumers in over 400 cities since 2004. He also founded CoCoon in 2012, an entrepreneurship network based out of Hong Kong. CoCoon entrepreneurs have raised over HK$640m in early stage funding. Theodore also manages CoCoon Ignite Ventures established in 2016, an early stage venture capital fund focused on business for business technology accelerators.
Eric Ng, Founder, Boutir
Eric started Boutir, which is a mobile-commerce platform that allows anyone to easily sell and shop online through mobile


Participating startups:
Retail Technology Startup:

Alfacloud HK Ltd
We are the consultant & implementor for cloud solutions listed in the Alfa Cloud SME Marketplace and aggregate cloud Solutions into Alfa Cloud SME Marketplace, enabling companies harness cloud technology for business expansion.
Pakpobox Hong Kong Ltd.
A multi service network of smart lockers that solves all the existing problems and beyond for logistic operators, consumers and e-merchants.
Shopline
Shopline is a DIY e-commerce platform for creating online shops in Asia.
Jetsoeye
Advertising platform for food and beverage industry.
Solomon Mobile Technology Ltd.
Transform any camera to 3D scanner
Ubeing Mobility Ltd.
One-stop retail management and F&B POS solution
Posify A holistic O2O retail management solution, helps you manage your retail business from online shop to offline POS.
Fetchawish
Exclusive Foreign Goods In one marketplace.
Shopins
帶給商戶一個會員獎賞及客戶關係管理系統(Loyalty & CRM System)及目標客戶推廣(Target Marketing)的全方位解決方案,讓商戶留住舊顧客.
Ledo Ads
呢度廣告將閒置空間變成具有價值的廣告空間, 廣告範圍包括餐桌貼紙, 易拉架, 餐廳報灘海報等等。
Jou Sun
A groceries platform that enables customers to buy direct from farmers and food importers. Jou Sun delivers fresher groceries at discounted prices to your home!