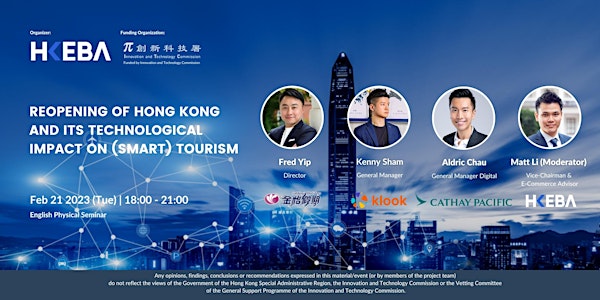 Reopening of Hong Kong and its technological impact on (smart) tourism
Reopening of Hong Kong and its technological impact on (smart) tourism
When and where
Location
The Hive Sheung Wan 33-35 Hillier St, Sheung Wan Hong Kong, HKI Hong Kong
Refund Policy
Contact the organizer to request a refund.
About this event
[UPDATED] Event Date has been changed from Feb 16 to Feb 21.
Description:
As smart technologies transform consumer experiences, more innovative tourism business models are emerging. Technology has enhanced tourism services and experiences through loyalty platforms, location-based services, geo-tagging, facial recognition, VR, AR and many more. Especially with the post-COVID-19 reopening, it can provide travelers with greater access to information, convenience, transportation, dining, shopping, entertainment and accommodation options.
Discover the benefits of the tourism technologies that can enhance customer experiences with Cathay Pacific, Klook and Goldjoy Group.
隨著智慧技術改變消費者的體驗,更多的創新商業模式正在湧現。現時技術能夠透過忠誠度平台丶基於位置的服務丶地理標記丶人臉識別丶虛擬實境等等加強旅遊服務,以及提供更好的體驗。尤其於疫情後,各個國家及城市陸續重新開放,此技術能夠為旅客提供更多不同的訊息,為他們帶來不同程度的便利。
透過參加是次研討會,與 Cathay Pacific 的 General Manager Digital, Aldric Chau丶Klook 的 General Manager, Kenny Sham 和 Goldjoy Group 的 Director, Fred Yip 一同探索提升旅客服務體驗的旅遊技術。
Event Details:
Dates: Feb 21 2023 (Tuesday)
Format: Physical Seminar
Time: 18:00 - 21:00
Language: English
Fee: $50 HKD
*COUPON CODE FOR FREE ADMISSION: HKEBA2023*
HKEBA and all supporting organizations' members could enjoy the exclusive benefits by entering the coupon code at the registration page. (For more details, please contact Mr Elton Chan at elton@hkeba.org / 60710266.)
Event Rundown :
18:00 - 18:30 | Registration
18:30 - 18:45 | Introduction
18:45 - 19:05 | Cathay Pacific Representative Sharing
19:05 - 19:25 | Klook Representative Sharing
19:25 - 19:45 | Goldjoy Group Representative Sharing
19:45 - 21:00 | Closing, Free Flow Q&A Session and Networking
Speakers:
Aldric Chau, General Manager Digital, Cathay Pacific Airways
Kenny Sham, General Manager, Klook
Fred Yip, Director, Goldjoy Group

Acknowledgment of Support and Disclaimer
Any opinions, findings, conclusions or recommendations expressed in this material/event (or by members of the project team) do not reflect the views of the Government of the Hong Kong Special Administrative Region, the Innovation and Technology Commission or the Vetting Committee of the General Support Programme of the Innovation and Technology Commission.
此物品/活動由香港特別行政區政府的一般支援計劃資助:
在此刊物/本項目的任何活動中提出的任何意見、 研究成果、結論或建議,並不代表香港特別行政區政府及一般支援計劃評審委員會的觀點。
*Participants who join the seminar will receive email newsletter of HKEBA
*是次講座的參加者將收到本會經電郵發出的會訊。
贊助機構:
* Solution Forest Limited
* Hong Kong Wireless Technology Industry Association Limited (HKWTIA)
* Hong Kong Internet & eCommerce Association Limited (HKIECA)
* Communications Association of Hong Kong (CAHK)
* Hong Kong Association of Interactive Marketing (HKAIM)
* Hong Kong Software Industry Association
* SME Global Alliance Limited (SMEGA)
* Hong Kong PropTech Association (HKPTA)
* Tencent WeStart Hong Kong
* Brinc Limited
* Zerozone Solutions Limited
* Asia PropTech
* The Hong Kong Polytechnic University
* The Association of Cloud and
* Mobile Computing Professionals (ACMCP)
* Hong Kong Science and Technology Parks Corporation
* Hong Kong Federation of ECommerce
* E-Commerce Association of Hong Kong
* Lingnan University (Lingnan Entrepreneurship Initiative)
* Hong Kong Retail Management Association Limited
* EntreLink Limited
* Hong Kong Blockchain Indusry Association
* The University of Hong Kong
* CoCoon
* Hong Kong Retail Technology Association
* City University of Hong Kong
* Invest Hong Kong
* CUHK Business School
* Hong Kong Information Technology Federation