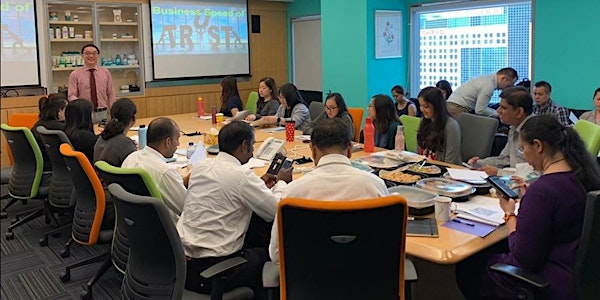 Remote Selling at $19.94 or 5 Courses at $29.94
Acquire Remote Selling 21 Strategies and Tools at $19.94 or Get 5 High-Value Rare Courses at $29.94
About this event
Yes, acquire over 21 Remote Selling Strategies and Tools at our latest Udemy course, now at a huge 74% discount at only S$19.94. Preview at here. Better, pick the 5 courses you want from our list of selected 15 at only S$29.94, a huge 98% discount. Offer till 30 June 2020 only
Yes, now you can learn at your own time, using your mobile phone, anywhere, with life-time access and limitless repeats.  Udemy video courses are one of the highest quality in the online-market. We have over 40 million students since 2012 and over 13,000 instructors. 
7 Benefits not found elsewhere:
No deadline, no time limit, watch the videos as fast or slow as you want

Detailed PowerPoint slides with the instructor interacting with you in person (sample)

Every course comes with lively videos as though the instructor is in front speaking passionately to you (watch preview at here)

Many courses come with extra resources: pdf files, video links etc for you to learn more at no cost

You can also ask questions to the instructor free-of-charge

You can re-watch the videos countless times (no downloading of video is allowed for copyright reason)

You'll get a professionally-done Certificate of Achievement when you complete each course.  Collect all 12 certificates and get recognised as the expert in the areas taught.  This will greatly help you in your work, business and professional life
Here are the 12 most popular courses (click on the title for FREE preview)
1. Psychological Selling: how to sell when people don't want to buy:       S$49.99
2. 7 Strategies for Limitless Business: the secret to Apple's success       S$49.99
3. Business Building in 5 Steps: what every entrepreneur must know      S$19.99
4. Service From the Heart (Mandarin) 发自内心的服务                             S$29.99
5. Sun Tzu People Management: the Art of War for Leaders                   S$94.99
6. Win at Work with The 36 Stratagems: the Secret Art of War               S$49.99
7. WeChat Marketing: the one and only practical WeChat course         S$49.99
8. Sun Tzu Art of War for Sales: 2 courses into one                              S$59.99
9. How to Close Every Sale: with over 83 sure-win strategies               S44.99
10. Selling The Impossible: how to sell during this COVID-19 crisis  S$59.99
11. Coaching Effectiveness: how to coach and mentor anyone     S$49.99
12. Financial Intelligence: how to get rich with numbers smart   S$99.99
13. Business Turnaround: how to make profits again S$49.99
14. How to Be a Great Boss and a Great Leader S$99.99
15. Remote Selling Success S$49.94
Note: Please select the 5 courses that you want via email to us at andythecoach@gmail.com. You can also text to me Andy Ng at 65-93672286.  Thank you.
Note 2: FREE Extra talk for all sign-ups: Know the Power of Your Mobile Number at here