Sales Have Ended
Registrations are closed
Hi! Slots are no longer available. | Please continue to follow our Facebook page for updates and new event announcements: FB: https://www.facebook.com/officialremaxph | IG: @officialremaxph
Learning from the best of the best experts on sub-sections of real estate selling.
About this event
ABOUT THE CLASS
Gathering our RE/MAX expert brokers for the Momentum Masterclass -- a 3-hour online workshop that will teach you about highly specialized topics on real estate.
For June, Paolo Villavicencio will teach us how to increase the probability of closing our transactions through awareness and education on how to manage negotiations when dealing with Capital Assets or Ordinary Assets in a sales transaction, the taxes involved, and the workflow of the change of ownership of a property when going through the different government agencies.
This webinar is FREE to ALL RE/MAX Associates.
The cost for NON-RE/MAX is P550. Please follow the payment instructions upon registration. All proceeds will benefit our official partners from SOS Children's Villages PH.
CPD UNITS: 3 units
This training is also done in partnership with ConsultAsia Global (www.consultasiaglobal.com), our official CPD provider.
ABOUT THE MENTOR
Meet Paolo Villavicencio, your Momentum Masterclass mentor for June!
Paolo is an award-winning Broker-Owner and founder of RE/MAX PRIME which currently operates with 12 agents at Madrigal Alabang. With over 300 real estate transactions under his supervision, he is focused on developing his team of agents to achieve their financial goals and milestones in their office.
In 2017, his office, RE/MAX PRIME, was given the Rookie of the Year Office Award and in 2019, Paolo was given the Platinum Award by RE/MAX Global Network for his personal production and was awarded by Security Bank as one of the top brokers and trusted partners in securing more than P100M in residential loans for his clients. Additionally, he was also recently recognized as RE/MAX Philippines' Broker-Owner Champion for the year 2020.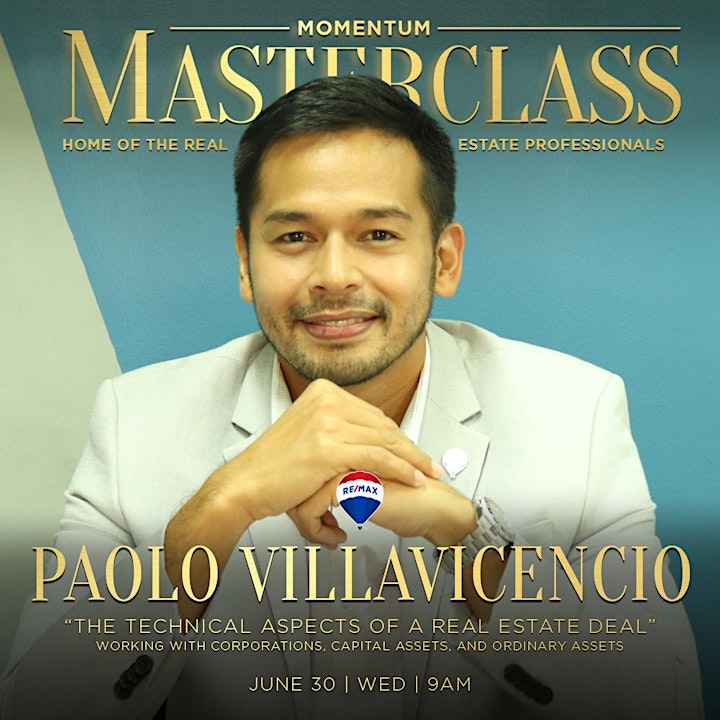 GENERAL COURSE OUTLINE
1. Capital Assets & Ordinary Assets
Definition of Capital Assets and Ordinary Assets
Importance of understanding the difference of each asset
Usual problems that arise when an asset type is incorrectly defined
2. Due Diligence on Corporations – Determining if Capital or Ordinary Asset
3. Workflow for Transfer of Property Ownership – Working with Gov't Agencies
ABOUT OUR PARTNERS
SOS Children's Villages Philippines
RE/MAX Philippines Partners with SOS Children's Villages PH for the RE/MAX Momentum Masterclass. All proceeds will be for the benefit of the children in their Family-Like Care program.
To donate and to learn more about the organization and programs, visit their website at https://www.sosphilippines.org/​