Sales Have Ended
Registrations are closed
Hi! Slots are no longer available. | Please continue to follow our Facebook page for updates and new event announcements: FB: https://www.facebook.com/officialremaxph | IG: @officialremaxph
Learning from the best of the best experts on sub-sections of real estate selling.
About this event
ABOUT THE CLASS
Gathering our RE/MAX expert brokers for the Momentum Masterclass -- a 3-hour online workshop that will teach you about highly specialized topics on real estate.
For October, Charles Lejano will teach us relevant laws related to real estate to improve our knowledge in handling transactions the right way.
This webinar is FREE to ALL RE/MAX Associates.
The cost for NON-RE/MAX is P550. Please follow the payment instructions upon registration. All proceeds will benefit our official partners from SOS Children's Villages PH.
Pending PRC Accreditation; Currently not inclusive of CPD credits
This training is also done in partnership with ConsultAsia Global (www.consultasiaglobal.com)
ABOUT THE MENTOR
Meet Charles Lejano, your Momentum Masterclass mentor for October!
Charles is a licensed broker and attorney-at-law. He sits as a director for RE/MAX Capital and RE/MAX Capital Alabang.
He specializes in the sale and lease of residential homes and condominium units, as well as dispute resolution for clients and agents.
Charles also works as a news anchor at One News.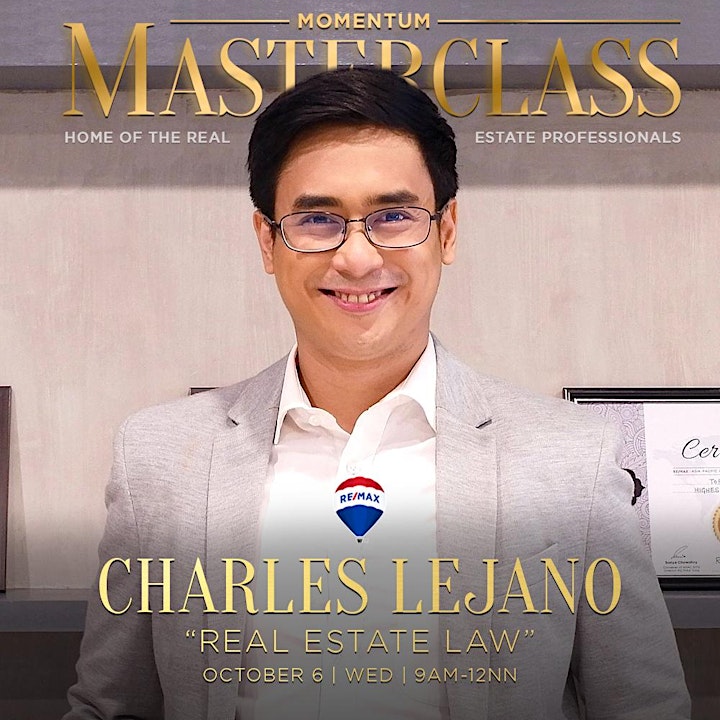 GENERAL COURSE OUTLINE
I. Relevant Laws
A. 1987 Constitution
1. Bill of Rights
2. State Policy
3. Foreign Ownership Limits
a) Who Are Filipino Citizens?
b) Foreign Investment Negative List (FINL)
(1) Eleventh FINL
(2) Update in 2021
4. Social Justice and Human Rights
B. Real Estate definitions
C. Civil Code
1. Agency Law
2. Succession
a) Testate vs Intestate Succession
b) Judicial vs Extrajudicial Settlement of Estate
3. Contracts
a) Legal Definition
b) Essential Elements
c) Common Issues in Negotiations
d) Standard of Diligence Required
e) Possible Annotations
D. Family Code
E. Taxation of Real Estate transactions
II. Issues in Real Estate Transactions
A. Sale
B. Donation
C. Succession
D. Marriage
III. Other Special Laws and Regulations
A. Real Estate Service Act (RESA)
1. Definitions
2. Prohibitions
3. Penalties
B. Maceda Law (R.A. 6552)
IV. Ethics for RE/MAX Brokers
A. PRC Code of Ethics
B. RE/MAX Code of Ethics
ABOUT OUR PARTNERS
SOS Children's Villages Philippines
RE/MAX Philippines Partners with SOS Children's Villages PH for the RE/MAX Momentum Masterclass. All proceeds will be for the benefit of the children in their Family-Like Care program.
To donate and to learn more about the organization and programs, visit their website at https://www.sosphilippines.org/​